Introducing Sinterest; the free app that connects couples using their deepest intimate desires. Simply select your sexual preferences using their online survey, on your own private account. The app then connects the two surveys, matching your preferences with your partner to create lists of erotic ventures to try or keep going!
This intimacy-improving app suggests many erotic acts you may not have thought to explore with your partner, whilst also providing a place where couples can communicate their preferences without fear of judgement.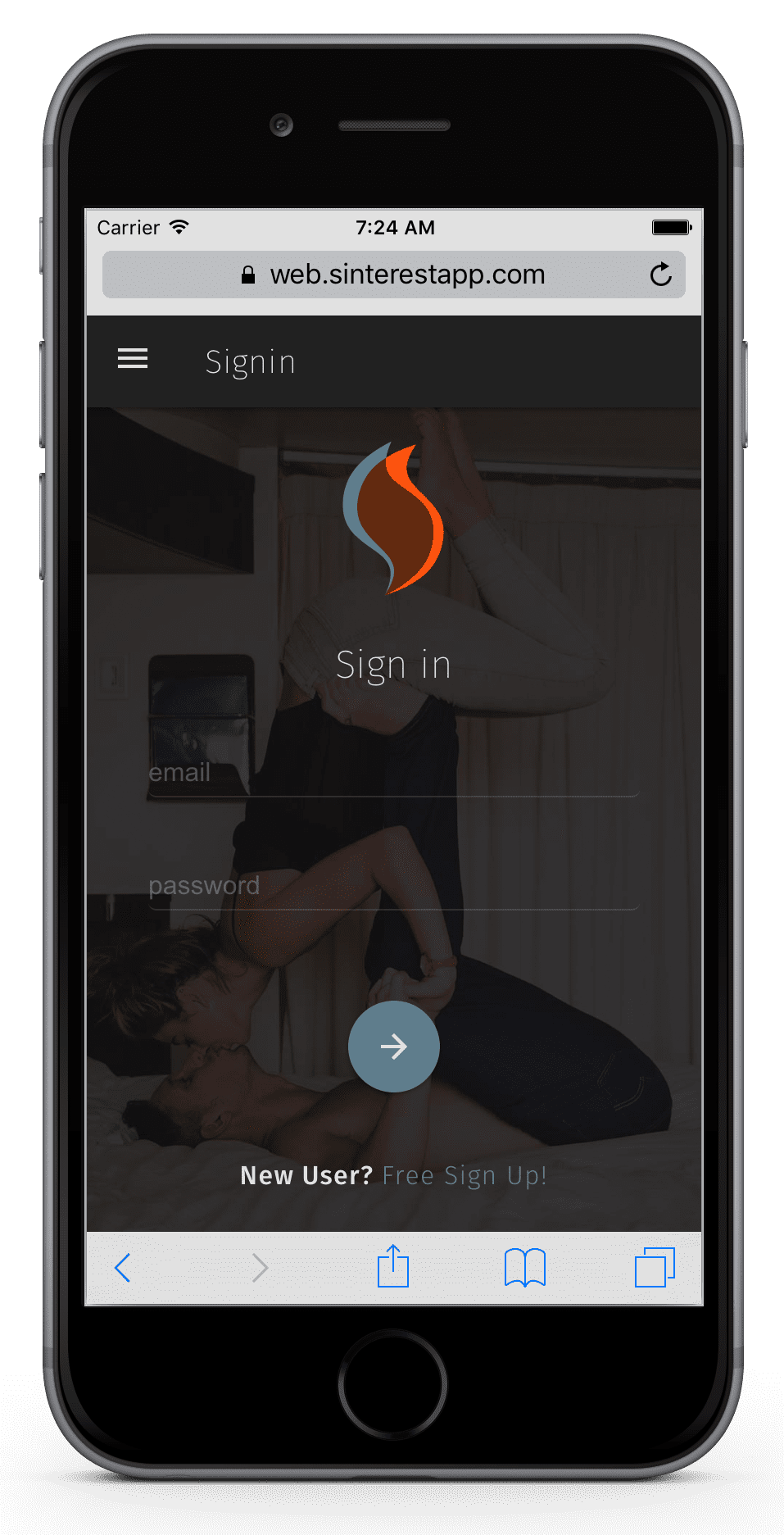 The clever creator of Sinterest, Chris, thought of this app around the time of the Ashley Madison leaks:
It occurred to me: Why not an app that does the opposite of Ashley Madison? An app that helps couples communicate freely about intimate topics that many consider taboo to discuss?
So not only does Chris' app bring couples together intimately to improve and develop their sex lives, it has many security precautions to give peace of mind that your most confidential desires are safely stored on your account:
Users are free to use pseudonyms and secondary, non-identifying email accounts,
All communication from your browser or phone to the website is encrypted,
User data is stored and secured by IBM,
Account deletion is a free service,
When a user deletes an account, there is no trace left of the user's email or name anywhere in the system.
Having these features available from the beginning delayed the launch of the app, but it was important to me that they were there.
The app continues to be developed, to improve and expand user experience. For example, Chris hopes to add some features to the app which we're really excited about:
Survey Comments: Each survey question will also give the user the opportunity to include a comment. That comment will only be visible to the partner if the activity is a match! For example, if you select 'Want' for Outdoor Sex, and include a message: "Let's sneak into the pool late at night!!", your partner would see that message in the Matches view if there is a match.
Select a Random Matched Activity: Couples will be able to have the app randomly select an activity from their matches.
Longer term features: Support for truly private messaging as well as gay and lesbian couples… and more!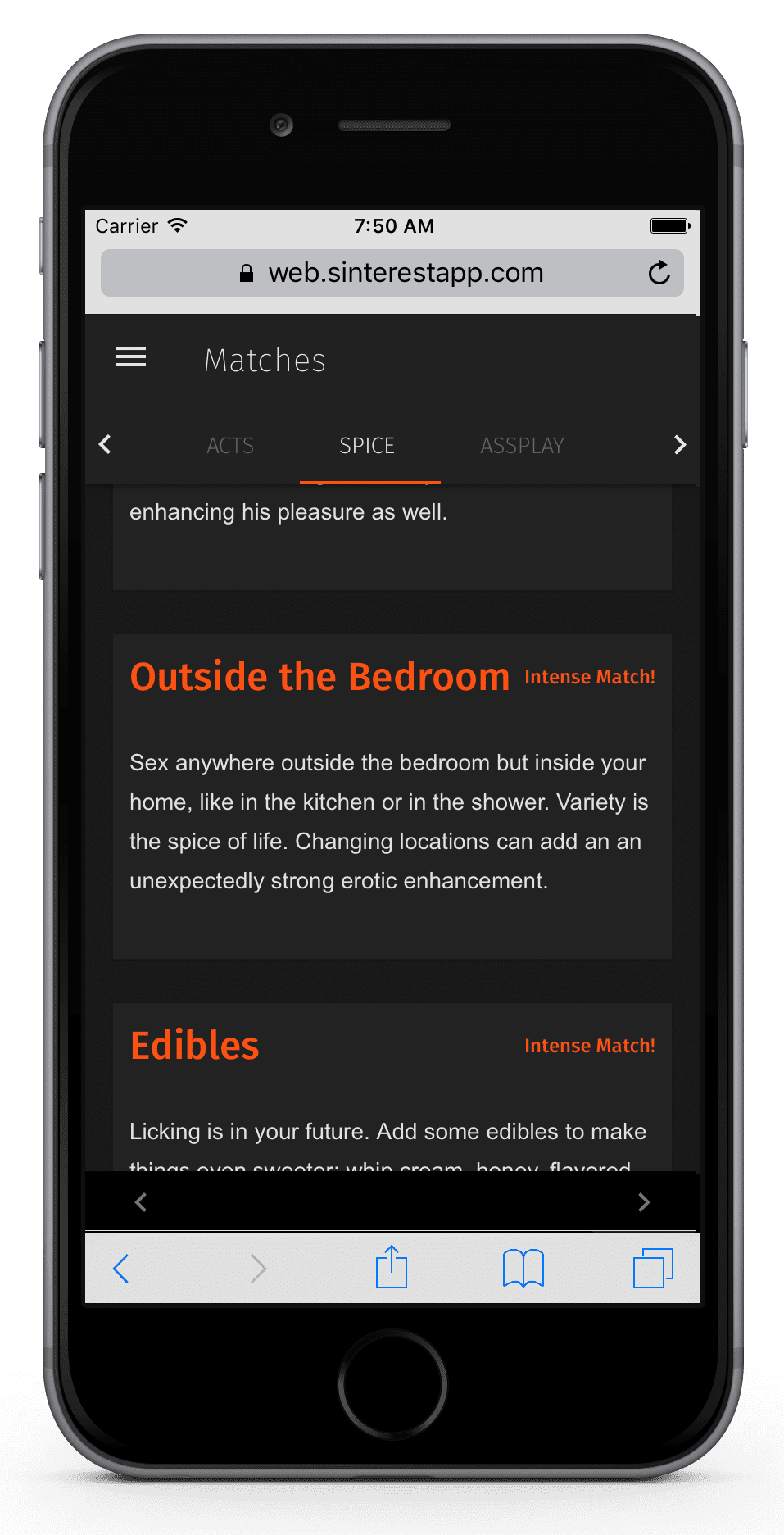 We're really impressed with the idea and the layout of the app. It's a tasteful concept that looks smart and stylish. We've both filled out the survey, which was easy and interesting, and our matches are available to view. The choices are well spread from positions to BDSM, and they're not directed towards heterosexual couples, making the app universal for all couples.
I really found the choices interesting, pointing out a few things for me that we hadn't discussed or tried as a couple and it made me think about what I actually like and what I want from my sex life right now. It's also quite a turn-on getting back his results in comparison to mine, wondering if there's anything he's failed to mention or explore over the last 6 years! This just proves that whether in a new relationship or married and together for years, this app can expand and explore the depths of your intimacy together.
Why explore your sexual desires outside of your relationship? Because you're scared your partner doesn't want the same things? Try Sinterest and you might be pleasantly surprised with their choices!!
Giveaway!!
If you want to introduce something interesting to the relationship, Sinterest are giving away a Nu Sensuelle Point 20 Function Vibrator, as reviewed by us!! Simply sign up for an account and complete a survey to enter! Giveaway starts 12am Monday 16th November 2015 and ends Tuesday 15th December 2015 at midnight.