LELO of course offer some of the most luxurious methods of stimulation on the market. Their sex toys are not only quality, beautiful creations but are also innovative pieces of technology. The HEX condoms are one of their newest venture into innovation of the ordinary, bringing something new to the over-saturated market.
The structure of the HEX condom is made up of 350 interconnected hexagons made from natural latex. Hexagons make the perfect material to fit comfortably and snugly, for strength, closeness, heat and durability. This means an incredibly safe material that feels light and delivers every sensation between partners, for a really close and sensitive experience.
The HEX condoms have been on the market for a year (this week) and we've finally got round to testing them out for you all.
We were excited to try something so new and completely different from everything else out there. We love a bit of technology and the structure of the condoms is really interesting. The idea is so simple and makes complete sense, but there must have been some real scientific thinking and great efforts behind the scenes. The packaging looks great and is really strong, reflecting what you want from this product really. I also get the impression that you wouldn't get flattening of the box in a drawer, where the contents come spilling out the other side.
Like everything else LELO, this product offers a lot of discretion. I wouldn't look at the box and think condoms straight away. The packets really are easy to open, much less fiddly than others we've used. This is mainly because of the larger ridges to the top and the bottom for easy tearing, and not because of a thin packet. We've found nothing worse in the past where in the moment and struggling to open a pesky condom packet!
The packet is actually really thick, which makes you feel reassured that they've been kept safe by either partner, and that they're a quality purchase.
They're lubricated nicely and easy to fit, too. During sex we didn't feel any movement which is a really good sign. For Mr. A these condoms felt comfortable to wear and the thinness of the condom meant he wasn't desensitised wearing them during intercourse.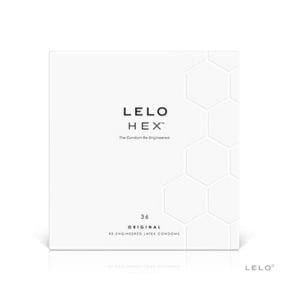 The condom slide or roll off quickly once you're finished without any awkward slapping back from the condom (you guys will know what Mr. A means there).
Overall we were extremely impressed with the HEX condoms, more than anything they offer piece of mind as you know (from the pin prick videos you'll see on their website) this condom is extremely strong and safe. A strong condom used to mean you both were left feeling less during intercourse, not any more!
A little more expensive than your normal condoms, but if you're wanting to stay safe and enjoy the full felling of sex then £29.90 for 36 condoms isn't bad at all!
Visit the LELO website to purchase.