First of all, apologies to sextoys.co.uk for the lateness of our review, and to readers who might have noticed we haven't been able to do many ourselves lately!
The Screaming O Overtime was sent to us in exchange for a fair and detailed review. Sextoys.co.uk are a discreet, safe and secure sex toy retailer with a diverse product range and a price match guarantee! There are always sales and offers and a huge range of gifts and treats.
This product came to us in really simple packaging, which is bright sexy red and all instructions on the back of the pack. The packaging is just right for the toy and shows how simple and fun the toy is.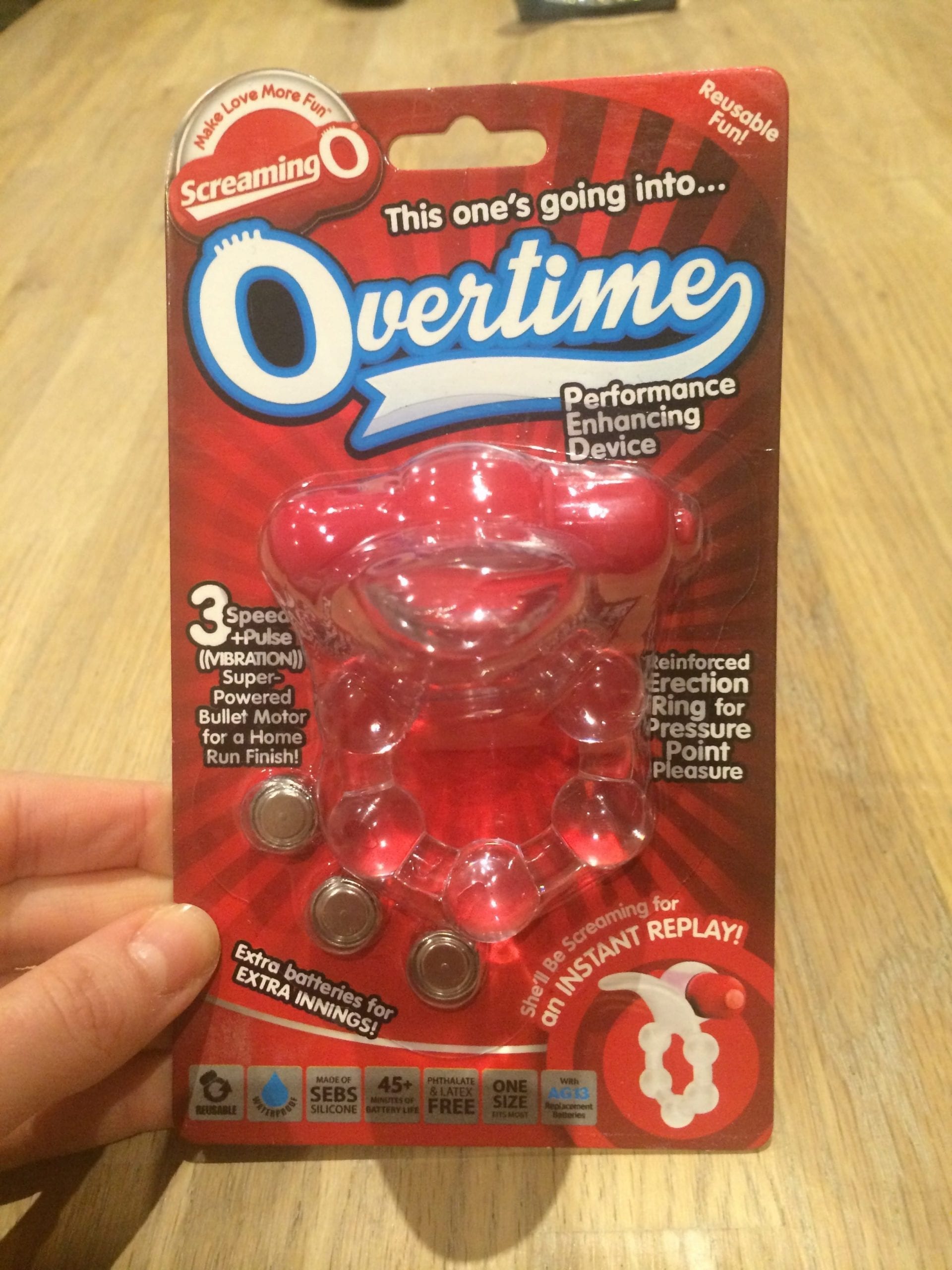 The cock ring is reusable, with a SEBS silicone reinforced erection ring, tongue to stroke 'the sweet spot' and a slot for the vibrator. The silicone is soft and flexible, with bumps around the ring for pressure point pleasure and slight constriction to keep him harder for longer. Simply place at the base of his penis with the vibrator on top and the tickler facing out.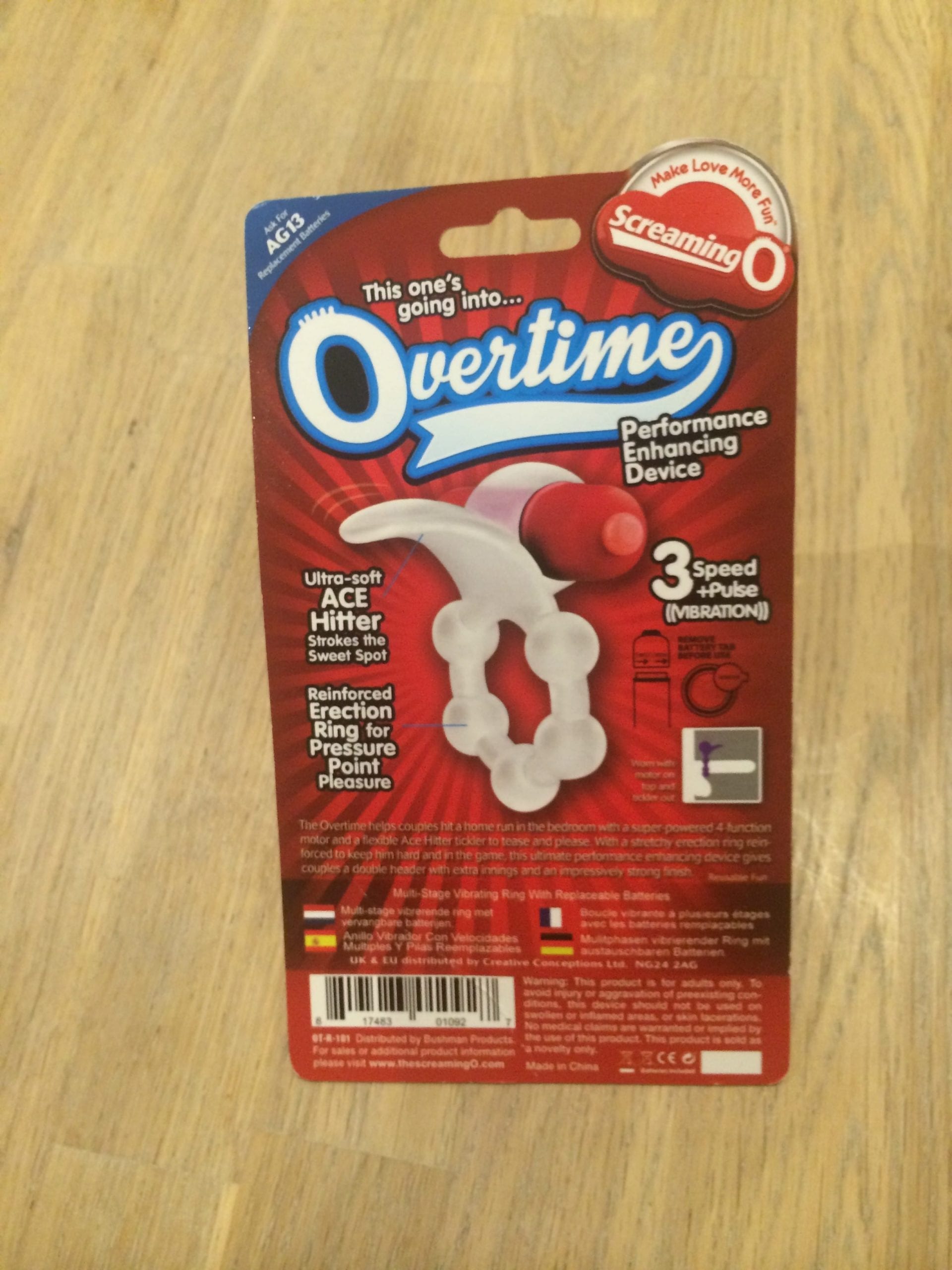 The vibrator is pillar-box red, is waterproof and takes 3 x AG13 batteries for 45 mins of battery life. It has 3 speeds and one intermittent setting. The toy is phthalate and latex free, one size fits most and includes 3 replacement batteries.
What she says
Although this toy is quite basic, that is definitely not a bad thing in this case. This kind of toy is great for beginners and experienced user alike. We find loads of pleasure in toys like this even though we've seen a lot of different gadgets. In fact, it's refreshing to use something to so simply enhance pleasure together. I also know a lot of couples who would benefit from this kind of thing, so I really hoped before we used that it would impress!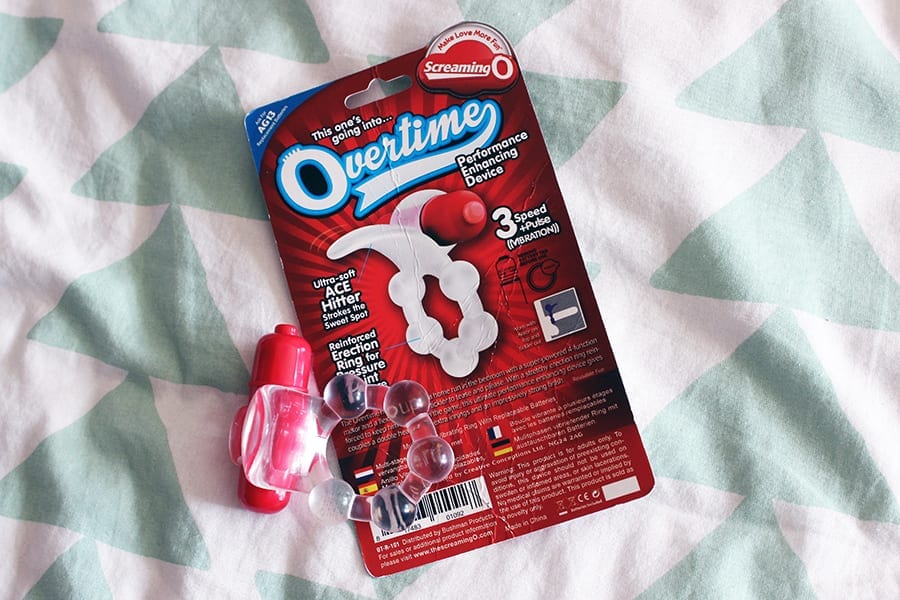 I was so pleased to turn on the bullet and find real power behind the vibration! Hopefully, long gone are the days of turning on a bullet and not being impressed by the vibrations. A slight click of a button and there are 3 speeds followed by an intermittent pattern. So simple yet so effective when you just want to get into the fun. It's great when you have the time to use a bullet together with many speeds and settings. But sometimes you just want to crank something up to full and feel the pleasure!
The silicone is gentle but slightly sticky. Definitely improved with the use of some water-based lube. The ring seemed to constrict him a little but mainly added to his experience with the vibrations, but I'll let him tell you about that part!
There's something about him wearing a cock-ring that gets me going instantly! I think it's the way it looks when constricted slightly. Other bullets sometimes slip round, missing the clitoris and causing you to take your concentration off each other and onto the toy. The difference with this ring is that the 'tongue' attached takes on the vibrations, spreading them out. I love this design, because it means that it can't miss the spot so easily, the vibrations are felt throughout intercourse without hardly any interruption!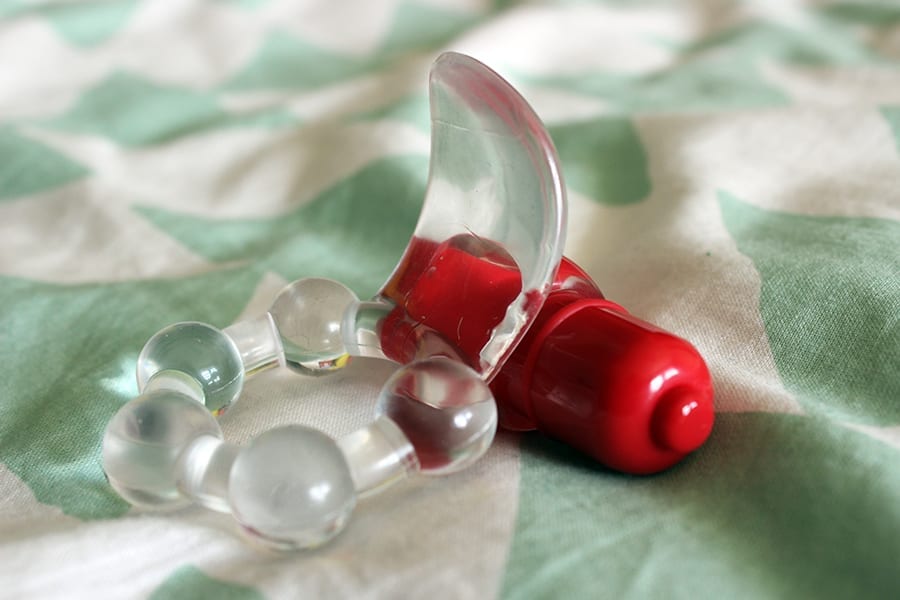 I really liked this toy. We used it without fuss or second thought and the vibrations were powerful. During sex, we forgot about it and were really involved with each other. It just added to our pleasure which is what it's there to do!
What he says
Miss K really enjoyed the vibrations of this toy and I have to say they're surprisingly powerful! It's a decent quality for the price, and like Miss K says it was worn and used without any fuss or second thought really! The only thing I didn't like was that it didn't quite have the strength to constrict my penis enough to keep the erection strong and hard for longer. It was a decent experience for me, but probably better for her.
Tips
Wash both parts thoroughly with soap and water before and after use.
Remove the battery tab before use, but NOT the clear plastic outer piece.
 Wear with motor on top and tickler out.
Keep in a clean and dry place, away from other silicone products.
Use with water-based lube around the clitoris.
Where to buy
Sextoys.co.uk – Screaming O Overtime £18.95 (Use the code XTRA10 to get 10% off your order!)
Rating
7/10
It collected dust, so I'll have to find somewhere to keep it! I really will recommend this, as it doesn't look scary and it isn't a scary price either! Maybe not the one if your guy likes more constriction with his cock rings, but definitely the one if he likes it more comfortable.