Durex, originally a condom manufacturer founded 80 years ago, have been making sex toys for a number of years now. And if their meticulous quality assurance of their condoms is anything to go by, then the range of luxury sex toys will be pretty damn good. Durex test their condoms with 40 litres of air (rather than the standard 18 litres of air) and conduct about 2 million water tests a month. Nothing gets by these guys, so they're a trusted, long serving brand have now developed a range of sex products to make safe sex fun!
We were sent the Sensual Bliss Intimate Massager in exchange for an honest and detailed review. This massager is one of many in the range but the only one of its shape, in the form of a disc designed to fit in the palm of your hand. The disc is a 6.9cm circumference and boasts 360 degrees of vibrations. Soft purple body-safe materials cover the disc, with its "+" and "-" buttons on top, and its charging port on the white rim at the side.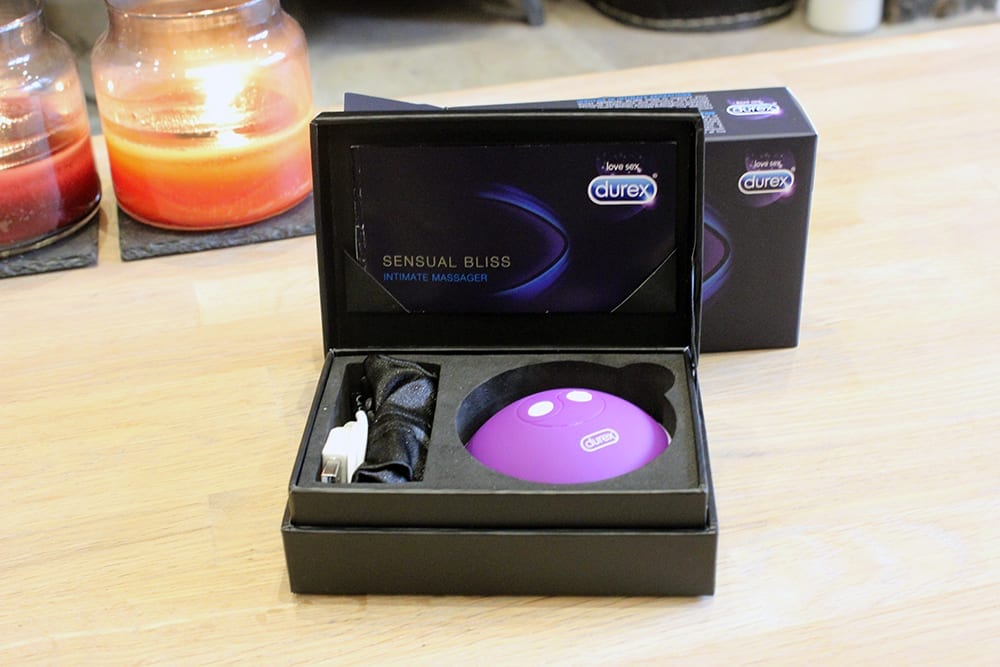 The massager is rechargeable by USB, has 3 speeds of vibration and 4 different pulse modes. The massager itself is shaped to fit nicely in the palm of your hand for easy handling, and it also vibrates all round so aiming for the right spot is made easy. The product is splash proof for easy cleaning but not submersible. It comes in it's very own box with USB charger chord, satin storage pouch and information manual.
What she says
I'm really impressed with the Durex Sensual Bliss packaging, with its discreet, sexy colours and information right there on the back. The contents are set out for you in a sturdy box, presenting this product quite luxuriously for a mid-range priced toy. I wasn't sure about the shape when I looked at the toy online, but when I hold it, immediately I understand why this shape is easy to handle.
Its velvety-soft purple is a good texture to smooth onto the skin, I'm not a huge fan of the colour but Durex's whole range is the same so it's all to do with branding which is fair enough. It's not a bad colour and I'd say it's attractive to both sexes in this deep purple. The controls are simple, on the top of the toy and just press down the "+" to get started.
Scroll through to get each speed and then pattern, with the vibrations radiating throughout the whole toy. The vibrations are intense at the highest setting, and are really impressive when used! I've used this mainly for warm-up before sex but it could be used with other toys or just for a quick clitoral stimulation. It does state to be whisper quiet but there's no getting away from a bit of noise with such intense vibrations! I'd say it is pretty quiet but on the highest intensity it can be a little loud.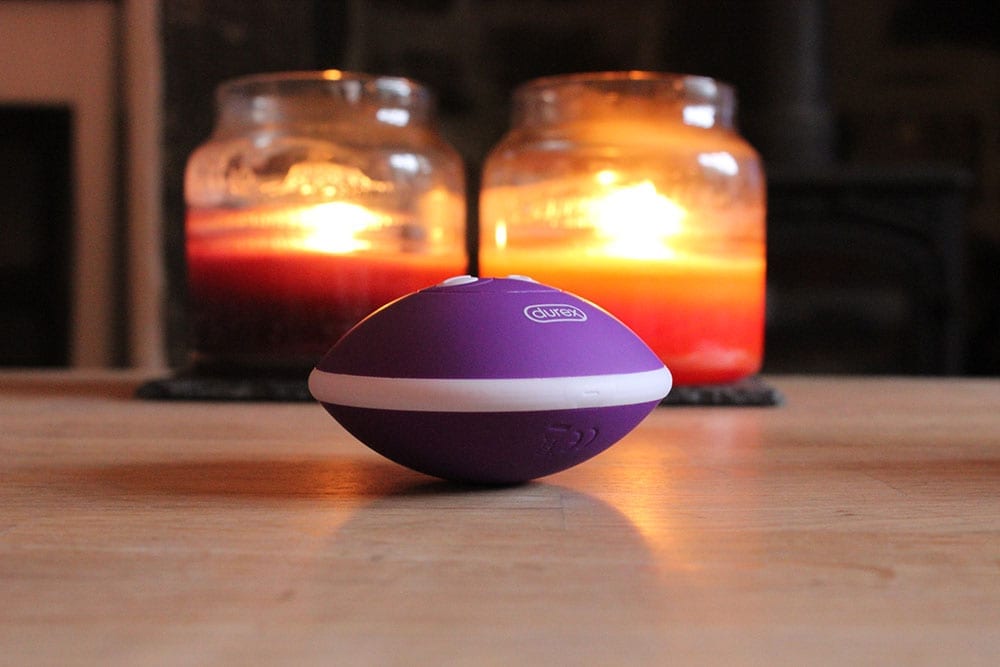 I'd recommend this toy as a great starting point for beginners. It's a step-up from buying lubes and condoms and doesn't feel too naughty buying it from Durex, who are a very trusted place of purchase. It's great stimulation to add some fun to the bedroom, but is a luxurious treat that doesn't break the bank! Saying this, we're hardly beginners and I've already had a lot of use out of this toy. It's easy to use and to grab out of the cupboard!
I've kept it in the box so far and it's not too big at all, in fact it's sturdy and attractive to store it in the box. I may change to using the pouch if we need the space. My only thing with this toy might be the cleaning! It's splash proof for easy cleaning but that always makes me nervous! I've cleaned with soap and warm water on my hands and then dried off with a towel, but you might be better with cleaning wipes so you don't risk damaging it!
What he says
I don't usually get a lot of use from these types of toys myself as Mrs K tends to use them alone or before we have sex. I have had a hand on it and it feels simple to use and a nice fit for the palm. It's soft against the skin and great for her with a bit of lube or without to be fair. With it fitting in the hand so well, this toy is ideal coupled with some Durex pleaseure lubes as a vibrating massage treat for her. You'd really be able to kneed this into the skin to massage out any knots.
The vibrations are strong and there are a decent amount of settings. When Miss K placed the toy on my testicles the vibrations pulsed through my genitals which added to foreplay.
I'm a huge fan of waterproof toys as they're fun to take them in the bath or shower, so it's a mark off for me with this toy not being fully waterproof.
Overall it's a nice multi-use toy, ideal for her or a couple wanting to explore sex toys.
Tips
Use alone or with a partner,
With or without lube,
Clean with water or wipes: don't submerge,
2 hours charge for 1 hour use,
Charge every 3 months to keep battery in good condition.
Where to buy
Buy exclusively from durex.co.uk:
Durex Sensual Bliss Massager – £49.99
Rating
Perfect for beginners, high-end presentation and doesn't break the bank! Trustworthy Durex know how to do sex toys!
9/10