Dr. Laura Berman Intimate BASICS Astrea II Remote Vibrating Thong is a hands free wearable vibrator which has a portable remote with has a 3.7 meter range. Included in your purchase is a plastic ABS Controller and stimulator with batteries, and a Nylon/Spendex thong which has a pouch for your stimulator to sit in. It isn't recommended that you immerse the remote and stimulator in water so this toy isn't considered waterproof.  There are instructions for use included and you also receive a expertise note signed and certified, which makes it feel a bit 'novelty' like.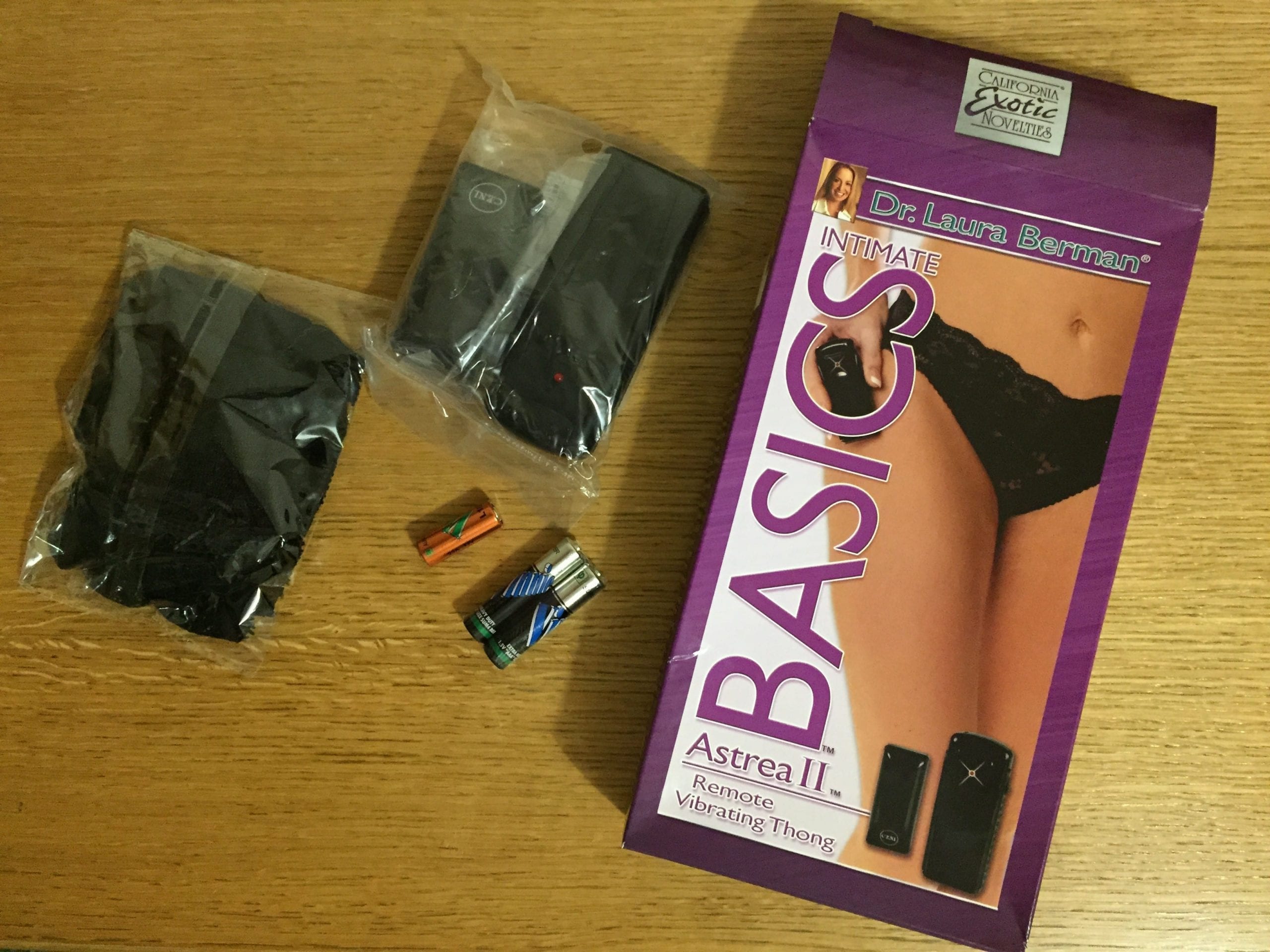 My first impressions of the Vibrating Thong wasn't good, to me the packaging looked like a very affordable low end market toy and not a lot of care has been made to give great first impressions. It has a dated look to the packaging, and wouldn't give me the desire to buy it if I saw it whilst browsing for a toy.
The Vibrating Thong allows your partner to send vibrations from a 3.7m radius to your underwear, allowing hands free pleasure. The vibration remote only allows you to turn the toy on or off, once turned on the remote doesn't allow you to change the speed setting which is offered with most products within the same price bracket. 
What she says
The wearable Vibrating Thong is similar to the Vibease which I also use, both have the same concept but both feel like very different products. Not only do you get a toy to play with in this product, but you also get a gorgeous black thong! Because of the 3.7 meter range needed to control the toy you have to be in the same room as your partner whilst in use.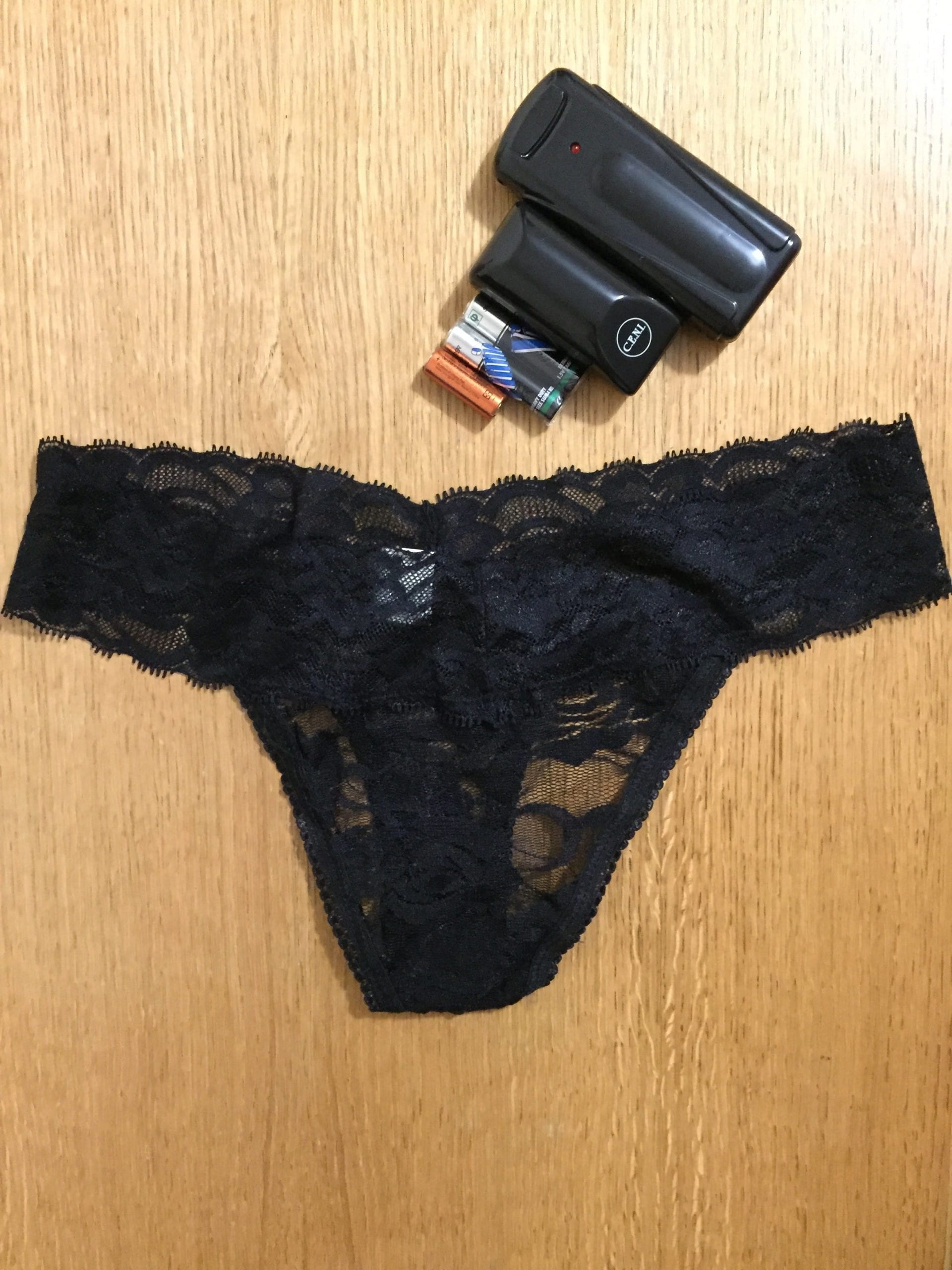 I was disappointed when i first saw the toy, the material of the vibrator feels very cheap and isn't something Id like to use on myself as it hasn't got that luxury feeling, or high quality feel. The packaging also affected the way i felt about this product. As much as it was trying to be a serious medical vibrator, it just seemed really comical and not an intimate product. 
Box contents:
Black Thong

Wearable Vibrator

Remote Control

Batteries

Certificate from Dr. Laura Berman
Once we started using the toy, we were instantly dissapointed. The toy doesn't sit in the right place to allow stimulation like 'hands free' vibrating thong should. The sensation of the toy felt more like I was being tickled rather than aroused and got really irritating fast. We then discovered that we couldn't change the speed of the vibe, which made the toy seem very plain. We then noticed turning off the vibrator it takes a few seconds. As we were using this toy as a couple and excited to use it we were both disappointed and had to stop using the toy and it was just ruining the moment. 
What he says
When Miss J showed me the Vibrating thong the shape of the vibrator in the thong looked a bit strange, the positioning of the vibrator wasn't in the right area which caused us problems once we started using it. We ended up using it out of the thong which defeats the point of the 'Vibrating Thong' and it ended up not being hands free. The idea of the Vibrating Thong is really ace, but I think they need to work on their toy design a bit more, it looks really flimsy and cheap compared to other toys on the market.  
Unfortunately I don't think we will be using this together again, however Miss J hopefully will still wear the sexy thong included! 
Tips
Love the thong! – The thong feels really nice a soft on, it also looks gorgeous! 

Buy some rechargeable batteries if you decide you love the product – it just wasn't for me! 
Where to buy
This product is no longer available but Lovehoney have a wide range of vibrating thongs available
Rating
After being very disappointed with this product, I'm sorry to say that I wouldn't recommend it to a friend. I just feel that for the same price you can get a more well made and well cared for product. I will however be keeping the thong to wear, it looks really nice on, but for the price I wouldn't buy the toy just for the thong!
3/10