Bondage Bunnies kindly sent me the Key Stella II Double Kegel Ball Set in exchange for an honest and detailed review.
Bondage Bunnies is a new large sex store specialising in bondage equipment and sex toys. The site has a diverse range, from vibrators to fetish, from lingerie to male masturbators. I received my Key Stella II Kegel Ball Set promptly and discreetly packaged through the post.
Medical research suggests that pelvic floor exercises can help prevent fecal and urinary incontinence, and increase sensitivity during sex, heightening sensations. This is a health issue faced by women young and old and is particularly found to become a problem during and after pregnancy.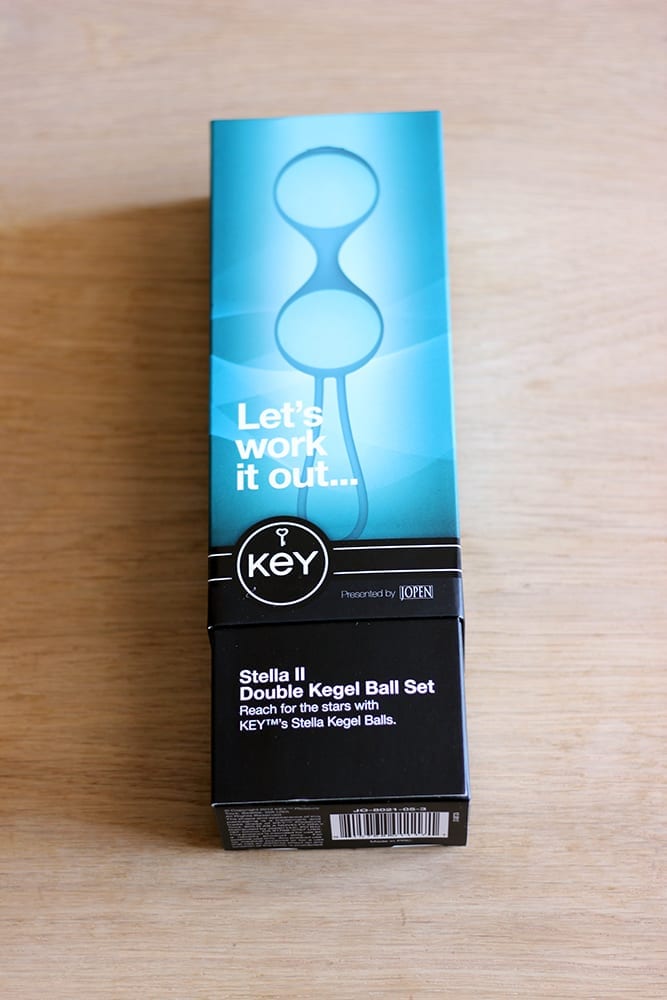 Kegal balls are an ancient Chinese practice used for centuries by women to strengthen the pelvic floor. They're usually a spherical shape and are inserted into the vagina. They can be weighted so that every time the wearer squeezes their pelvic floor, the muscles are worked out to increase strength.
The use of toys during pregnancy is deemed safe in the UK, as long as your pregnancy isn't high risk. If you have a history of high-risk pregnancies or cervical issues please consult your midwife. It's also wise to be aware that our bodies are so different in pregnancy, if you try something and feel uncomfortable or find there's any amount of blood, stop and consult your midwife.
I haven't come across any medical advice against the use of kegal balls during pregnancy, but the main issue would be risk of infection. During pregnancy you're more susceptible to infection and so anything inserted into the vagina must be clean. Infections of the vagina during pregnancy can increase the risk of premature birth. The advice for pelvic floor exercises, however, is to do it!! Apparently working out the pelvic floor in pregnancy is not only important for use of the muscles during birth, but also helps to get back the strength after birth.
I'm aware of my body at the moment and of course want to do what's best for my baby. I'm not deemed as high-risk but of course I have been careful when it comes to toys and sex. But I do believe in a healthy sex life and saving my pelvic floor! I've therefore made the decision to try these weighted kegel balls. I'll wash them thoroughly with anti-bacterial soap and hot water and insert them using water-based lubricant.
The Key Stella II Double Kegel Ball set is made of silicone, and comprises of a ball holder for easy withdrawal of the balls after use.
Contents: kegel ball holder, 3 interchangeable weighted silicone kegel balls (2 40g 1 30g), an instruction manual and a storage bag.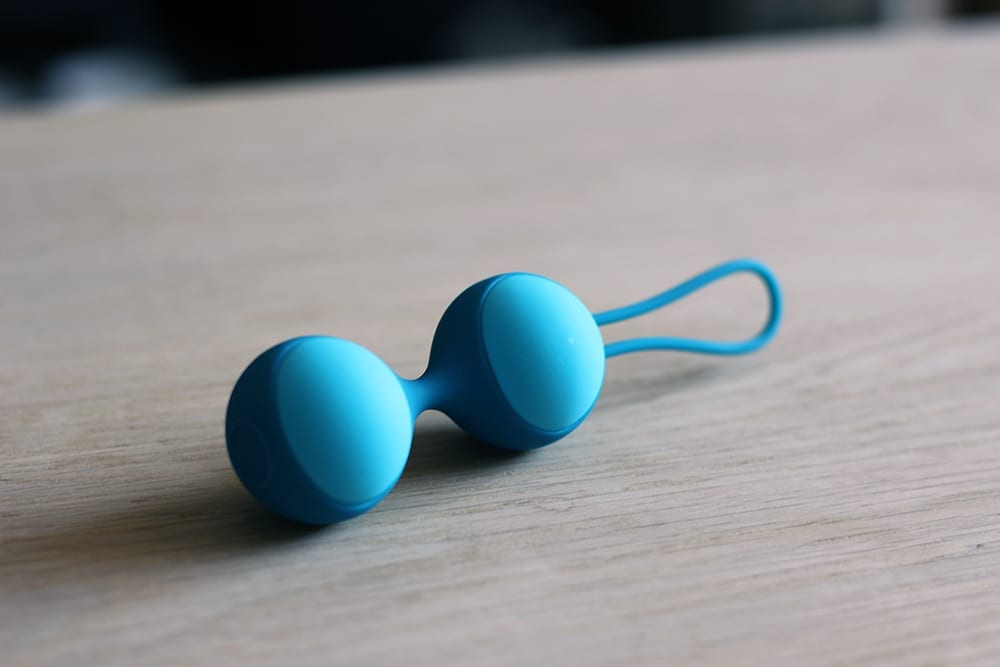 What she says
First impressions are that the Kegel Ball Set is beautifully presented, in a nicely designed and sturdy box. The balls themselves are incredibly soft and smooth, clearly made well. I was impressed that the product came with 3 different balls, not just 2, and that it had a storage pouch for clean and easy storage.
Washing the product is easy, and I removed the balls from their holder and washed each part separately with anti-bacterial soap and warm water. I applied liberal amounts of water-based lubricant and inserted gently into my vagina.
When first inserted, the balls were comfortable and barely noticeable when moving around. I popped them in, washed my hands and got on with some every day tasks. I squeezed every now and then, particularly when sat down, but when stood up also. I didn't feel like it was real effort to squeeze but I wasn't concentrating on it particularly, just exercising gently whilst putting the washing in, tidying up etc.
The weight of the balls was quite light for me, so I like that you get a slightly heavier ball with your purchase. I may try swapping one next time. You could absolutely get a good work out with these, though, if you wanted to concentrate and squeeze harder then you could. I just wanted a more gentle work out for my first go. More than anything, I felt like the kegel balls made it easier to identify my pelvic floor. You're aware of where the balls sit, so when you squeeze it's obvious you have the right muscle.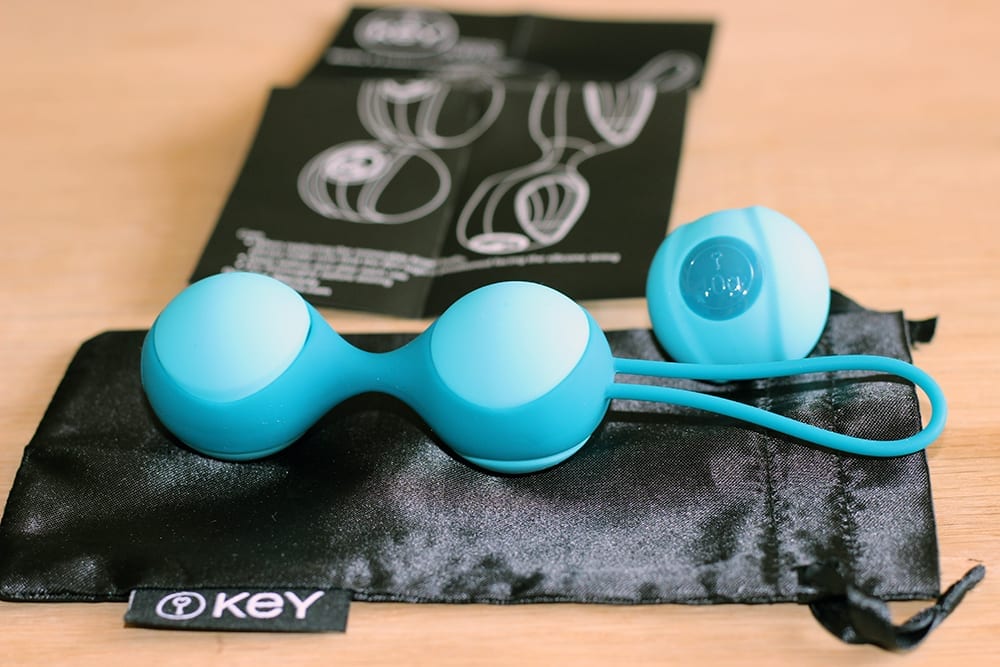 After about an hour or so, I felt like I needed to wee and I was a little more uncomfortable, but not very. I took out the balls with ease when I next went to the toilet. I washed again with anti-bacterial soap and warm water and I'm still storing in the box, but you could store in the pouch for space-saving.
I have found this product to do exactly what I wanted it for so far! And above all, it is well made, with sturdy but soft body-safe silicone and it can be cleaned well. This takes away my apprehensions because of pregnancy, and means I can keep my pelvic floor toned without fuss! At this time, my body feels very different, so having now tried the Key Stella II Double Kegal Ball Set from Bondage Bunnies, I feel like I can get on and use them without feeling any discomfort.
Tips
Use at your own risk during pregnancy – please weigh up the risks for yourself and consult a doctor or midwife.
Use plenty of water-based lube.
Wash thoroughly with anti-bacterial soap and warm water before and after use.
Where to buy
Bondage Bunnies – £15.99 reduced from £21.99
Rating
Something like pelvic floor exercise is something where, you really get out of it what you put in. This meaning that if you work the muscles hard, then you'll get results. I actually prefer having non-vibrating versions for exercise too, as it doesn't distract from the fact you're trying to work out this area of your body.
I really think this is a great product, whether you're expecting or post-natal or simply trying to exercise your pelvic floor more often, the Key Stella II Double Kegel Ball Set is body-safe, hygienic and great value for money.
9/10