Ann Summers Rampant Rabbit: Moregasm Rabbit Ears
Published: Sunday, Aug 16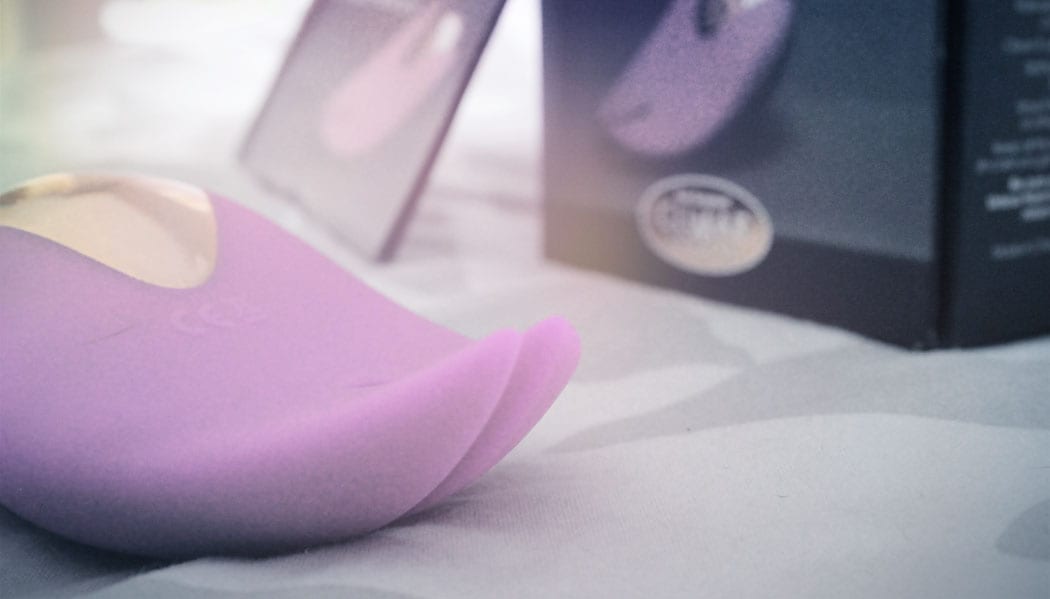 Our friends at Ann Summers sent us the Rampant Rabbit: Moregasm Rabbit Ears from their brand new Moregasm toy range, in exchange for a detailed and non-biased review.
The Moregasm Rampant Rabbit Ears is an ergonomically designed clitoral stimulator using the new Ann Summers Climax Technology. Designed by Ann Summers experts, this new motor sends low-frequency vibrations deep into your body. The vibrations claim to reach twice as many nerves as any other vibe, bringing on the most intense climax ever.
The ears are made from soft purple silicone with a plastic rose-gold base. The control button is hidden under the Rampant Rabbits' signature 'R', simply press and hold for on and for off, and click through all 3 pulse settings and 3 different speeds. The Rabbit Ears are rechargeable and come with it's own USB charger. The charging point simply slides into the silicone to one side of the toy.
The ears come in it's own box, with a hygiene seal to reassure the buyer that this toy is brand new. Included also is one USB charger and an instruction manual. Ann Summers are so confident that the Moregasm toys will give you your best orgasm ever, they they're putting their money where their mouth is and offering a money back guarantee if you're not deeply satisfied.
The toy was very discreetly packaged when it arrived and I couldn't wait to see what this new range was like from Ann Summers! The packaging is a card box with a picture of the toy, the branding and quite a bit of text on one side. The rest of the box isn't quite as busy, though, and shows off the branding and toy well! It's features are simply shown on the side which is always useful. There's a handle to the top and the thick card opens to the front to reveal your toy.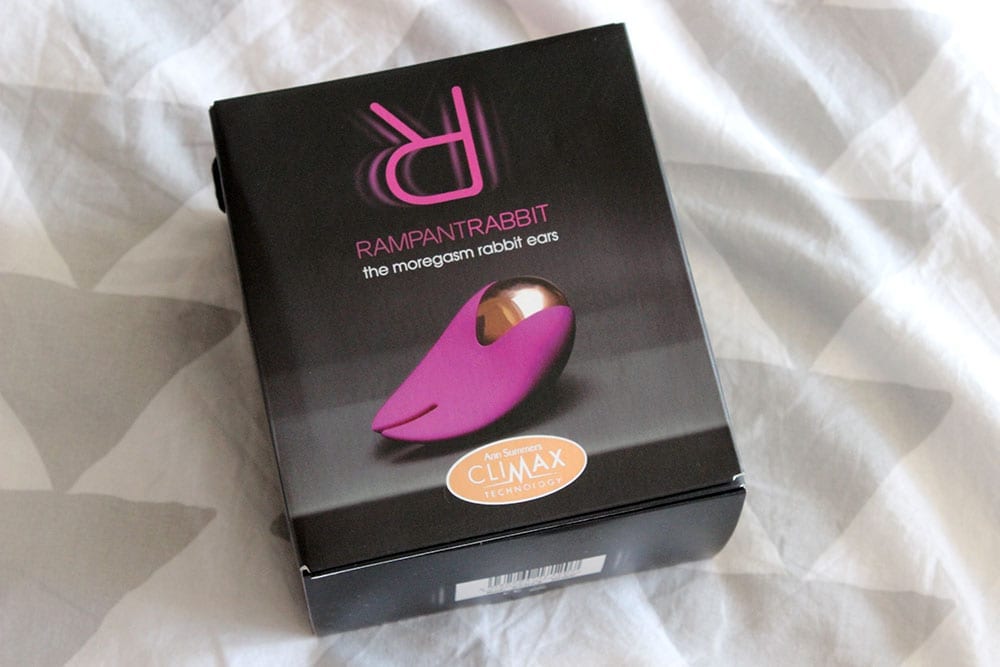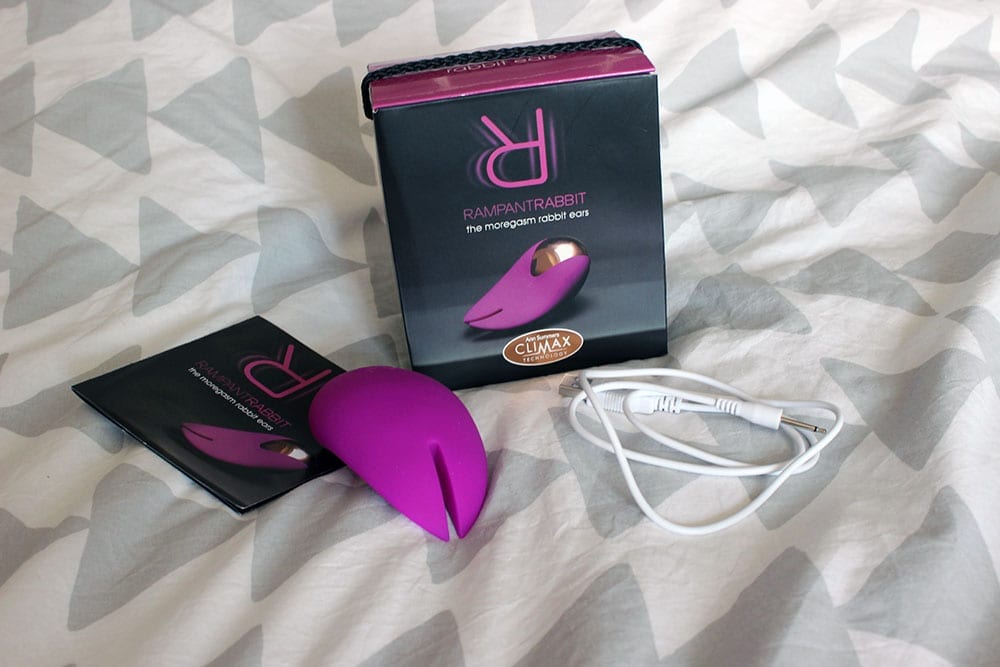 something they've brought to the whole brand. This is also actually a great way to ensure money and products/materials aren't wasted, because if the seal isn't broken then you can take your toy back. The charger and leaflet for the toy are underneath. I like that there isn't too much with this product, but I think storage bags are almost an essential for sex toys now. I was disappointed to see there isn't any storage bags included, that being said it is still quite a great value toy! Before first use it's advised you charge your toy fully, by plugging in to a computer and waiting for the light to stop flashing. There's no recommended time to charge so I just plugged it in for a while when on my laptop, with the laptop plugged into the mains. I like the interesting way the charging needle fits into the silicone; it's one of those weirdly satisfying things to see! And gives me great confidence in the 100% Waterproofing!
When fully charged, simply press down the button and buzzzz the vibrations are strong and low. Buzz 1.. ooh! Buzz 2.. Ooooh! Buzz 3.. Ahhh!! Then Ooooohhh!! Buzz 3 is intense and extremely powerful! If you want a build-up this is a great stimulator but be ready for finishing off and don't go mad if you're wanting to follow with intercourse! The three patterns are pretty standard and just as effective if you find one you like for build up! I have to be in the mood for a pattern to be honest, especially when a toy is new to me!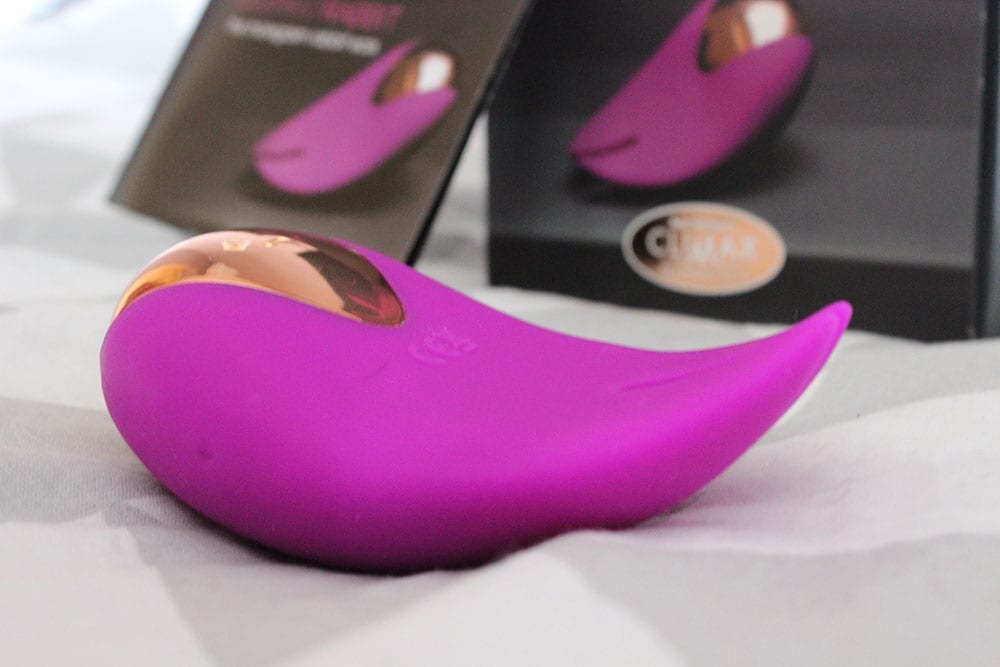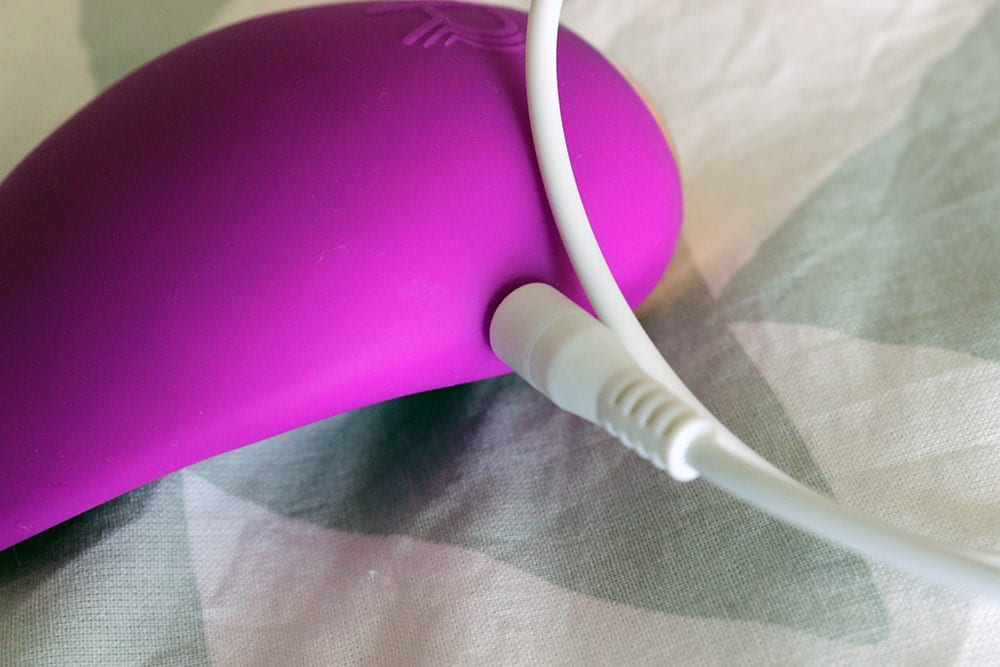 I do like this toy, it's well made, well thought out, effective, ergonomic and it feels like a luxury item for a low price! Maybe I've been spoiled for choice before now, but the claims of best climax ever have yet to be proven for me (I'll keep trying and report back!!). This might work for some though! It would be a great toy for beginners whether alone or as a couple, the sheer power will blow you away!
My only niggle about the Rampant Rabbit: Moregasm Rabbit Ears is the sound! Nowhere does it say it's quiet, but I didn't like how loud it was.  While using it together I had to turn it off as it was distracting me! Alone I managed to ignore the sound, maybe when using it together we need to add some music to soften the vibrating sound. We live together in our own home but this wouldn't be great if you needed to be discreet while using!
I really liked the look and feel of the Moregasm Rampant Rabbit Ears. It seems very premium and well made. It's very feminine looking with its pink and rose gold, but not too feminine to make me think I shouldn't be using it. As Miss K has said, we used this product for foreplay during sex, the vibrations are very powerful and felt amazing when presses against my testicles and stroked along my penis. The vibrations do feel different to more normal vibrating couples toys, but from a male perspective this was no more intense or pleasurable in comparison to other couples toys we've used. Another thing Miss K has mentioned is the sound (due to intense vibrations), personally I don't find this distracting at all, but it was something which really put Miss K out of sync while we were using the toy during intercourse. So overall as a couples toy I think it's something we need to keep playing with, some of the Oral tip below (taken from the Ann Summers website) sounds like something I'd love and will be persuading Miss K to do this very soon! So watch this space as we'll keep updating this review. Miss K loves it while using it on her own, which is a good thing, but it's not something I'd think of using myself during masturbation. Ann Summers have put together a great range with the Morgasm range, and from using the Rabbit Ears a couple of times, i'd be extremely interested in getting the Cock Ring to see whether a more Male tailored version of this product would allow me to experience more at first hand this unique type of vibration.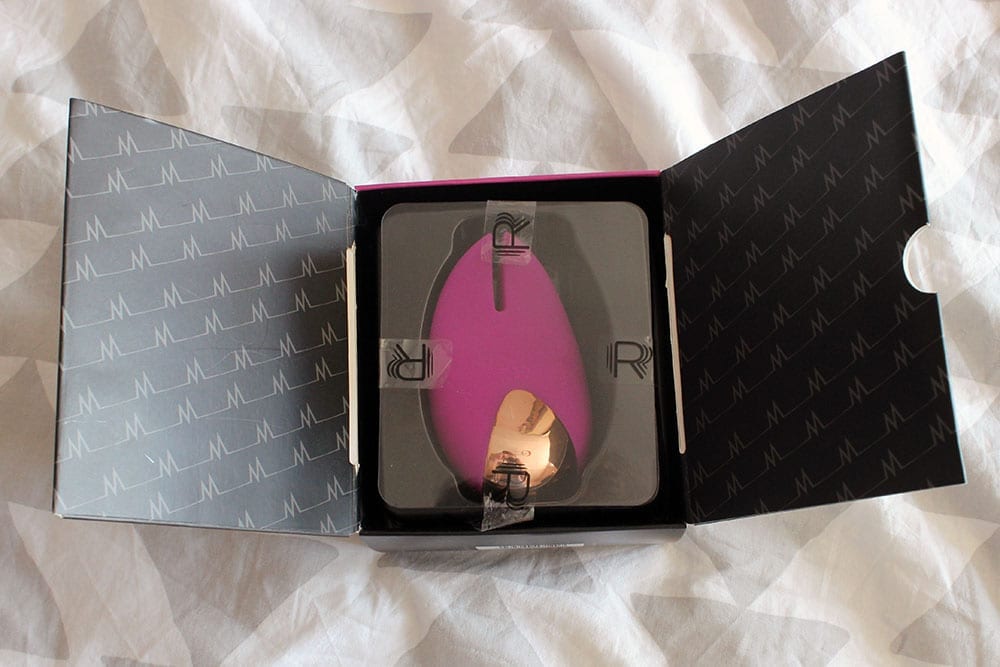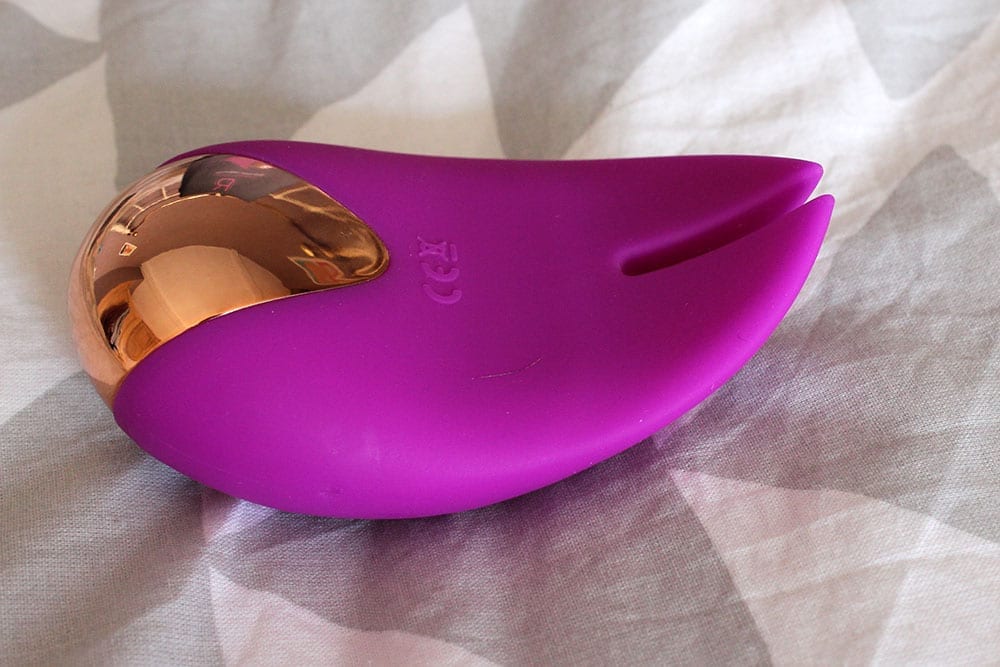 Use with a partner or alone,
Use with water-based lube,
Use in the bath or shower,
Try using it between you during sex,
Use as a tease during foreplay.
Use Liquid Satin Lube with your Rabbit Ears for a truly mind blowing experience,
When you're close to climax, change vibration settings to prolong and intensify your orgasm,
Press the flat shape against your throat while giving oral to send rippling vibrations through their body.
Frequently Asked Questions
What comes with it in the box?
Included is one USB charger and an instruction manual and the toy itself
What's it made of?
The Moregasm Rabbit Ears are made of a Soft Silicone.
Is it waterproof?
Yes it is! Ideal for shower or bath play! 
How do you charge it?
The toy is charged via USB (which is included in the box). No need to go taking your batteries out of the TV remote for this toy!
How many different settings are there?
There are 10 different vibration modes in total
How do you clean it?
We'd recommend giving it a wash with antibacterial soap and water after use and allow it to air dry. 
Lovehoney offer a range of Antibacterial cleaning products
Lovehoney UK  – £9.99
Lovehoney US – from $16.99
If you have any more questions about this toy, please feel free to get in touch
 Impressive vibration, luxuriously made, and unique! But Miss K found the loudness of the toy distracting! It's a personal thing but this is why a couple of points are lost for us.  
Rating 8/10 
Fun factory offer something very similar (if not better) called the Volta. Check it out at:
Lovehoney UK – £99.99
Lovehoney US – $139.99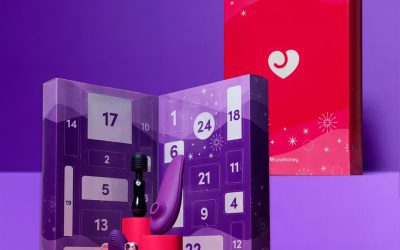 Everyone loves an advent calendar, but there's something about a product advent calendar that...