Review : G Vibe G Spot Vibrator
Published: Wednesday, Jun 26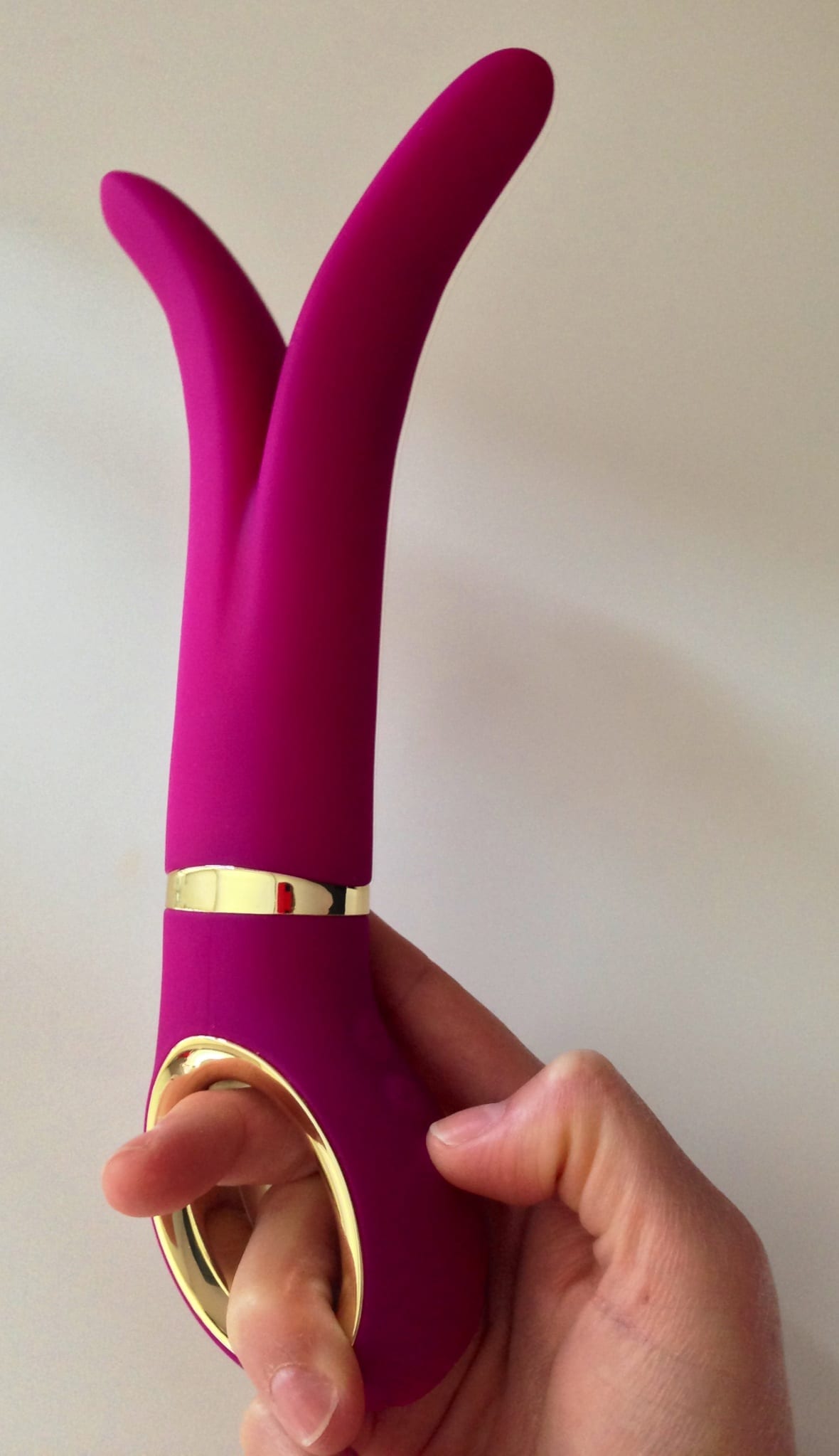 The G Vibe G spot vibrator is a very unique pthalate-free toy, originally created by 
Jack Romanski
 at 
FunToys
 when all the ordinary styled toys dissatisfied him and his wife.
Wanting something more from the industry, he decided to design a toy which had two tips that spread apart once inside the vagina, creating the 'sensation of fullness without actually stretching the labia'. This bespoke toy then introduces a range of uses and a whole new realm of pleasure for couples.
This toy is not only a unique shape, enabling the toy to adapt to each woman's shape individually, but also has two motors, one to each tip. The toy's elasticity enables the two tips to stretch to either side at a comfortable position when inserted, meaning the tips stimulate either side of the vagina comfortably, both the G-spot and the opposite side, giving a completely different stimulation to other toys.
The fun doesn't end there, the ergonomic shape of the toy means it can be used in many different ways, whether it's completely internally, internally and clitorally, on the nipples, vaginal and anal stimulation, around his balls or penis or during intercourse, there are so many ways to explore! With six different patterns and differing intensities of speed, the possibilities for experimenting as a couple are endless. The vibrations are managed by the plus and minus buttons, with the subtle and sensual lower vibration and the impressive and intense higher vibration originating at the tip of each petal. The six settings are all very different with their very own pattern for every desire.
We were thrilled to receive this toy for testing, especially after reading the blog post at Strawberry Blushes.  At first glance the packaging is really impressive, with its sturdy box, which was actually award-nominated for its prestigious design. The beautiful illustrations on the box and within the instructions are by the famous erotic artist Elena Mirosedina. The erotic illustrations really give an extra quality that makes this toy really unique and take it's look to a new level.
The toy's design is really nice with soft, medical, pthalate-free silicone and contrasting soft gold plastic, there's no doubt this is a really luxurious toy and lots of thought has gone into this design. The toy comes with USB charger, storage bag and illustrated manual with suggested uses.
If I hadn't have read the Strawberry Blushes blog post about this toy being the perfect couples toy, I would have just assumed this would be Miss K's review and wouldn't require any additional information from my perspective. Of course I would have been wrong!
It's safe to say we love this toy and we've used it now around 8 times before writing this review. As you'll hear from Miss K she loves it for foreplay and for self-pleasure and I love her response when using it on her.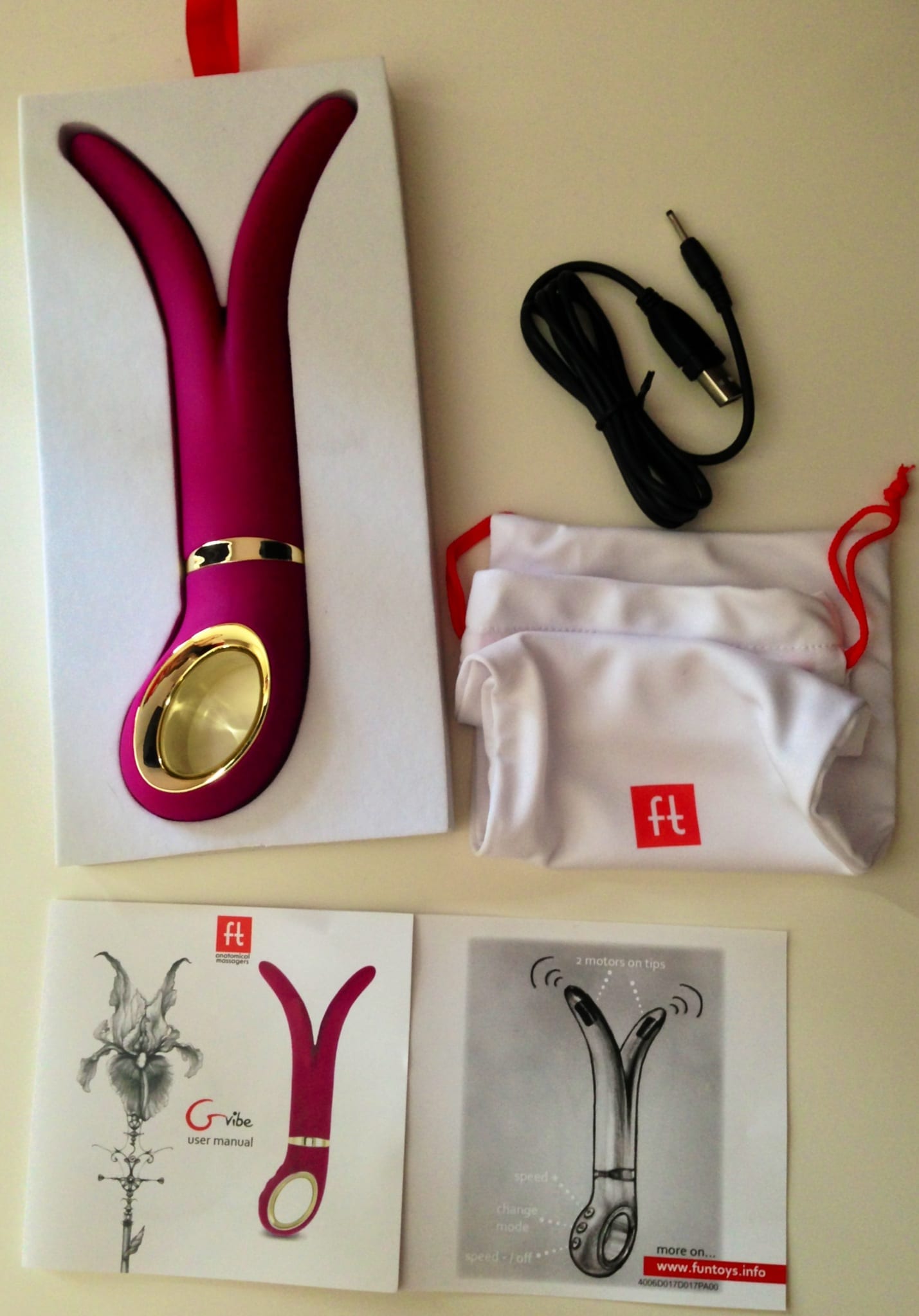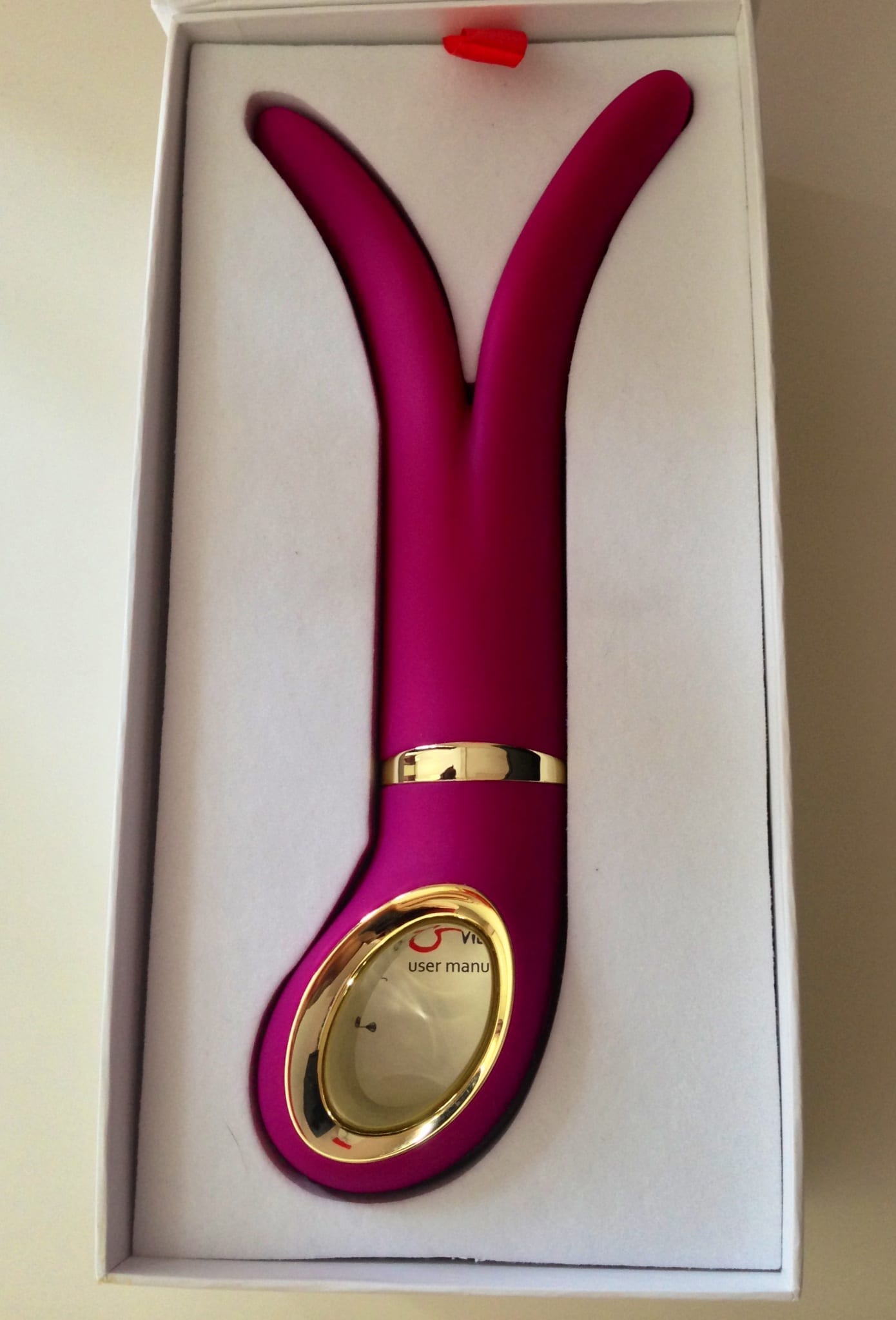 For me this toy is amazing when Miss K is pleasuring me, the vibrations are so powerful and I love how the two tips of the G Vibe can be placed in between the shaft of the penis for an amazing sensation. Personally this is beaten by the tips of the G Wand vibrating against my testicles for a mind-blowing experience. The soft material spread vibrations through the testicles and up the shaft of the penis, this coupled with Miss K's magic hands means for a mind blowing hand job.
Having experimented with lots of male toys it's safe to say the G Vibe couples sex toy is up there with some of the best. So much so that I've been tempted to use it on my own while Miss K been working nights.
For me, the only negative thing I can think of is this toy is only available in three female friendly colours, a nice jet black silicone with silver plastic would make this toy a bit more masculine and appealing at first glance to both sexes.
I really love the style of this toy and the fact that an individual who wanted something more from a sex toy actually created it! The illustration of the flower on the box appears symbolic and made me feel like this toy was aimed with the delicate woman's form in mind. Saying that the toy itself still looks naughty with its double petal, double penetrating tips. The first thing I actually noticed about this toy was how soft the silicone feels. Even the plastic detailing and handle feels smooth to touch, and with the handy, erotically illustrated manual for guidance, I really couldn't wait to experiment with this toy!
We first used this toy as a couple, where I had a go with the different settings and vibrations as a warm-up and Mr A took over. This toy has an impressive, satisfying range of vibration intensities and patterns, which I found helpful in getting started. I have to admit I found the shape a little awkward to begin with but then I've never used a toy with a shape like this before! It took a bit of time, but finding the right place for the vibrator was experimental and something very different to what I'd experienced before. With generic toys, I enjoy clitoral and g-spot stimulation, which usually doesn't take long to reach climax. With this toy, it's all about you as an individual and what matters to you, meaning you learn more about your body and what you like.
When inserted, I was a bit apprehensive and so was Mr A about it stretching, hurting and pinching and just being uncomfortable. So I helped insert the first time and it didn't hurt at all. We used water-based lube for comfort and in this position I could really feel the point of the toy, it felt very full but didn't feel like I was being stretched. The two different petals felt interesting and this was a really different experience on the whole! I also really enjoyed using the vibrations on Mr A, which he seemed to love and the response made me want him more!
I happened to find the time to use the toy on my own in the bath too… The toy is water-resistant but I was careful to plug up the charger part properly and keep that end from being submersed. On my own, I could hear the vibrations more loudly, and although it's not the loudest toy, it's not the most quiet either. I again found the shape really useful and tried yet more different ways. I hadn't charged in between uses so the charge must last its claimed 4 hours easily. I also realised how easy it was to use and that the buttons are really accessible, and while I could find the raised buttons, they were still soft and felt part of the toy. Since beginning to write this post I've found time to test the G Vibe a few more times… think I've found a new favourite!!!
Overall, this is a really well designed toy with the female anatomy at the forefront and with couples and experimenting in mind. It is an extremely luxurious toy with a bargain price, and is well worth the money with its endless uses and ways to experiment. So useful and unique!
As this toy has different uses on the male and female body, we have scored this independently:
Mr A's score: 8/10
Miss K's score: 9/10
The G Vibe we reviewed is no more I'm affraid, but the great news is there's a new model in town! 
The G Vibe 3 can be bought directly from G Vibe for £60.90
Exclusive Discount
You can get 10% off this product by using the code "XTRACURRICULAR" Enjoy!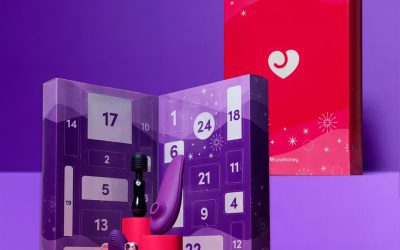 Everyone loves an advent calendar, but there's something about a product advent calendar that...