The Skins Vibe Ring arrived for us from 
Skins
 themselves, discreetly packaged and well protected for the journey through the post. This toy was supplied to us in exchange for an honest, detailed review of the product.
Essentially a cock ring, this is a new product from Skins which was brought to the market earlier this year. Skins are a well established brand, especially their condoms, supplying the NHS as well as many sex toy retailers including Lovehoney.co.uk. Their condoms have some of the best claims of the market; with clear appearance, natural feel, no latex smell, extra lubricated, simply named with lots of choice, affordable and available in many pack sizes!
The Skins Vibe Ring is a stretchy clear plastic ring with a white small bullet encased. This toy boasts:
Powerful motor,
30-40 mins of battery life,
Super stretchy for comfort,
Ridged inner to keep the toy in place,
Raised bumps and ticklers to increase pleasure for her.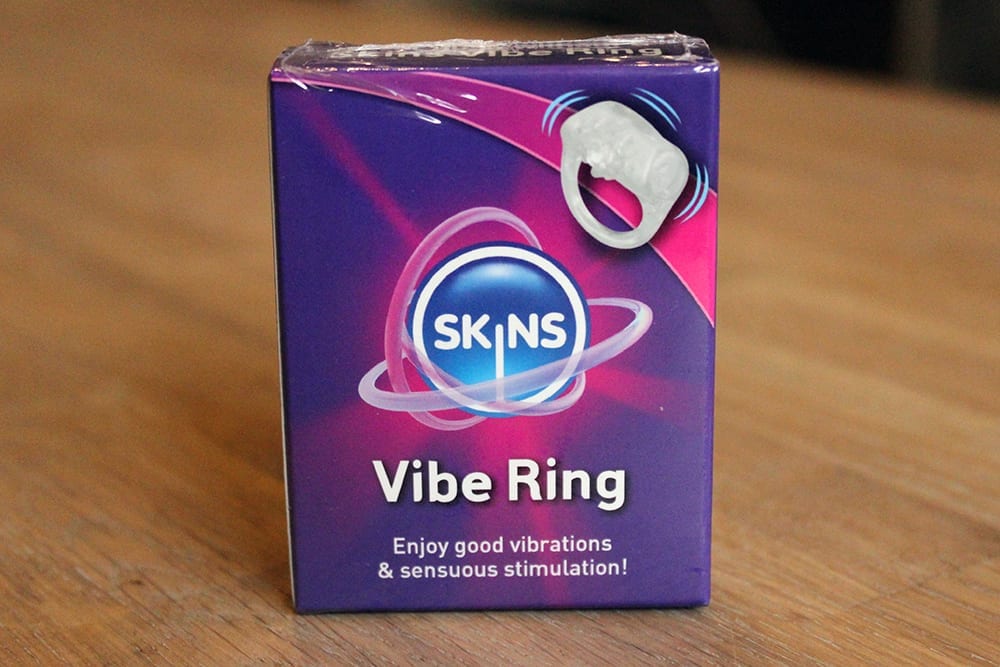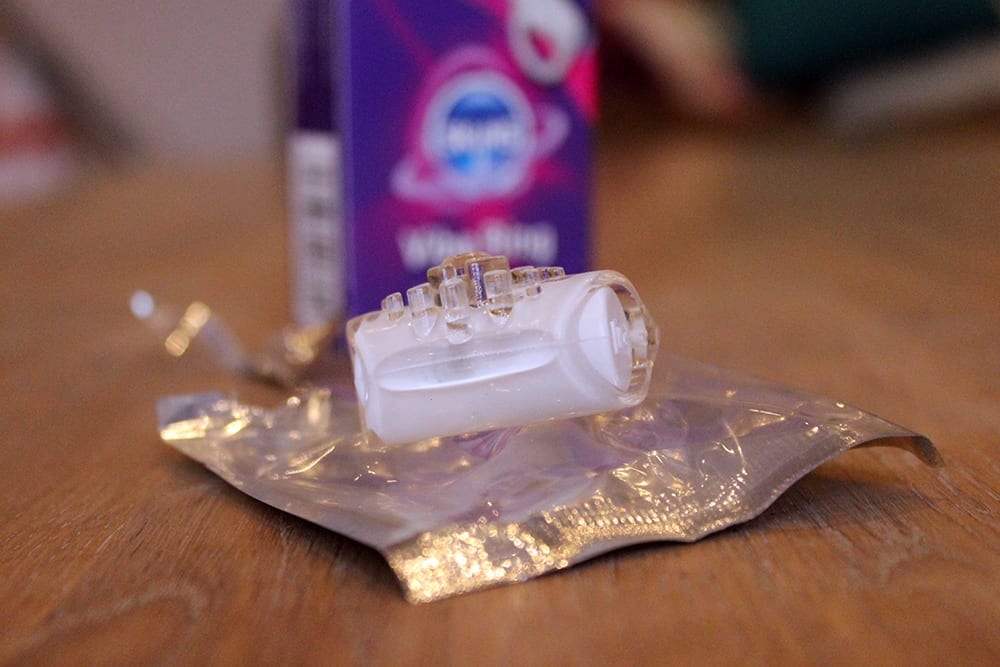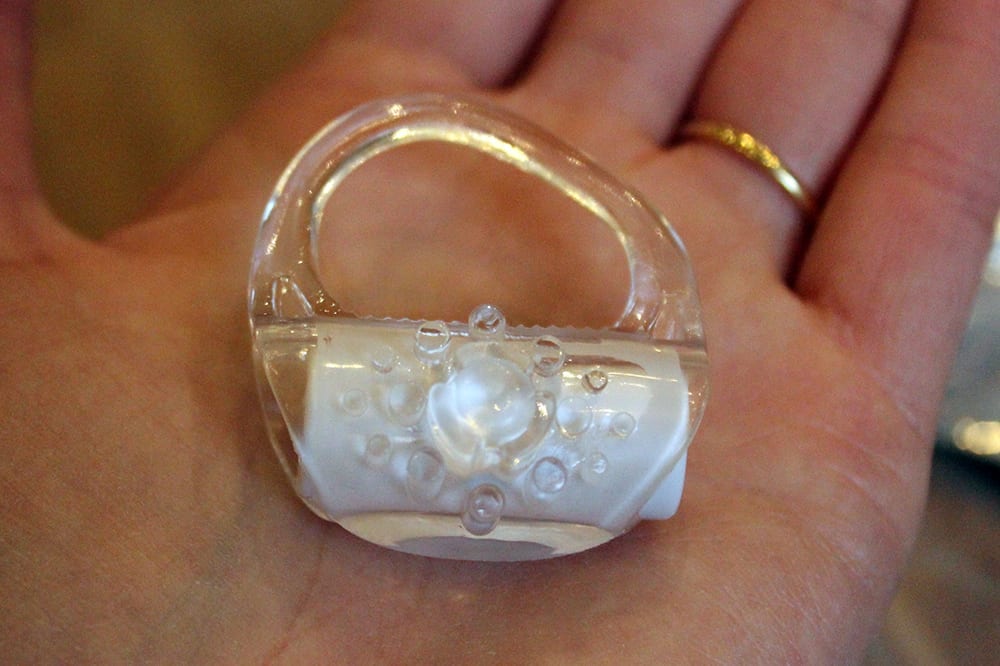 The ring comes in a small condom-sized box and is enclosed in a sealed packet so you know it is hygienic. The box shows that this product is 'Skins quality assured' and CE marked with batteries included. This particular ring is made for one use only. The product is very easy to use, simply take out of the packaging, place on an erect penis with raised bumps facing away from the body, flick the switch and go!
Having tried a number of different cock rings in the past I was looking forward to trying the Skins Vibe Ring to see how it'd compete with vibe rings available from other brands. The packaging ensures safety and hygiene giving you peace of mind before using the product. The design of the Vibe Ring is very minimal and clean, it doesn't look scary or make me worried about putting it over my penis. The Skins Vibe ring is easy to use, and once we were both in the mood I applied a small bit of lube to ensure the vibe ring slipped over my penis with ease. The ring itself is very thin meaning it's not designed to enhance your erection or delay climax, but this isn't an issue. Sometimes cock rings are too tight and uncomfortable and can really distract you during intercourse, this isn't the case at all with the Skins vibe ring, in fact, you hardly notice it's there.
Once in place over my penis it was time to start the vibrations by turning the small switch of the bullet on. Although quite simple to operate I did struggle for a few seconds trying to flick the switch on with my nail, but once on you know it's going to stay on (some cock rings we've used with buttons have been prone to accidentally turning off during intercourse). The vibrations of the bullet are quite powerful considering how small the bullet is, for us guys this means the vibrations run along your erection for added pleasure. For the ladies the vibrating bullet and nodules at the top of the ring stimulate her clitoris, which certainly seemed to happen during our use of the vibe ring. All in all I enjoyed the experience with the Skins Vibe Ring and it did add to the pleasure I received during sex.
The ring is dainty yet well made and I like how you hardly notice it's there (apart from the vibrations). The vibe ring is designed to not move during sex, although we did find it shifted a little bit, but not as much as with other vibe rings we've tried, so that's a good thing. I think the Skins Vibe ring is ideal for couples wanting to try sex toys for the first time, or spice up their sex lives without experimenting too much.
We've tested a lot of cock rings, but I like the simplicity of this vibe. It's no-fuss design makes me think it's made for the job. I don't understand when cock rings are made in a variety of colours and shapes, because to be honest- I won't be looking at it for long!
This particular product is a vibrating ring rather than a cock ring, the difference being it fits comfortably around the penis for vibration only, not to restrict the circulation of the penis like cock rings do. I had a good look at the Vibe Ring before using; I was impressed by the stretch it had and it felt as though it was made from soft materials. There is no documentation of body-safe material or exactly what it is made from for those with allergies but as this is a well-tested, CE marked and quality assured product for use outside the body, I'm happy to trust it. If you have any concerns you're able to contact Skins via their website or through their customer care line printed on the side of the box.
One thing I was particularly excited about before using this product was that it has a ridged inner area to keep the vibrator in place. This is one thing about cock rings or vibes, that they quite often move during sex and end up in entirely the wrong place. I therefore look forward to this, as well as the bumps, the power and the length of battery life… but truth is in the testing… And this really didn't disappoint! We waited until he was erect and I was ready, and applied the Vibe Ring using a bit of lube. He switched the vibrator on and thrust into me, and the vibrations were really good for such a small bullet vibe! It really helped to stimulate the clitoris while in motion and definitely started me off nicely. It did seem to swing round a little bit, but not as much as some as it was still in that general area!
If you're new to sex toys or cock rings this is the perfect started product for you
Use a little bit of lube to slide on but not too much so it keeps its position.
Switch on and enjoy!
Overall the Skins Vibe Ring is great quality and value for money, adding pleasure during intercourse while not getting in the way. The Vibe Ring is an ideal starter toy for those couples looking to add toys to their sex life. We give this 7/10, it's a great product for beginners but a little too basic for us.
Rating 7/10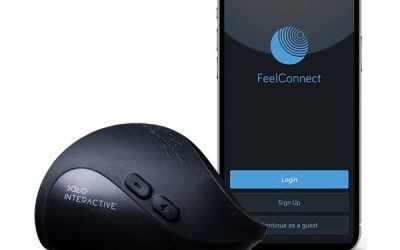 Sex-tech company Hot Octopuss launch PULSE SOLO INTERACTIVE their first interactive toy featuring...