Review: Sensuelle 10 Function Wireless Bullet
Published: Thursday, Feb 27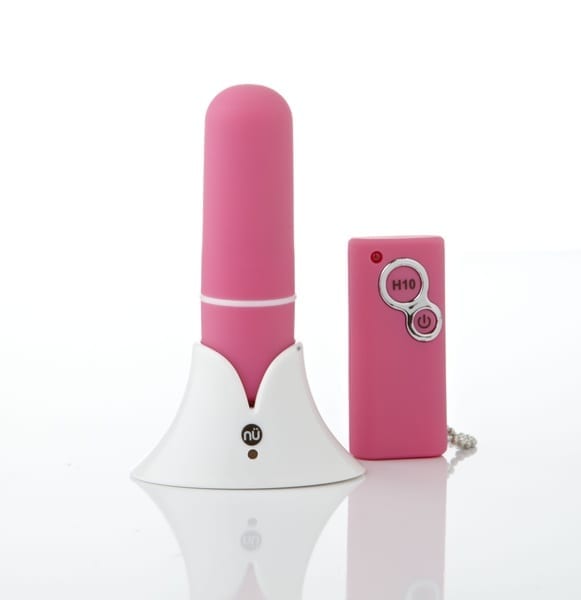 The Sensuelle 10 Function Wireless Bullet is a remote control vibrator by Nü- Toys For Adults. This toy was supplied to us by openinprivate.co.uk in exchange for an honest review.
Open In Private are known for supplying NHS clinics and trusts with condoms, and also supply sex toys and products to the general public. Their selection of toys are tested thoroughly so they only supply top quality products. They have 20 years experience in the safe sex industry and promise to provide quality products at value prices.
The toy's features are:
Water resistant – submersible but ensure charging prongs are dry before charging
Intense – state of the art vibrational technology
Soft and silky – smooth texture to heighten pleasure
Easy to recharge – includes charging dock and USB wire
Wireless remote – for remote fun solo or with a partner
10 functions – for powerful stimulation with a variety of vibrations.
The bullet comes in a white, black and silver card box with a clinically clean feel. The toy can be seen through the clear packaging protruding through the cut-out to the front, so the bullet and remote controller can be seen without opening. This toy comes with: USB charger cable, charging dock, Instruction manual and storage pouch along with the bullet and remote control units of the toy.
We received a matte bright pink bullet and controller, but this toy is also available in black if you prefer. Both the bullet itself and the controller are made of very soft, smooth ABS material. It is stated that this product is RoHS compliant, phthalate-free and CE marked.
The controls are easy to master, just one click of the bullet button and it switches on with a blue flash. Then click the 'H10' button on the controller and this starts the vibrations, click the 'off' button to stop vibrations. Click the 'H10' button to scroll through the 10 vibration functions. Ensure your vibrator is turned off by pushing on the bullet button until the light goes off.
The wireless remote control means that the bullet can be used for relaxing solo play. This would mean the bullet held in one hand and the control in the other, so you can move with one and flick through the settings with the other. It can also be used with a partner- give them control while you hold the vibrator in place, so they can tease you by choosing the pattern or intensity.
The immediate appearance of this toy is quite budget, due to the plastic silver detailing, clear plastic wire to the bullet and beaded chain to the remote (and maybe the bright pink too!) The wire to the remote actually makes the bullet remind me of a tampon! Saying that, it actually feels really well made and sturdy. The packaging is small and just right for this type of toy, with a nice storage bag to keep it in when you throw the box away, perfect for bedside storage!
I found the controls really easy to use, and the vibrations surprisingly powerful! When I first removed the toy from the packaging, I was intrigued by the smooth texture of both units and by the intense vibrations it was capable of! The third function is an intense continuous vibration and is really impressive for a bullet, as are the high points of the patterns available. There are plenty to choose from in the 10 functions too, and the patterns aren't generic to other bullets, so I found it interesting to scroll round and get something that really got me excited!
I used the toy on my own, with a drop of lube, and decided to insert it a bit because it has a wire like a vibrating love egg. I didn't feel too much from that but it did feel nice, but I suddenly thought- it says water resistant, not waterproof! The 20 function bullet we've reviewed said this and along with it a warning not to get the charging prongs wet! So I thought it safest to take it out and used clitorally.
I do feel like this toy is a bit confused though; it's called a bullet, with the wire of a love egg; it's an in-between shape, but is it completely safe to insert? I couldn't find anywhere on the box or instruction about inserting or about the safety of the prongs, so it left me a bit puzzled! Also, for couple's use a bullet still benefits from remote control, but for solo use it makes more sense to be able to insert it while holding the remote?
Either way, it really impressed me as a clitoral vibrator. The vibrations were powerful, it's reasonably quiet (didn't distract me anyway!) and it definitely excited me. Using the vibe with one hand and control with the other, I could actually relax and then throw the remote down when the right setting was reached. This will be a good one to use with Mr A, as I like him to take control during foreplay!
The bright pink of this toy immediately makes me think this is her treat- both in a good and bad way, so personally I'd choose black to use as a couple's toy. Seeing this and not realising what it does, I'd assume this was a solo toy for Miss K. We haven't been able to try this together yet, but reading more into it and seeing what it does, I'm confident this would have the desired effect of putting me in control of foreplay.
This is a great toy to tease Miss K with so I'll use it creatively- like get her to put it in her knickers around the house and switch the intensity while she walks around. I think the price of this is really reasonable too, so a great gift for beginners wanting to spice things up in the bedroom or try something different. It's not too scary looking to introduce either, although I'd definitely prefer black myself!
Use oil or water-based lube to enhance your experience (be aware oil based lube erodes condoms).
Try with a partner for some remote fun- put it in your knickers around the house, or control the placement while he controls the pattern.
If you do insert, try not to insert the whole thing, and keep hold of the wire.
Water resistant usually means splash proof but do not submerge.
Definitely a great beginners toy, this is perfect for a couple wanting to experiment in the bedroom. The vibrations are just right for her and the remote control involves him in the pleasure, great for foreplay or her treat! This vibrator has a slightly confused identity to me with the wire, and I'm not too keen on the bright pink! But the vibrations are intense and remote control is handy. The added bonus of value for money and we give this a fair score of.
Rating 7/10 
The Sensuelle 10 in this review has been upgraded and now has 20 functions. This can be bought directly from NU Sensuelle for $94.99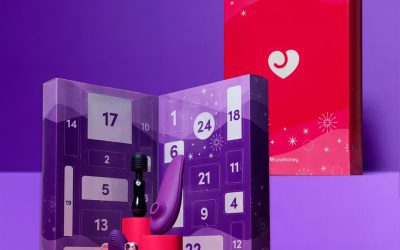 Everyone loves an advent calendar, but there's something about a product advent calendar that...