TIGER G5 Deluxe VIBE by Fun Factory
Published: Saturday, Aug 15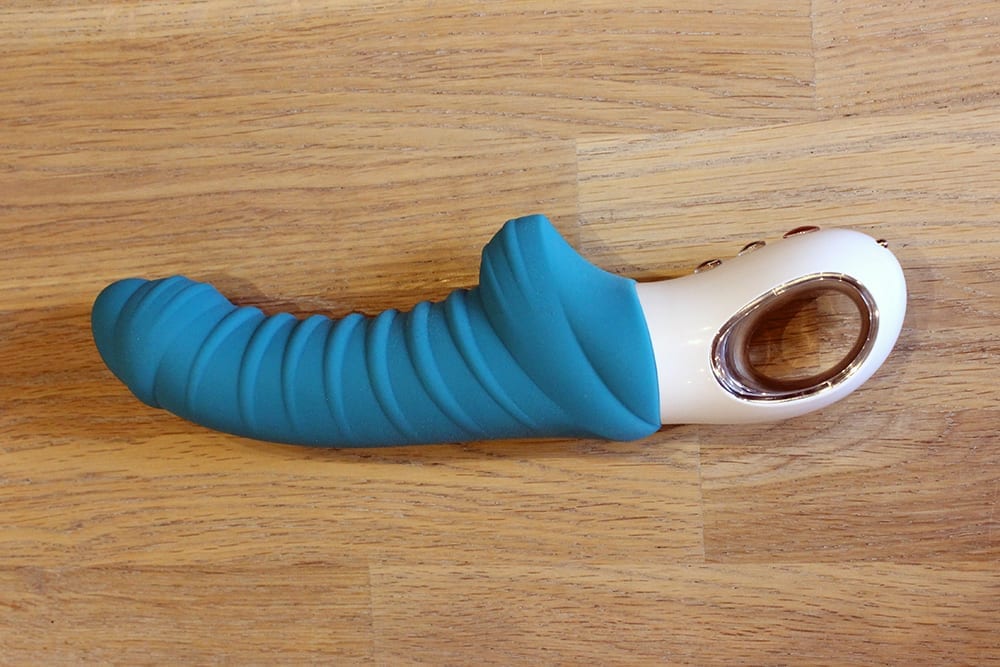 Our first post as Mr and Mrs! We've been very busy recently with work and wedding and finally can get back to some sex toy fun and a few reviews! 
This exciting toy was sent to us by Fun Factory in exchange for an honest and detailed review.
'Quality, functionality, combined with fun and sensuality' Fun Factory was started in 1996 by university graduates based in Germany. They only use 100% medical grade silicone and body-friendly plastics in their meticulous manufacturing process.
The Tiger G5 is an impressive 21.7cm with 4cm circumference and about 12cm of insertable length. The majority of the toy is phallic shaped, made from soft, flexible silicone, with white plastic control loop.
The toy is flexible to adapt to body movements, meaning it can fit to a range of positions and reach pleasure areas with ease and comfort. It's soft and ribbed with a curve to reach the G-Spot or prostate and a base that protrudes to stimulate the clitoris and make this toy safe for anal play. The texture is soft and gentle against the skin, free from harmful substances and odor.
The vibrations are strong throughout the toy, right to the tip. There are 6 vibration rhythms and 6 intensities. Press 'fun' to start and to stop, and + to scroll through the settings. The ergonomic control handle is made for ease of use, with comfortable positioning for both right and left handed users. Unique re-charging prongs sit at the end of the toy. Simply attach the magnetic USB charger to thoroughly dry prongs and wait for 1-3 buttons to light up. This indicates the charge completed – i.e. 100% charge = all 3 lights = max 8 hours of use!
To lock the buttons for travel simply click down 'fun' and + and to release click down 'fun' and – buttons. The toy is 100% waterproof so you can take your fun to the bath or shower! This also makes it super easy to clean with anti-bacterial soap and warm water or toy cleaner. Water-based lubes are best used with this silicone toy, to add to your pleasure and for ease of insert!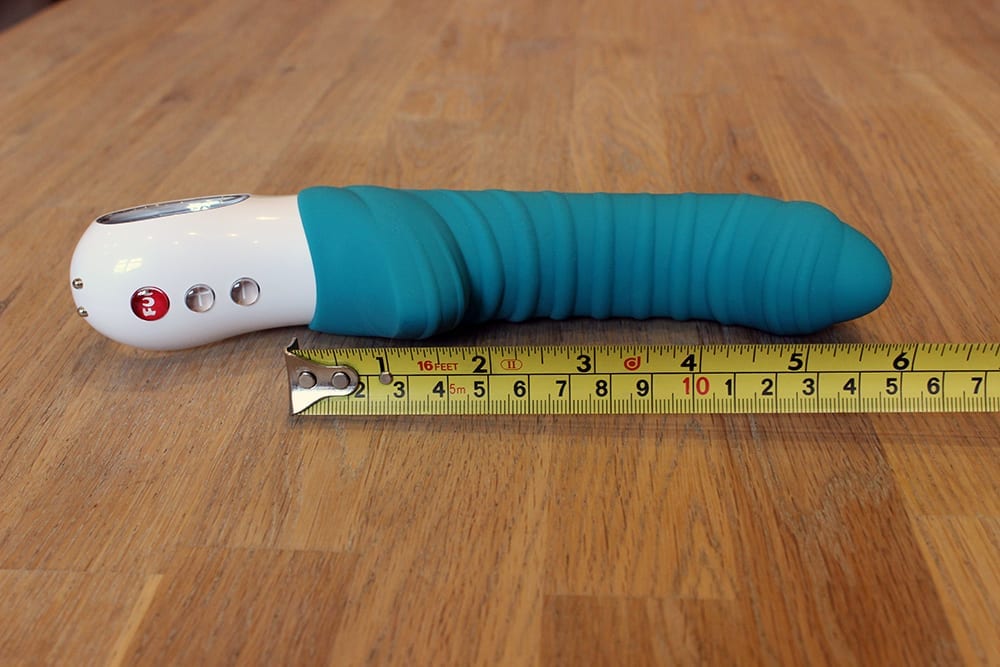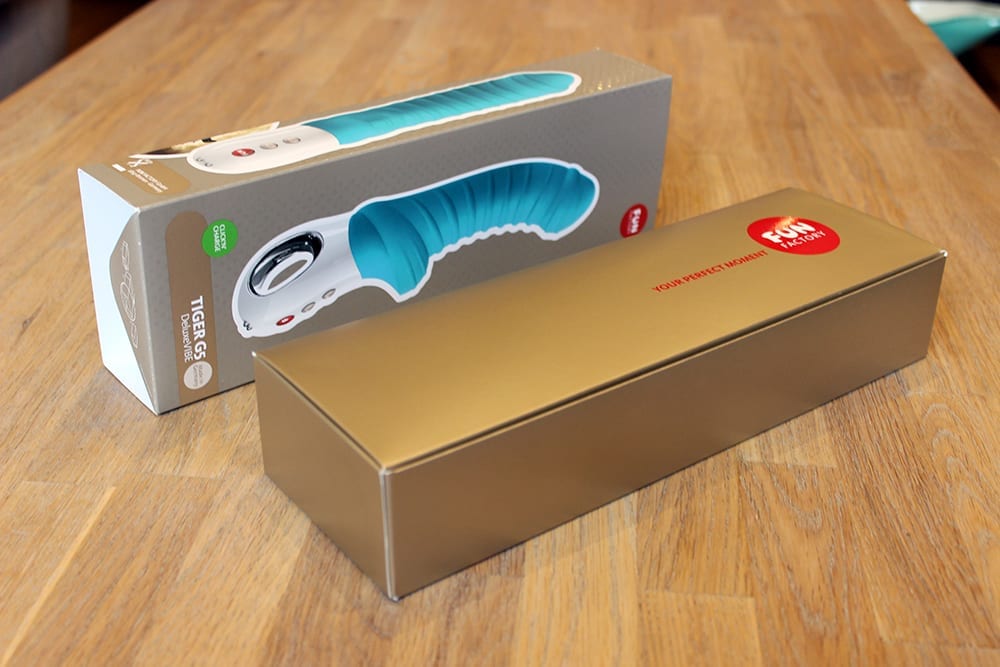 Straight away I could see that the quality of this product wouldn't let me down. The packaging reflects the brands sexy, fun but superior brand, and is suitably simple cardboard with sections for charger and manuals. I received the petrol blue colour, but it is also available in India red and violet.
I actually really like toys that are phallic shaped but don't look like a penis. My reasons might be obvious? I don't really like the look of any other penises other than my husbands (still getting used to the h word!). They're not that attractive really are they? Veins and all that, err. His is something I'm used to and find attractive but I don't want a toy that we could use together to look like someone elses! The phallic shape I find important, though, because it just fits better. The natural curve and rounded end of this toy, straight away I knew would suit me perfectly, and the ribbed texture might add to the pleasure! It's soft and satisfyingly squishy with good flexibility, but keeps the curve so you can stay on that G-Spot.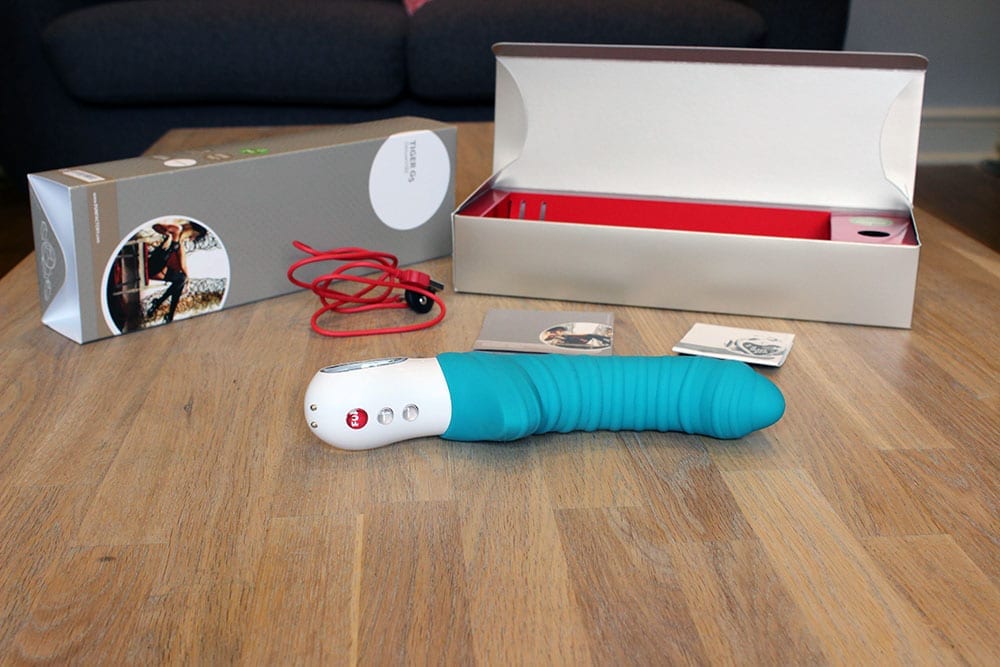 Of course, I didn't read instructions (I don't recommend this, I'm just impatient!) and struggled to understand how to switch the vibrations on! It's so easy, just hold down the 'fun' button! Yey! I really like this touch, and it is really handy to quickly switch on and off. The vibration intensities start first, and the highest is incredible!! Really impressive throughout the whole toy, in fact it feels more intense at the end! Keep going past the most intense setting and you get to the patterns. I wasn't sure about this way of getting to them first, why not make more use of the 'fun' button? But it's made more sense the more I've used it and I'm now getting used to this! The settings are brilliantly teasing, and have some different patterns to other toys, which is refreshing!
Charging this toy is incredibly easy! Clever use of magnets makes this interesting. Of course I had a little play with the magnets (before plugging in of course! What is it with magnets??) I'm not sure why they've chosen to do this but it is a fun and exciting way of charging your new toy. Also makes me more confident in the '100% waterproof' aspect. I always feel odd having a toy with a charging hole in it submerged! I haven't tried it in the bath yet, just washed it in the sink with antibacterial soap and warm water, which I always prefer and feel like I can properly clean a toy this way.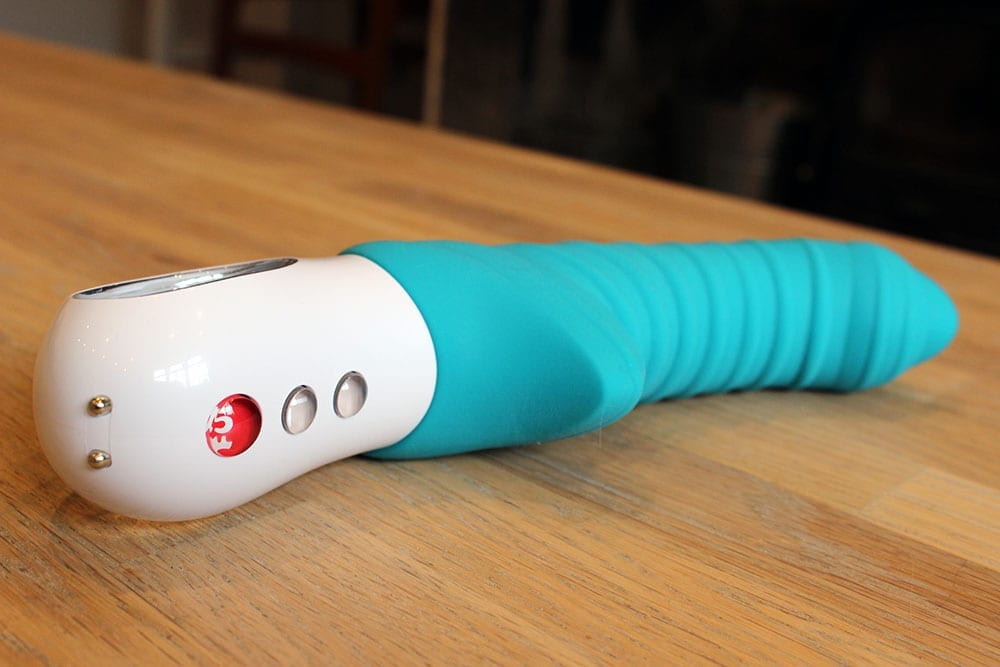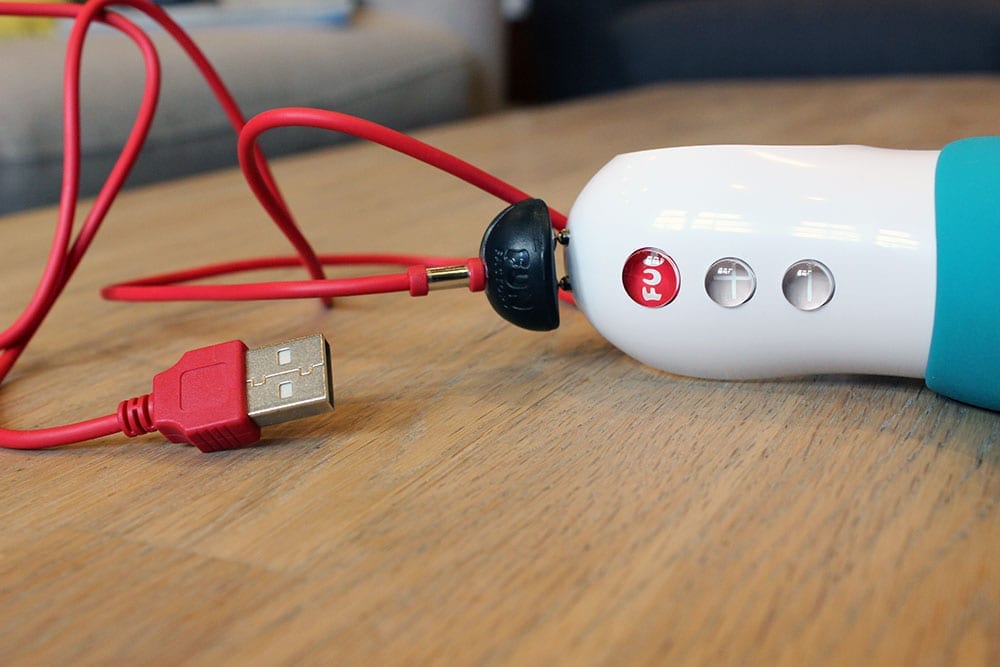 When it came to using the toy, I think 5 times now, I tried different things every time. First I cranked it up (see- impatient!) Got myself going with the tip and then enjoyed the full thing! Full speed gets the job done, I think if you wanted a quick session, you could get the job done at speed!! Next I tried out the flexibility and loop handle by trying to aim more and slow down the speed to hit the right spots. This way was pretty magical when climax hit! Next time was patterns which make a great build-up! I really like the way it pulsates at different speeds, it's different from just your usual wave patterns. The next I teased and then actually felt like using the toy with the motor off! Which may I say is just as effective and definitely something to try because you really get the benefits of the ribbed texture. So I feel like each experience was just as exciting as the next, it seems this won't get old! It's worth mentioning I used water-based lube with this toy.
I find this vibrator the most pleasurable because of the combination of shape, flexibility / softness, and vibration power. I don't have to hide my activities from anyone in our home, so I find gauging noise difficult for reviews. The noise from this one isn't any louder than others with similar power behind it, and I think with vibration power there will always be a degree of noise.
You might realise we haven't tried it together yet but Mr A and I don't always go for this kind of toy together. I might use it to warm up at some point but I'm sure mostly this will be 'alone time'. He doesn't go for this kind of thing used on him either, so it's all mine!
I haven't tried this one with Mrs K yet, but she definitely seems to enjoy it! This is the only one she gets out on her own at the moment!
Use with water-based lube,
Use alone or with a partner,
Try in bath or shower,
Build up the vibrations for a longer session,
Move around and use the flexibility of the toy to use it to its full potential.
It's not something new to the sex toy world but for the averaged priced sex toy this is way more than average. Vibrations are strong, patterns interesting, shape and size perfect for me, soft, flexible and excellently made.
Rating 9/10 
You can buy the Fun Factory G5 Tiger from Lovehoney.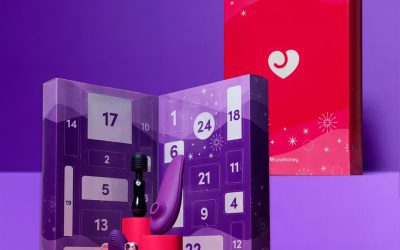 Everyone loves an advent calendar, but there's something about a product advent calendar that...