Review: LELO TIANI 24k Luxury Vibrator
Published: Sunday, Mar 13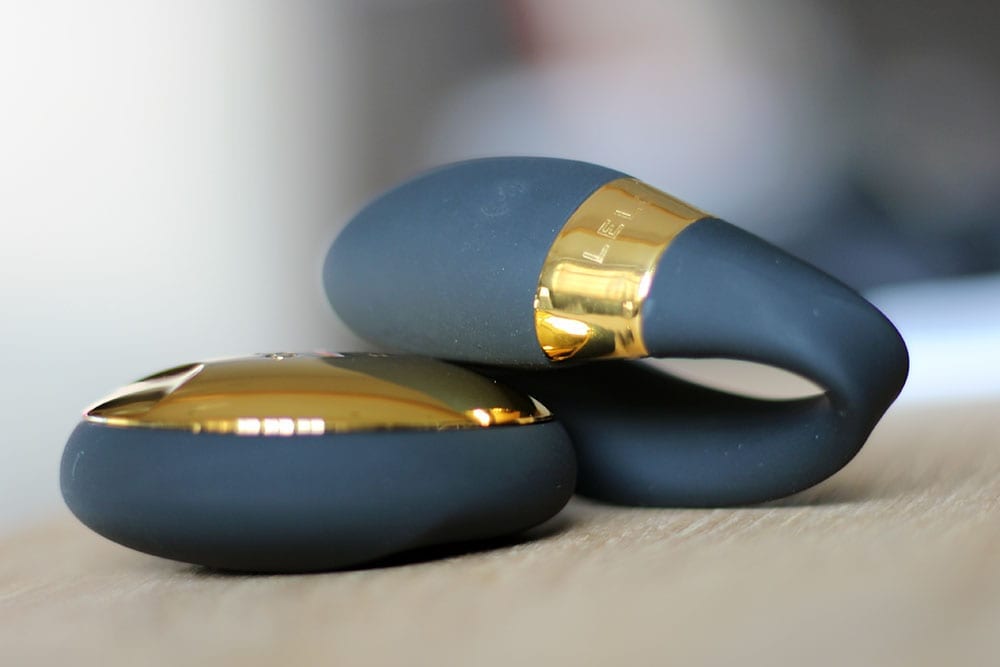 LELO are undoubtedly our go-to brand for luxury toys, and although we've tried and tested a range of luxury pleasure items from this incredible brand, we're yet to try one of their superior 24k designs, that is, until now.
Launched in 2003, LELO have transformed the market with their quality products and discreet personal massagers. Their aim is to bring a new level of luxury to intimate products, and they have certainly achieved this over their 13 years. Introducing these high-end products has opened up a world of sophistication and subtlety whilst still appealing to the masses. The ideas keep flowing too, with two collections still growing and a range of sensual accessories.
We truly rate this brand, for reliability, quality, power, innovation and design.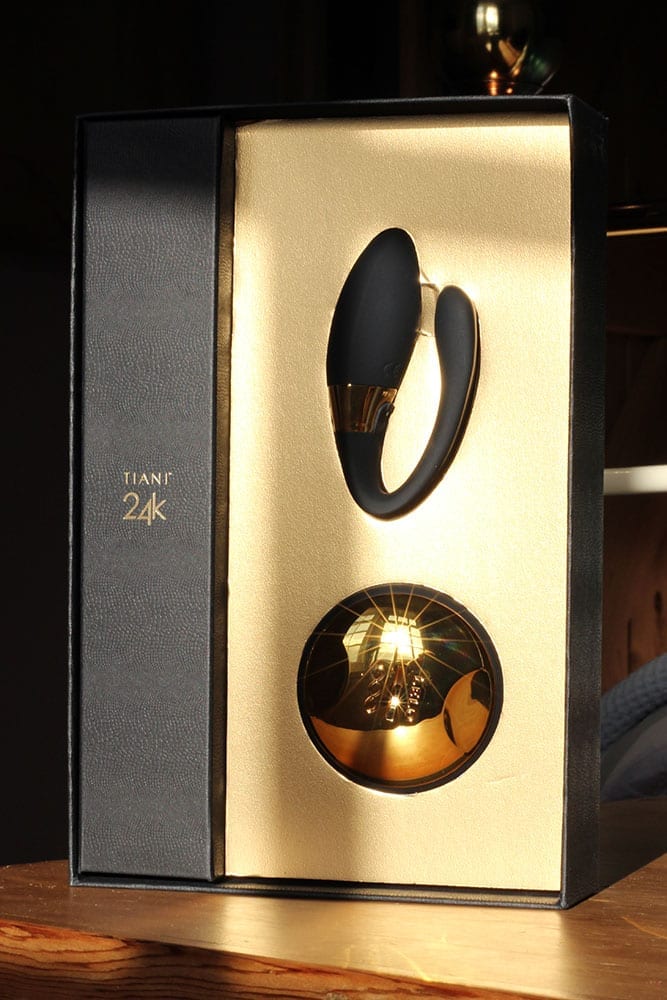 One of LELO's latest releases is set to impress. The TIANI 24k is soft, silky, body-safe silicone accompanied by 24k gold trim, laser-engraved with unique serial number. The function of the TIANI 24k is to bring couples together, by introducing a dual motor, remote controlled 'U' shaped personal massager to your intimate time.
Designed to be worn during sex, the TIANI 24k has a larger and smaller side to the U shape, to enable comfortable wear when inserted along with your partner. The larger side omits vibrations for external stimulation and the smaller side enhances internal pleasure for both partners. This dual motor design provides powerful vibrations in 8 pleasure settings.
The wireless remote control can be held by yourself or your partner up to 12 meters, and includes LELO's Sensemotion technology, where by the user can use the action of their hand to control the strength of vibrations. The TIANI is also rechargeable and 100% waterproof for endless fun!
What's in the box
TIANI™ 24k
USB-Charging Cord
Wireless Remote Controller
Satin Storage Pouch
 Warranty Registration Card
Detailed Instruction Manual
2xAAA batteries for Remote
Lint-free Cleaning Cloth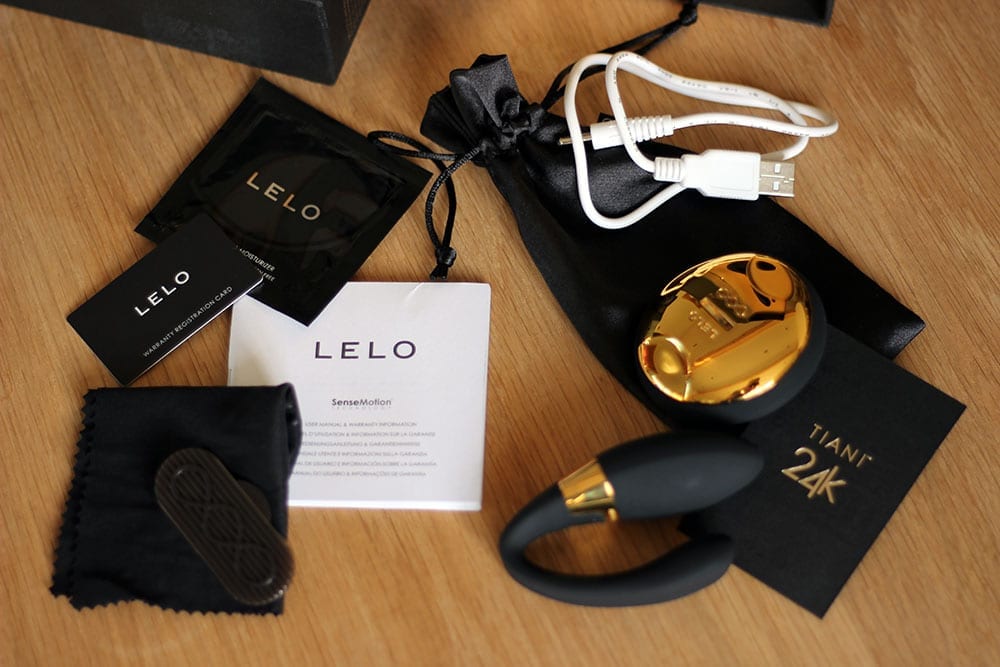 The TIANI also comes with 1-year warranty, so if you have any issues LELO will replace your product free of charge.  And it's 10-year guarantee means that if your product becomes faulty in the next 10 years, you're entitled to 50% off your next order! Something unique to this product, though, is the couples' insurance, entitling you to return the item and choose another from the collection, should your relationship break up within a year of buying!
This has to be up there with one of the most exciting toys we've tested. Not only is it set to be pure luxury, but it's actually golden, it's made for the use of you both to use simultaneously, and there's an interesting concept to the couples' insurance that you just can't ignore.
The TIANI is made of beautifully soft, body-safe silicone which really glides nicely across the skin. You can imagine right away that this would be satin-soft enough for your delicate parts. LELO are serious about their material quality so I can be reassured that this is really safe for my body. The area of gold is also so smooth that it feels just as nice against my skin.
The appearance of this toy is really sleek and sexy. In the Obsidian Black it's really smart, but the Deep Rose and Hot Cerise also make the gold look intense and attractive. There's no doubt that this is a highly premium product. I mean, it's 24k gold.
The controls are very simple. Click twice on the button to switch on. Flick through the settings by clicking. Turn off by pressing down on the button for a few seconds. We noticed that there's a cute '24k' light that flashes during use and charge, to remind you for you special purchase.
The intensity is best controlled by using the remote. The control can be opened using the black plastic 'key' found in the packaging. I found this in the black envelope for instructions. This fits into the control to turn gently and release the lid. You should receive two AAA batteries to insert. Pressing the middle button scrolls through the settings. The first two are the tilt and then shake from LELO's SenseMotion Technology. Scroll through for other patterns and try different intensities.
The control can be used for some exciting pleasure play between you and your partner, taking turns in building the tension by taking control of pattern and intensity. We really have fun with this when I've just inserted the toy first, then he can tilt the toy to different degrees and back, to tease me into submission! It can then be taken over by me when he is inserted in with the TIANI, to tease and tantalise the both of us! We would then generally leave it on a certain intensity or pattern while we bring ourselves into motion.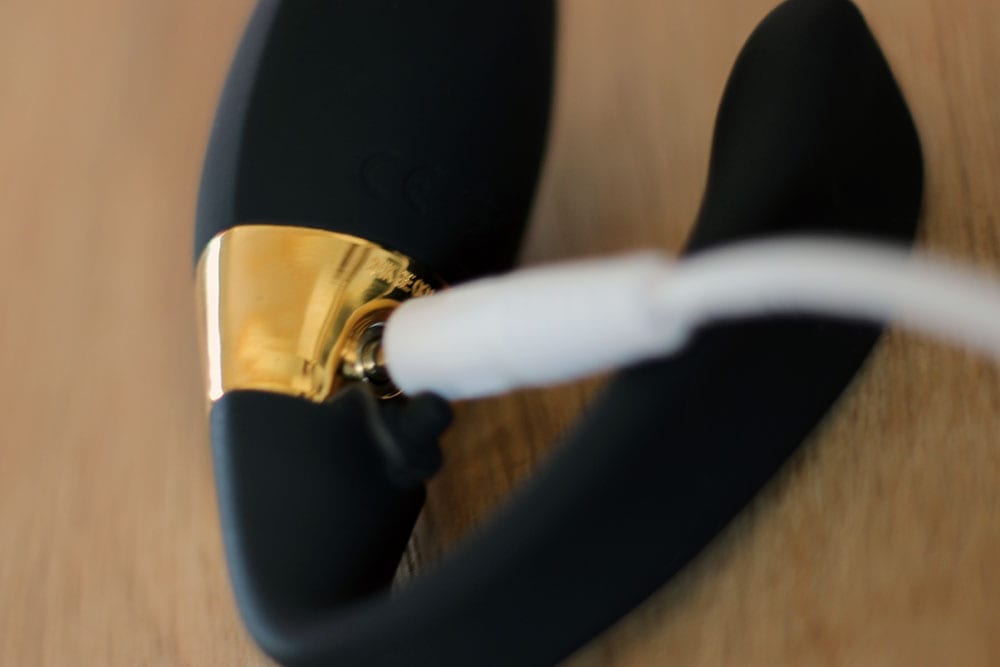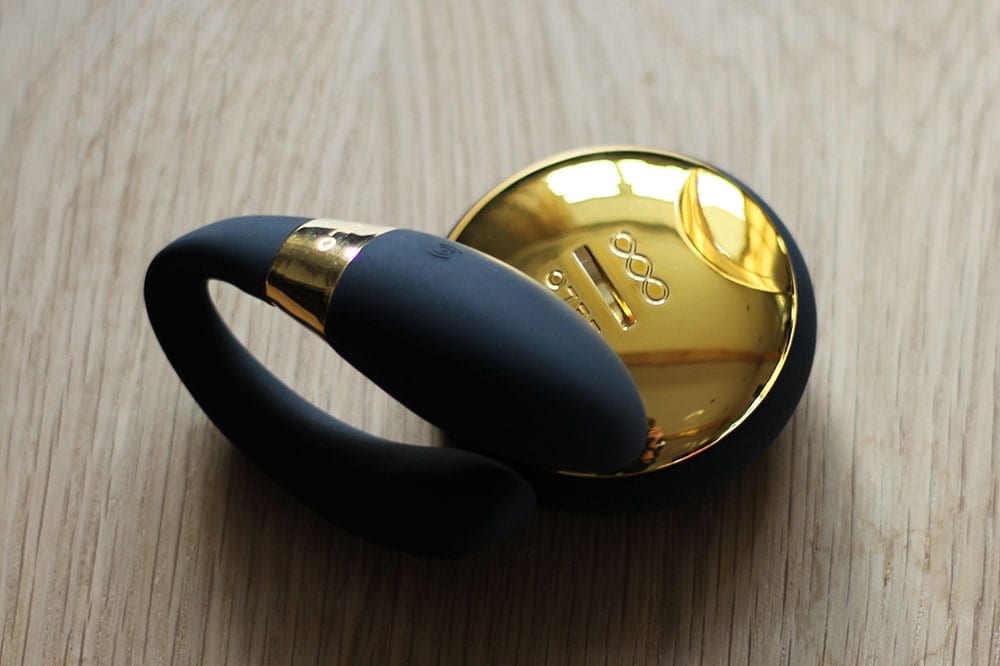 I think the use of the TIANI can get some getting used to, but once you make sense of the controls it's really easy. We'd recommend some time to have a look at the controls together, before getting intimate! The insertion of the toy is smooth and easy, especially with some water-based lube. Vibrations are intense on the inner and outer arms, and so the sound carries for the louder settings, but with music in the background or not, the noise is definitely not off-putting. On the lower intensities the sound is whisper-quiet.
Inserting him along with the thinner arm of the toy can be a squeeze for us! Lubricant definitely needed for a smooth and comfortable entry. Once inserted, though, it becomes easier, and the pleasure for the both of us was incredibly intense! One last thing, don't underestimate the use you'll be out of this toy. Its shape makes it ideal for a hands-free treat for her, or curled round the base of the penis or around the balls for him. Experiment with different positions, too!
I think my Mrs has covered it all, but I do agree about the tight squeeze when I'm inserted along with the toy! Definitely some lube needed. The vibrations while inserted at the same time are very pleasant and add to the enjoyment for both of us.
It was ideal to use for the vibrations around the base of my penis when she finished me off. The vibrations felt like they were circling, which was a really enjoyable sensation.
It is on the pricey side, but you are paying for luxury.
We both think this premium toy does exactly what it promises to do, and more. Our only issue was our difficulty in squeezing him in with the toy. But I guess that's a personal problem!
Rating 8/10 
Available in Deep Rose, Hot Cerise or Obsidian Black the Tiani 24k can be bought by LELO for £135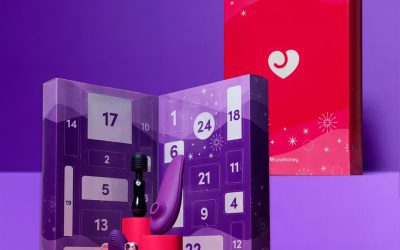 Everyone loves an advent calendar, but there's something about a product advent calendar that...