This is a new direction for LELO and their premium pleasure products… Aiming exclusively towards bankers and those in financial business, the LELO PINO is one of LELO's newest premium pleasure products.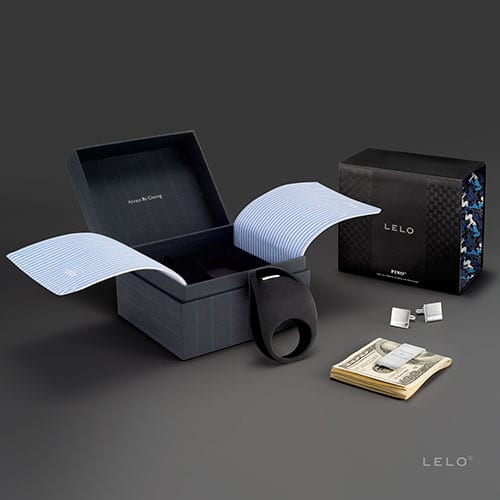 So why bankers? LELO noticed a few things about their sales and Their Global Sex Survey earlier this year. 6% of their online sales went to big cities like London, Tokyo and New York to financial offices and stock exchanges. Within the Sex Survey, 71% of people in the +$200,000 pay bracket owned five or more LELO products and were asking for more stimulation. It's LELO's new project to aim products towards specific groups and this one was their first challenge..
Steve Thomson, LELO's Head of Marketing said: "PINO™ is the ultimate stimulus package, the most exclusive couples ring in the world and is aimed at the Wolves of Wall Street and Gordon Gekkos of our communities. They're rarely satisfied and always looking for new limits to push, so PINO™ is about meeting those demands and adding a new adventurism to their sex lives."
The LELO PINO™ is a vibrating couples' ring with a difference. Shaped to enhance the pleasure whatever the position, this premium product comes in a luxury gift-set with silver money clip and cufflinks. 10 ultra-powerful speeds aim to pleasure both, while the constriction of the ring makes him last longer, making 'closing the deal' a certainty with this toy.
This product is made of soft, phthalate-free, body-safe silicone. Fully waterproof, you can take the pleasure all the way to the shower or hot-tub and this makes it super easy to clean. The product contains an eco-friendly, rechargeable, LI-ION battery and runs for 2 hours on 2 hours charge. Fits to all sizes and discreet, this smart, elegant and exciting new product is guaranteed to impress.
We're not entirely sure about the fact it's aimed at Bankers so specifically.. as this alienates a lot of customers too. We do like the smartness of this product, though. This obviously doesn't mean people who aren't bankers can't try the toy… we're lucky enough to try it out soon!! The product itself sounds promising for us as a couple, as we loved the TOR 2, and the PINO™ sounds even more exciting.
Check out the LELO PINO here.
And watch their exciting YouTube Promo here: