The REV1000 is a multi-function male masturbator manufactured by Loving Joy (try saying that quickly!). This toy was supplied to us by the great people at TwistedMiss in exchange for an honest review.
Twisted Miss  is a trusted online store, selling sex toys, products and lingerie since 2006. They supply many toys for every taste, and work with many manufacturers to bring a diverse selection of sex products, delivered discreetly to customers all over the world. They also offer a 'price match promise' to keep the costs for your pleasure low.
The toy claims:
7 speed, 7 function- 49 combinations
Rechargeable
No- effort
Powerful Motor
Easily dissembled for cleaning.
The REV1000 uses a soft textured pleasure sleeve and a powerful Japanese motor, which, when combined, gives teasing as well as intense sensations to the the user at the push of a button. To use the toy, simply charge using the charger port at one end using the mains adapter provided. The toy should be charged for at least 8 hours before use. The charging light will turn solid green when the unit is fully charged. Usual charge length should be around an hour and fully charged, the toy will last approximately 40 mins of continuous use on full speed.
The controls are easy to use, with + and – speed buttons and + and – function buttons. Browse your options before trying the toy, use lubricant generously to your penis and the inside soft sleeve of the REV1000, insert your penis through the hole and go! Be aware that some of the functions reach high, intense speeds. The unit can be moved in a stroking motion when turned on to add to the pleasure. The main unit of this toy IS NOT waterproof so make sure you keep it away from water. To clean, the toy is dissembled and the pieces separate from the main unit can be cleaned with anti-bacterial soap and water. Read the instructions thoroughly before use.
This toy is obviously a male masturbator, but can also be used for couples. It makes a fantastic erotic gift for long-distance relationships and is a great alternative to oral and manual sex. 
I've wanted to try the REV1000 for a few months now and was excited to find out I was going to get my hands on it.
When the REV1000 arrived I liked the over all look and feel of the packaging it was housed in; it's quite premium looking and very masculine. This is also the case for the actual toy itself, which looks very manly with its brushed steel and matte black look.
I really couldn't wait to try this toy but unfortunately it's recommended that you charge the REV1000 for 8 hours before first use. Charging the REV1000 for 8 hours prior to use will prolong the life of the battery. I think in the end I managed 2 hours of waiting for it on charge (a decision I might regret later down the line…but don't judge me! I couldn't wait another 6 hours!!!).
Once fully charged, before use, it's important you clean the sleeve and outer ring. The sleeve is secured inside the toy and is simple to get out by unscrewing the main outer cylinder and popping the ring off that is holding the sleeve into the cup. The sleeve itself is full of little bumps and nodules which are designed to add pleasure during use.
Once the outer ring and sleeve are clean it's ready to get down to business. The REV1000 comes with a sachet of System Jo Jo H2O water-based lube (a lube I've never used before), it's recommended you apply liberally to your penis and inside the sleeve. From using this toy a number of times now I'd recommend lots of lube for a more pleasurable experience.
The Jo H2O lube is an unusual lube which I might actually have to purchase- it's water-based but has similar thickness and properties to silicone. Jo H2O lube is ideal for using with the REV1000 as it lasts a long time.
Lubed and ready to go with the REV1000 my glamorous assistant (Miss K) placed my penis into the hole of the REV. I think Miss K wanted to be part of my first try of the REV1000 as she was probably a bit worried I might like it too much (or jealous that I'd got a toy for myself for once!). Miss K turned on the REV and the motor started turning. The first function on the REV is a clockwise rotation, this is default when you first turn the toy on. From the base of the toy you can chose from one of seven functions, along with one of seven speeds.
We started off slow with the default settings and it felt really good, like a robotic masturbator. The nodules inside the sleeve felt amazing whizzing around my penis. Miss K started playing around with the settings and increasing the speed. Let's just say with the speed of this powerful Japanese motor I was gone in 60 seconds…
From the first try of the REV1000 I was really impressed and the overall sensation received was intense, and that was with Miss K behind the wheel. Although fun with Miss K I think sometimes it's better to be in control of toys that are designed for solo use.
The next few times with the REV1000 I've gone solo and played around with the settings to find the ones that I like the most (Function 7, Speed 6 in case you're wondering). I love the REV1000 and enjoy using it and experimenting with the different functions to bring me to climax. In the instructions it says how "the REV1000 has been designed to start off gently at a low speed and then build up to the most powerful intense orgasm you have ever experienced". I still need to try this! My main issue is the sensation is so amazing I want to crank it up and climax straight away (very impatient of me!).
When you have climaxed the toy is well designed so it's easy to clean and unscrews to allow you to clean the sleeve and ring out.
I have only a few issues with the REV1000 that don't effect the overall intense climax I get from the toy, but if they were to make a Rev2000 I'd love them to address these:
It's quite loud, I know this is because the motor is ridiculously powerful but if you live with someone (whose not your partner) it'd be one you couldn't use without someone knowing about it.
It's not waterpoof, I love using toys in the shower and unfortunately this is one I can't take in there with me.
When fully charged you only get 40 mins of usage out of the toy. Although technically as it's bloody amazing that equates to 80 uses, It'd be a nice thing for them to improve.
Overall I love this toy and will be using it regularly whenever Miss K isn't around.  I was going to try and put in "Roblow cock" somewhere in my section of the review but forgot…and well I'm pretty pleased with that name so thought I'd share anyway!
Mr A is definitely impressed with this toy and I think it has become a favorite of his! I don't blame him! This is the first toy I've seen that resembles a female masturbator, with all the multiple speeds and functions and when I watched him go through the functions I felt like I knew what he was experiencing! The highest setting is very intense and in female vibration terms I'm sure it would have impressed me!
Using the toy with Mr A wasn't quite as enjoyable as some we've tried, mainly as there wasn't anything for me to do! It did the whole job! I can't complain but this one is definitely more for the single man or for when I'm out!
Use solo first and try out the speeds and functions.
Use lots of lube.
Clean and leave to dry on a clean towel in a dry place, re-assemble and keep in a clean, dry, dark and cool environment.
Read the instructions through before use- there are a few do's and don'ts to read!
This is a great solo male toy and the speed and power behind it is intense! We'd have given this product 10 out of 10 if it wasn't for the noise and it being waterproof, but we do certainly recommended for all Guys looking to try something different to the usual male masturbators out there!
Rating 8/10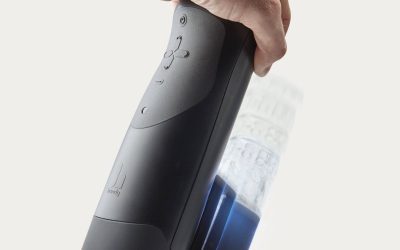 The Handy is "the most advanced sex toy ever created", guaranteed to give you a mind-blowing...