Is it a biird is it a plane…Is it a Lamp…No It's a sex toy…wait what is it…
Meet Obii, created by the new sex toy brand Biird. Launching today Obii is challenging mainstream aversions to advertising and promoting healthy conversations around self pleasure. Biird are a Rotterdam based sex toy company, they're "shedding light" on the restrictive rules placed on the industry by asking people to answer one question…"are you here for the lamp?".
The site is clever by using this question as a "Not Safe For Work" (NSFW) switch, if they're here for the lamp the toy is displayed in it's moodlight form. The charging based of the sex toy glows and this glow reflects around the protective case to give the appearance of a moodlight.
If visitors to the site have nothing to hide and want to explore pleasure in a less restrictive way, the switch can be flipped to reveal the sex toy in all it's glory.
What is it?
So what is it? Obii is a clitoral massager designed with pleasure at its forefront. It uses pulses to create suction and vibrations to stimulate the full clitoris. We've tried similar products before by LELO and also Satisfyer. We know without trying it Mrs K is a huge fan of this sort of technology. It leads to extremely intense clitoral stimulation.
The Obii is made from super soft and squishy body safe silicone (it's phthalates free and no nasty BPAs). The Obii is ribbed (which is one of it's unique selling points compared to the brands mentioned above) designed to allow you to explore for further pleasure.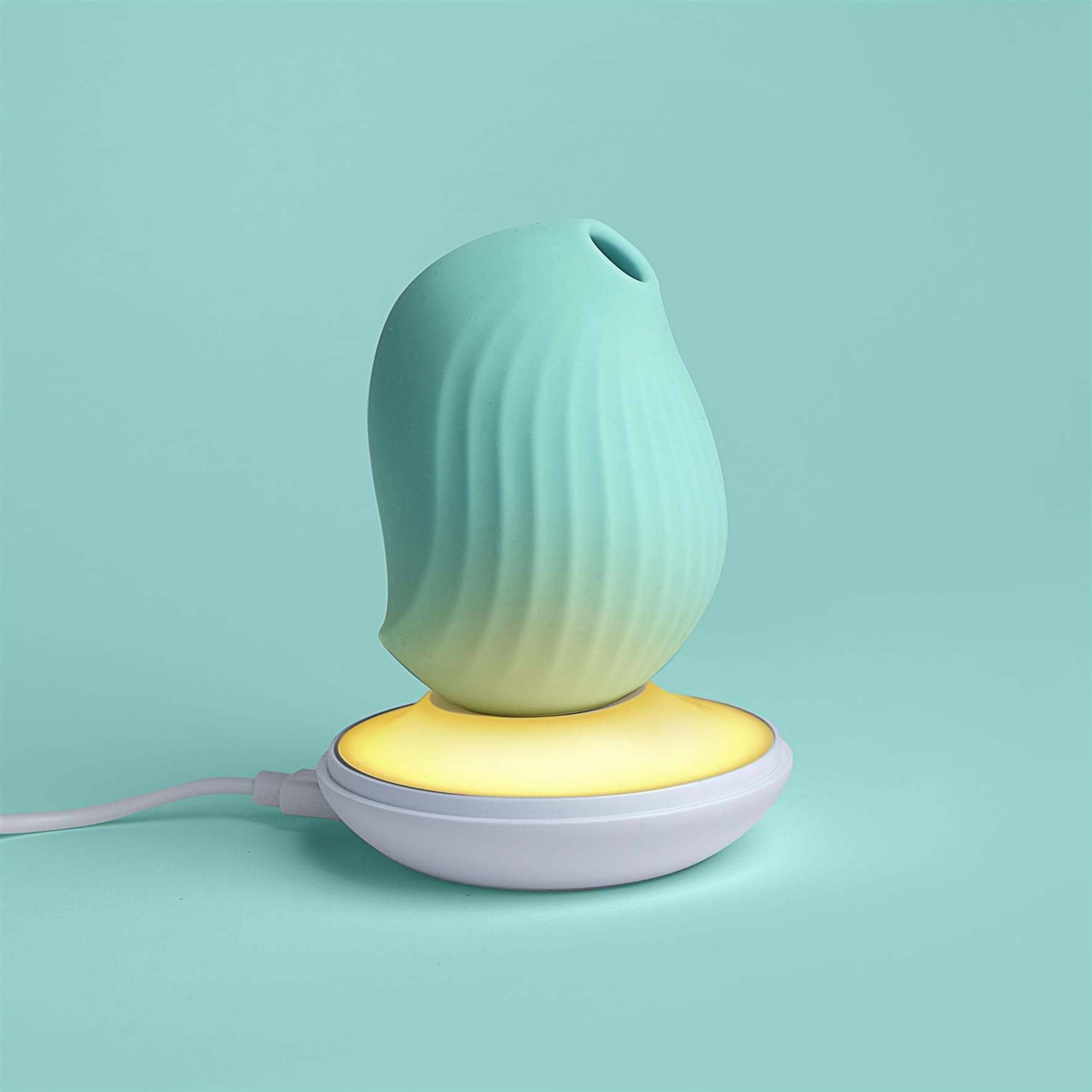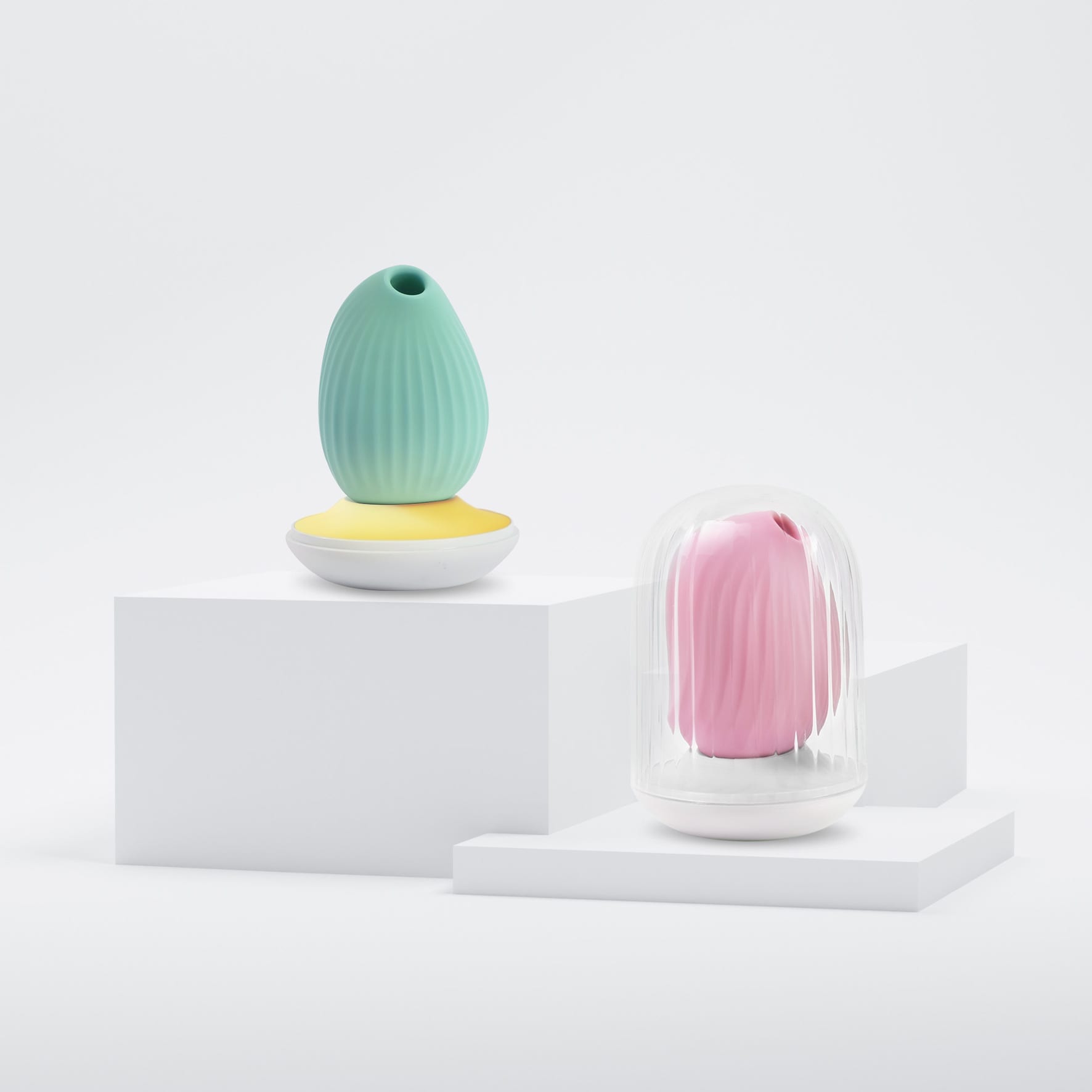 Fighting the Taboo
The Obii has been in development for over a year. Today is the day it's finally arrives on the market. As sex toy sales continue to soar during the recent lockdowns, Biird still finds a hostile environment where some countries ban the import of sex toys, delivery carriers are hesitant to partner and on social media channels, advertising is restricted for 'taboo' products.
Social Media users aren't aware that some products are banned even though it's the 21st century! Facebook restricts advertising that promoted products that are aimed to "enhance pleasure"* and Twitter restricts "the promotion of adult sexual content"**
Even with the above, the sex toy market in the US has surged with more and more people becoming comfortable speaking liberally about their sexual health.  
"When we first started developing the brand and our first product, we were struck by how there are still restrictions of sexual expression surrounding us.

 

We've worked in the adult toy market for a combined 20 years, and find it deploring that companies are still unable to openly show what they are selling. The sex toy industry was valued at $35.7 billion dollars*** in 2018 and sex toy sales have risen during lockdown, so the demand for such products is obviously there. People want to search and talk about them freely, so we can't understand why we kept running into the same barricade time after time.

 

That's how Obii really developed. We needed a product that was first and foremost about delivering pleasure but it needed to be smart to get around draconian advertising restrictions.

 
Obii is a lamp or is it? We're inviting people into a special club where we're all in on the joke and Obii is here to shed light on the situation. So, are you here for the lamp?"
Our Initial Thoughts
The Obii has already won a Red Dot Design award in 2019, so we'll see how the general consumer takes the concept under their wing. We're interested to see how the lamp side of things works. With two kids in our house we're constantly having to remember to hide our toys away otherwise questions get asked. If this looks like a lamp then it's a thumbs up from us!
I'd be keen to see if Biird can use the Lamp side of things as a clever way of being able to advertise on Twitter and Facebook, or if it'll get picked up straightaway.
We have an Obii on the way, and we'll let you know exactly what we think once we've reviewed it.  
The Obii can be bought directly from Biird at their website for €78. It's available in 3 different colours, Pink, Yellow and Mint.
Exclusive Discount
You can get 15% off this product by using the code "XTRA15" Enjoy!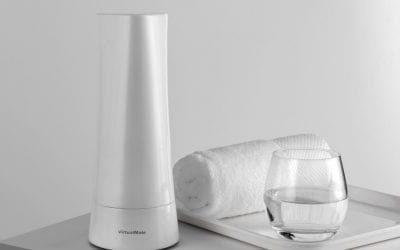 Meet Virtual Mate, the world's first virtual intimacy system. A male masturbator that syncs to a...