World Cup Widow? Lelo to the Rescue!
With the World Cup just around the corner, and so many other sporting events in our men's lives, women around the world may feel as though the attention is all on the sports. Well this doesn't have to be true. This year LELO have the answer.
Did you know, statistically both men and women buy sex toys quite equally across the industry. But LELO have proof to suggest that the amount of men buying sex toys soars around the time of a huge sporting event. So basically, men around the world can't just leave women to it when it comes to the World Cup or Tour De France, they'd rather treat them instead!
The most interesting thing is the way it breaks down regionally. For example, in the days before the Super Bowl, men represent 74% of all Americans buying from LELO. But in the week before this year's Champion's league final, which included two Spanish rival teams, more than 80% of Spanish transactions were made by men.
Quote from the LELO Blog post by Jessica Hill.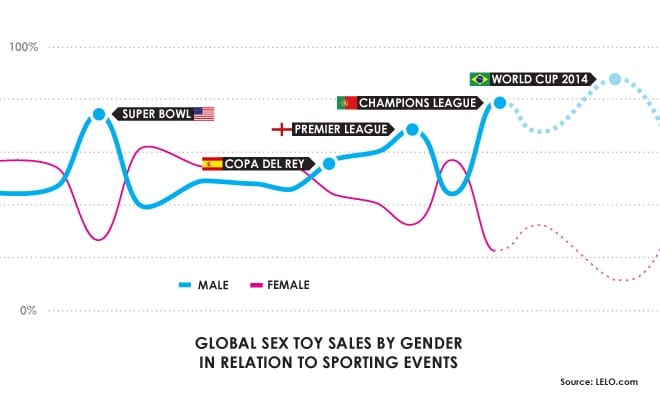 So, what does this mean? It means you deserve a treat…
Beautifully made, sleek, sexy, powerful and remote controlled, no, we're not talking his prized possession this summer, it's yours!
The LELO IDA fits to your shape, the rotating finger stroking your G-Spot while the disc vibrates against your clitoris to create a hands-free experience enjoyed by many women around the world. READ OUR REVIEW HERE.
The LELO HULA BEADS are rotating pleasure beads which stroke around the G-spot and vibrate around the labia and up to the clitoris. Insert this gorgeous toy and let the pleasure build to the most incredible high. READ OUR REVIEW HERE.
Both of these toys are incredible, but the best thing about them, is that they're remote control and they work from a great distance! Before half-time or the end of the game, just set yourself up on the sofa or in the bedroom (if you want to get completely away from the footie!), give him the remote and let him take control. The vibrations can even be set to motion, so if the more he tilts the more you vibrate, OR the more he shakes the controller the more you vibrate! Just think, when he's jumping up and down cheering, you'll be in the bedroom squealing with delight!
Football has never been so fun…