Yes you read the title right! With the use of 3D printers companies are soon going to be able to offer personalise sex toys designed by you at affordable prices.
What is a 3D printer? Well 3D printers have become extremely popular over the last year, they are an amazing piece of futuristic technology which as the name suggests prints out three dimensional objects. There have been some pretty amazing things printed out of these machines such as musical instruments, jewellery and furniture. There's even a machine in California being designed that'll be able to print out concrete houses!
With the technology getting more affordable it was only a matter of time that it would be utilised to create personalised sex toys. De Zeen magazine have writen an interesting article with the current availability of this technology for your sexual needs. (Read their full article here)
Dutch brand Velv'Or, (whose cock ring can be seen in our feature image above) offers printed nylon cockrings, the JNaja being one of them. The JNaja looks like a piece of art with it's beautiful curves and powerful looking material. "The JNaja is dyed back and will de-color as time goes by like stonewashed jeans, making it unique to its owner after house of wearing pleasure." What a great idea!
Another company mentioned is New York-based Makerlove. Their site has a number of free sex toy designs, which you can download. These files are open source so you can edit them (using 3D modelling software) to create the prefect toy for you! The majority of their toy designs are sleeves that are placed over the top of vibrating bullets. There's even a Hello Kitty and Justin Bieber one (see below)…. The company are currently developing a site where you can customise toys and print them at your home. They have also started offering a 3D scanning service allowing you to scan your genitals and get them printed out.
At the moment the materials the consumer 3D printers produce aren't body safe, they're hard to clean and not watertight. They do however say these printouts can be used to create moulds of your perfect toy and then given to the professionals to create.
It's not too far in the future that these printers will become a household item that prints body safe sex toys. What would your perfect sex toy look like? What effect on the sex toy industry do you think it'll have? As it's a few years away yet there's still options out there for you to be able to create your own personal vibrator at extremely affordable prices.
As it's Valentines Day coming up what better present can there be than giving your loved one a fully working replica of your penis or vagina! Get creative and have a laugh and make your own 100% unique sex toy! Below are a number of kits that allow you to create a personalised sex toy.
Recommended products
Clone-a-Willy Kits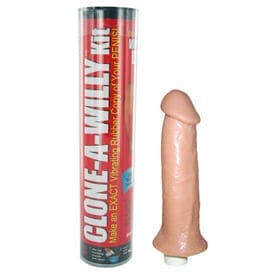 All our recommended sellers stock Clone-a-Willy kits with prices ranging from £14.99 to £26.99. There are a number of different colours and versions available.
See the full Clone-a-Willy Range at:
Lovehoney UK or Lovehoney US
We had a fun experience ourselves using a clone-a-willy kit. See the results here.
Clone-a-Pussy Kits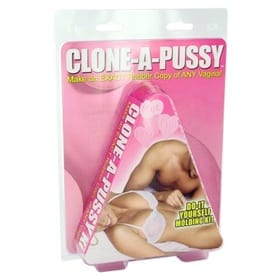 Not as widely available as the male counter part, and no vibrating elements either. These Clone-a-Pussy kits are a great idea for fun novelty presents!
Find the clone-a-pussy kit at Lovehoney UK and Lovehoney US