Review: Plump Penis Enhancing Cream
Published: Tuesday, May 27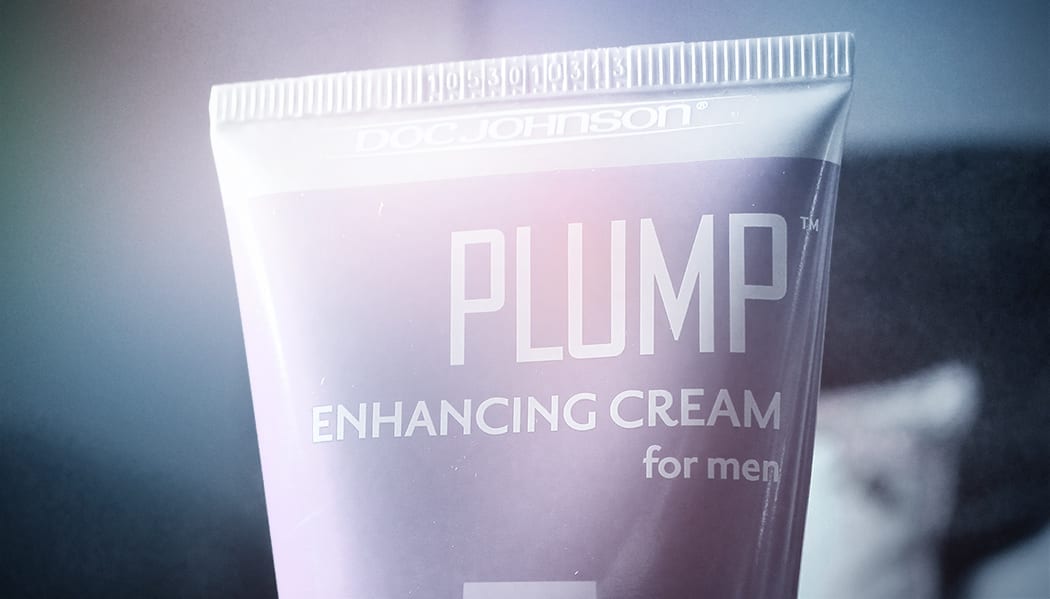 Plump Enhancing Cream for Men is an odourless, tasteless cream designed to enhance the thickness and size of your penis. Created by Doc Johnson, this cream comes in a flip cap 56g tube for easy use. The instructions on the tube explain that when you want to 'Show off', just apply this cream liberally to your penis.
So how is it supposed to work? On Doc Johnson's website the cream is described to increase blood flow to the penis making it look thicker and larger. The website also states that the cream is made of natural ingredients. We're not scientists, so check out the list of ingredients in our FAQ below to ensure you know what your putting onto your most intimate areas
I always like from time to time to try odd lotions and potions that are out there. It's interesting to see whether their claims are true or not. The Plump Enhancing Cream by Doc Johnson's claims are quite simple, using this cream will make your penis plumper. So does it?
First the packaging is very clean and minimum, it looks a bit medical but not over the top. It looks very professional and the flip cap makes it's easy to open and get access to the cream itself.
To use the cream you simply rub it onto your penis (whether erect or flaccid). I've tried this product while both erect and flaccid. Massaging the cream into my flaccid penis stimulated my penis making me erect, but I think that was just with the massaging of the cream into it, not necessarily the cream at work. After about 20 – 3o seconds the veins in my penis did seem to be larger and more pronounced than normal (which must be the blood flow rushing to my penis). The colour of my penis was also redder than usual and it was overall slightly more rigid.
Because of the pronounced veins and change in colour my penis did look a lot more impressive, no bigger or thicker than normal, but something Miss K could enjoy to look at during our intimate session.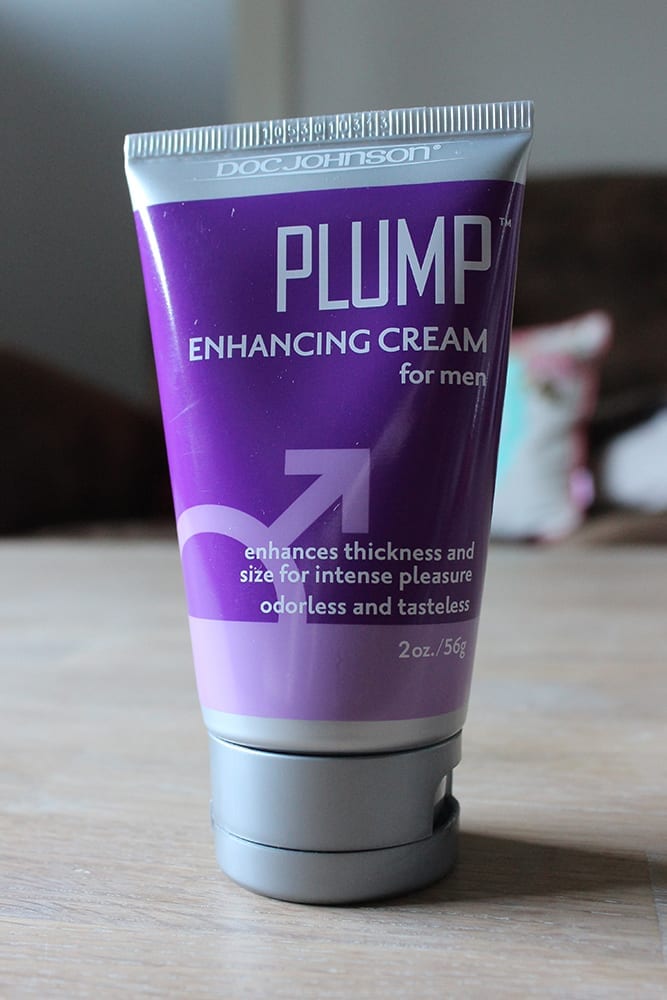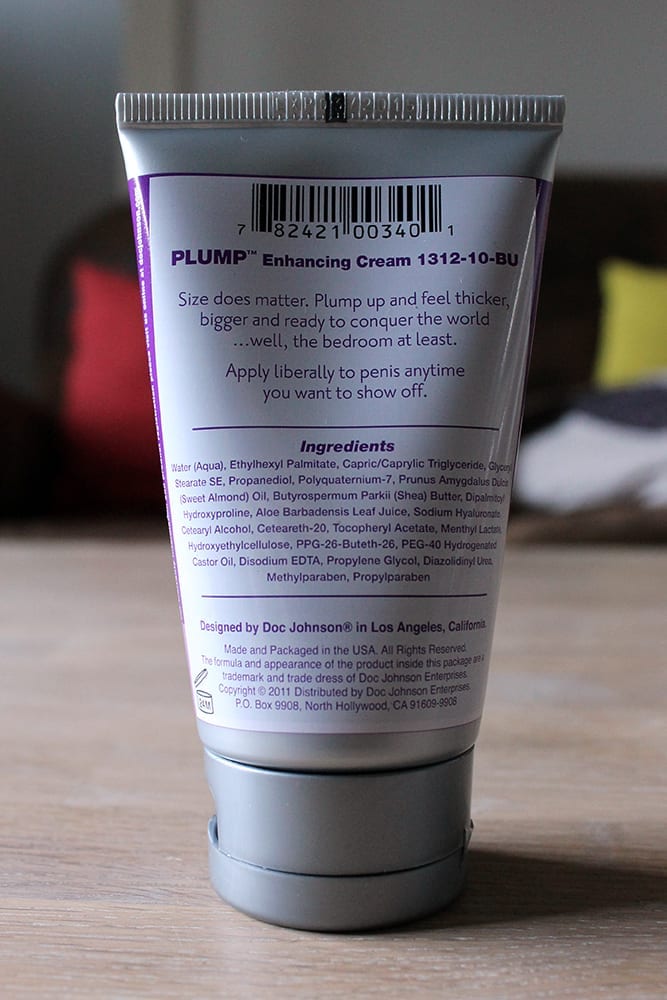 As the cream is odourless and tasteless it seems safe to use during oral sex and also intercourse.
One of the things while using this cream that I did notice was the subtle warming sensation you get from it. After use this continues for 20-30 minutes. It's not painful or too hot, it's just a nice feeling after sex.
Overall I think this product is OK, it's nothing to rave about but it does kind of do what it says on the packaging. Like the packaging suggests, if you're looking for a penis cream that lets you show off your manhood to it's full potential than this is the cream for you. If you're wanting a cream with the hopes to increase your penis size, this isn't it.
I was sceptical about this cream for many reasons, I just don't think things like this are needed! Especially for Mr A! From the packaging it looks pretty legitimate, but I'm not too sure about all the ingredients – if you have sensitivities I'd probably check some of them out. Being how he is, he went straight for applying loads of it, I wouldn't recommend this, probably check it on your upper thigh or something to make sure it doesn't sting! I'd hate to think someone would put loads of this stuff on and then have some sort of allergy to it!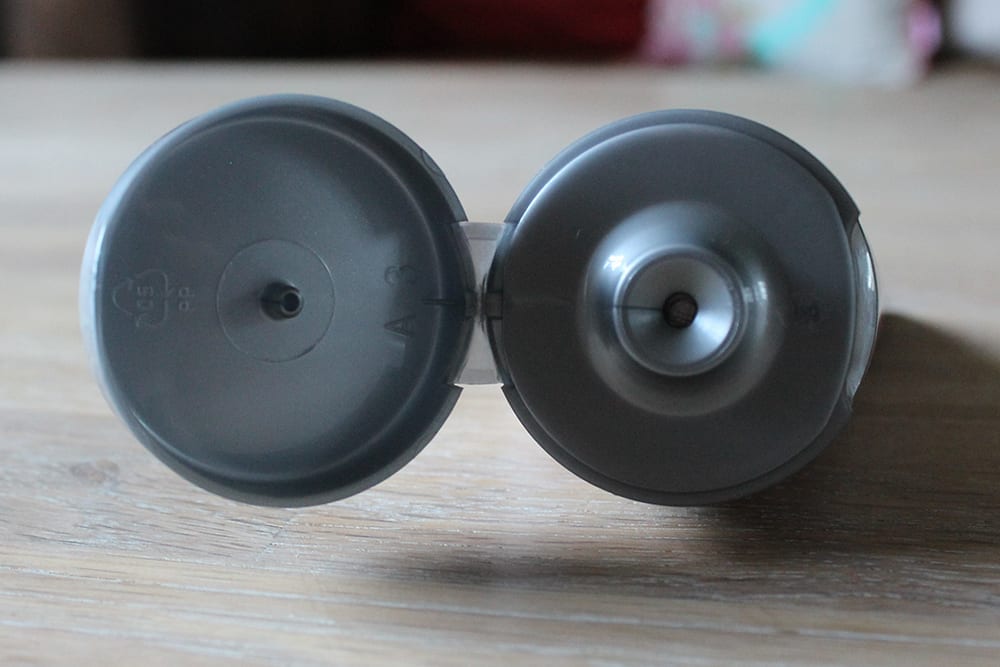 So he drenched it in this stuff and rubbed it in- quite sexy actually, and immediately I could tell the difference. It wasn't that it looked thicker or longer but just more prominent, like it'd just been in a cock pump, with the veins protruding, a throbbing purple tinge and rock-hard stability. I did find it quite sexy! I didn't really fancy licking it though, as it wasn't specifically for oral sex so I was worried about consumption. I also hesitated when he wanted to have sex, but wanting more I couldn't help myself! I had no irritation or anything from this cream, obviously it didn't act as a lube at all but it didn't burn or sting or disturb our sex at all either.
So for me, it had a great effect for me to look at, and made him feel pretty special too! But once the novelty has worn off I don't think this is something you use a lot? Good job it's cheap and cheerful!
Try a small amount the first time of use to ensure you feel comfortable,
Apply liberally and watch your penis plump!!
Frequently Asked Questions
What are the ingredients?
Water
Ethylhexyl Palmitate
Capric/Caprylic Triglyceride
Glyceryl Stearate SE,
Propanediol
Poluquaternium-7
Prunus Armygdalus Dulcis (Sweet Almond) Oil
Butyrospermum Parkii (Sea) Butter
Dipalmitoyl Hydroxyproline
Aloe Barbadensis Leaf Juice
Sodium Hyaluronate
Cetearyl Alcohol
Ceteareth-20
Tocopheryl Acetate
Menthyl Lactate
Hydroxyethylcellulose
PPG-26-Buteth-26
PEG-50 Hydrogenated Castor Oil
Disodium EDTA
Propylene Glycol
Diazolidinyl Urea
Methylparaben
Propylparaben
If you have any more questions about this product, please feel free to get in touch
Overall we give this product 6/10. For us it did what it says it will on the packaging. It's not overly impressive but for the price it's worth a try.
Rating 6/10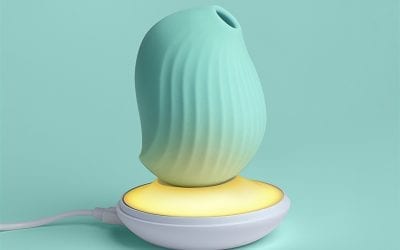 What exactly is the Obii?Obii is a clitoral massager with suction and vibration modes, created by...