The lovely guys at Hot Octopus sent us their newest toy the PULSE II (2) DUO. This being an upgrade to their original PULSE which we bloody loved, and it looks like you all did too.
To date the PULSE (The worlds first "guybrator") is still our most viewed review and so it should be. The original PULSE was an extremely innovative, extremely pleasurable toy for myself and Miss K to use. We don't want to repeat ourselves too much in this review so to get an insight about PULSE as a company and their original Guybrator, please step back in time and
 

read our review from last year
. If you can't be bothered to read back, let me summaries super quick:
The Pulse uses unique oscillating technology to create an intense experience for the user. For him he puts his penis on the Oscillating PulsePlate for what can only be described as heaven. And for her you have the Vibrating stimulation area which she can sit on while sat on top of you. We loved it, we gave it 10/10, we'd buy the t-shirts if they had them! 
So what's the different between the Original Pulse and the Pulse II? Firstly the Pulse II comes in two versions, you have the SOLO version and the DUO version. The SOLO version is a more stripped back but upgraded version of the original Pulse. Stripped back but not in a bad way, this version is purely design for him. The DUO being an upgrade to the Original Pulse which features a remote control to allow for couples play along with the same vibrating stimulation area featured on the original (for her). In terms of additional features, one of the things that made me personally stupidly excited is the fact IT'S WATERPROOF! You can now use this bad boy in the shower!
Secondly as mentioned above on the DUO you have the cool little remote control which allows your other half to control the vibration speed of the Vibrating Stimulation Area (which is mainly for her) Thirdly if the top two weren't enough, it now has 5 different stimulation modes!!! This is something we didn't even notice as missing in the first one…Hot Octopus, with these additions you're really spoiling us!
Well Mr A certainly loves this amazing upgrade to the already awesome Pulse, which we reviewed last year. The main thing I love is that while he's experiencing the orgasmic pleasure of the inner plate, I can look at him, see that pleasure and join him! It's a completely different experience to anything we've used before, and for that novelty only, we do rate this toy.
The fact that it's now waterproof is particularly great as you can share the pleasure in the bath or shower, or as Mr A does, he can pleasure himself hands-free in the shower! I wasn't sure the remote control would make too much difference, but when he randomly turned up the settings, I suddenly realised he had the remote in his hand!! The Pulse II also has 5 more incredible settings for the inner vibration plate, which I hadn't noticed too much when we used together, but I knew about it when he used it alone!
I think this is a winner all round in our household, as I like to know that when we're not together, or I'm not pleasuring him, I know he has something to look forward to, to release the tension! When we're together, I can't wait to use it! It's just something different to intercourse. This is a great solution for wanting intimacy without intercourse, but being face to face at the same time.
After loving the first Pulse so much I really couldn't wait to try the Pulse Duo II. I have to say this review is based on me using this Guybrator more times than I'd care to think. Even once while writing this review (ok maybe twice but don' tell Miss K).
First of all the Packaging of the Pulse II looks more premium with is foiled packaging. It's very professional and keeps the same cool branding style the original product had, just with a slight upgrade. In the box this time you're treated to the addition of a bag to store your PULSE II in after use, which is a huge bonus for us because we have so many boxes of toys in our cupboard. You also get the Pulse II itself, the remote control and the USB charger to charge the Guybrator up (charging takes 3-4 hours for about an hours worth of continuous play). After all the times I've used it before writing this review I've literally only just needed to recharge it now!
Using the Guybrator couldn't be simpler, just slip your flaccid or erect penis in between the wings so your penis is resting on the pulse plate. Press the on button and you're ready to go. There's 9 different power settings on the pulse plate along with 5 different vibration patterns. The vibration patterns are an amazing addition to this toy. What I found with the first Pulse is you literally last no time at all using it. It's such a unique intense feeling you find you've climax really quickly. The addition of the vibration patterns mean you can have a build up of pleasure and then BOOM.
I've used the Pulse II in the shower a number of times now, I have to say this is my favourite addition to the toy. Once my penis is erect in Pulse II I'm able to let go of holding the toy as the wings keep it in place. This means not only can I get intense pleasure, I can multitask and wash my hair and body as the same time! Genius! With the Pulse II being waterproof now it also means it's really easy to clean. As a couples toy the Pulse II is exactly like the Original Pulse, we both enjoyed using this toy and both managed to climax almost at the same time! We were shocked by how "turned on" we both got using the original Pulse, this improved version was exactly the same. Although there's no penetration using this toy, the stimulation from the vibrations you both receive makes up for that. It's something a bit different and a nice change. The extra of the controller is a great idea as it means you can quickly switch through the 3 different vibration powers without having to stop what you're doing and fiddle with buttons. So in summary it's a great solo and couples toy…just buy it already!
Use it on your own or with a Partner
The Pulse II is waterproof so be sure to experiment with it in the shower or bath
Take it in turns with using the remote control to turn up the vibrations of her section of the toy.
Another fantastic toy by Hot Octopus, this company really knows how to improve a toy which was already amazing. We're really excited about seeing what else Hot Octopus will have to offer over the next few years. As we gave the original 10/10 we can't not give this 10/10. The fact it's waterproof, and more powerful than it's predecessor it's 100000% a 10 from us!
Rating 10/10 
As the Pulse 2 is available in both a DUO and SOLO version we've listed where you can buy both of them. The SOLO works out a little cheaper due to not having the vibrating body (for her). The Pulse Range can be bought through Hot Octopus prices starting from £89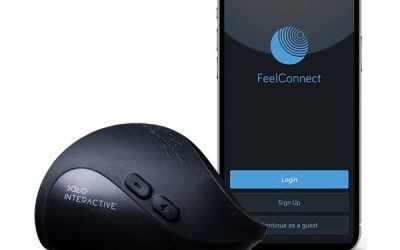 Sex-tech company Hot Octopuss launch PULSE SOLO INTERACTIVE their first interactive toy featuring...