Our friends at Ann Summers sent us the Rampant Rabbit: Moregasm Rabbit Ears from their brand new Moregasm toy range, in exchange for a detailed and non-biased review.
The Ultimate G by Ann Summers is not originally a toy I'd thought about. Mr A spotted this one as a Valentine's Day gift, and he definitely deserves a treat after this find!!
This gorgeous pretty pink vibrator not only looks interesting, but offers so much more than just orgasms. The third level of orgasm is that high moment where the whole body feels the release and usually the end of the orgasm. This Ultimate G is designed to keep you at the third level for longer than normal and really show you what a g-spot orgasm is!
The soft, pink silicone is 100% material safe – Ann Summers state that all products are latex free, phthalate free, and cadmium free and made in their pleasure emporium. Designed by medical experts, the toy has one bent shaft to touch the g-spot directly and two probes to sit at either side of the inner clitoris. This gives just the right stimulation to get you to this amazing third level but keep you there, with the tease of the clitoral stimulation and the constant vibration of the shaft tip. The tip of the shaft and both probes have pleasure bumps to carry the vibrations with expert precision.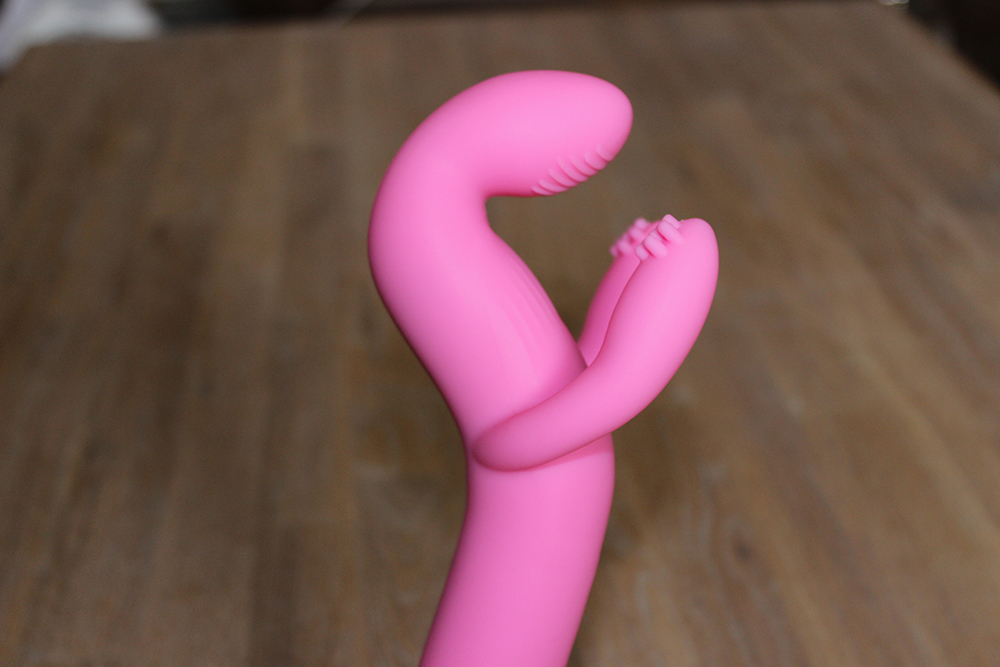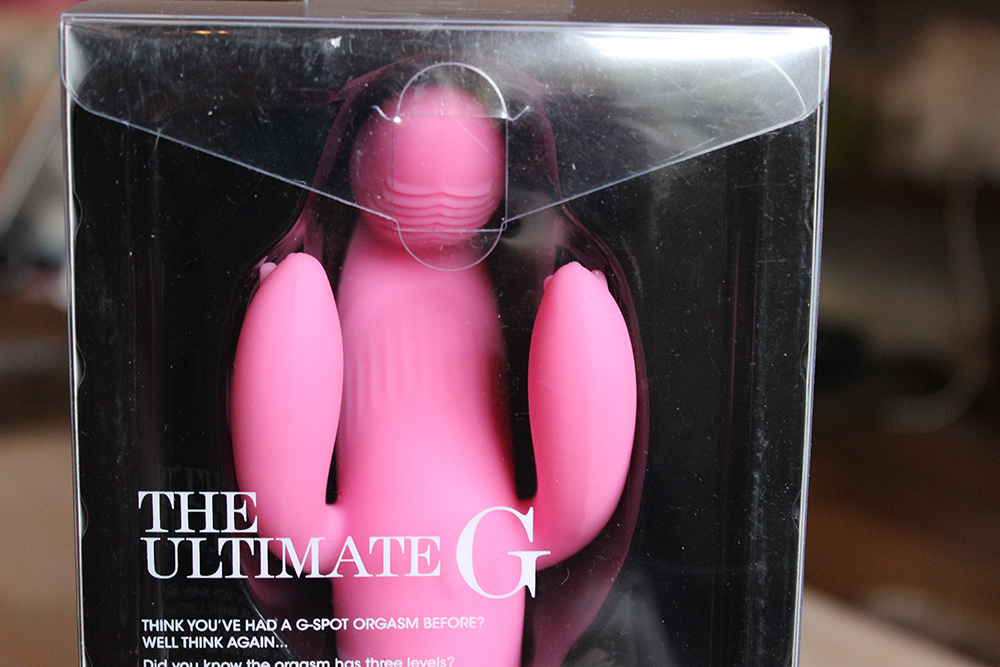 Although this toy is not waterproof, it has many features to make up for it. As well as being ergonomically designed, it's whisper quiet, rechargeable, warms to the body quickly, has 6 vibration patterns to the two probes and 3 speeds to the shaft, and has different controls for both inner and outer vibrations.
The contents of the box are nice and simple, with an instruction manual and mains charger. The simple contents reflect that the toy will be getting all the attention and it definitely doesn't need anything to distract. This is a premium quality toy at the price of a standard one, making this amazing value for money.
This toy might look like a little monster trying to break free of the packaging, but everything about it has been thoroughly thought out, to well and truly do what it says on the box. A million miles away from the form of the Rampant Rabbit, the soft, ergonomically perfect silicone leads down to the beautifully made plastic and rubber of the controls. The controls are simple, turn on each side for vibrations from either the shaft or probes or both! Scroll around the settings with the + and – with sexy LED lighting to show what setting you're on.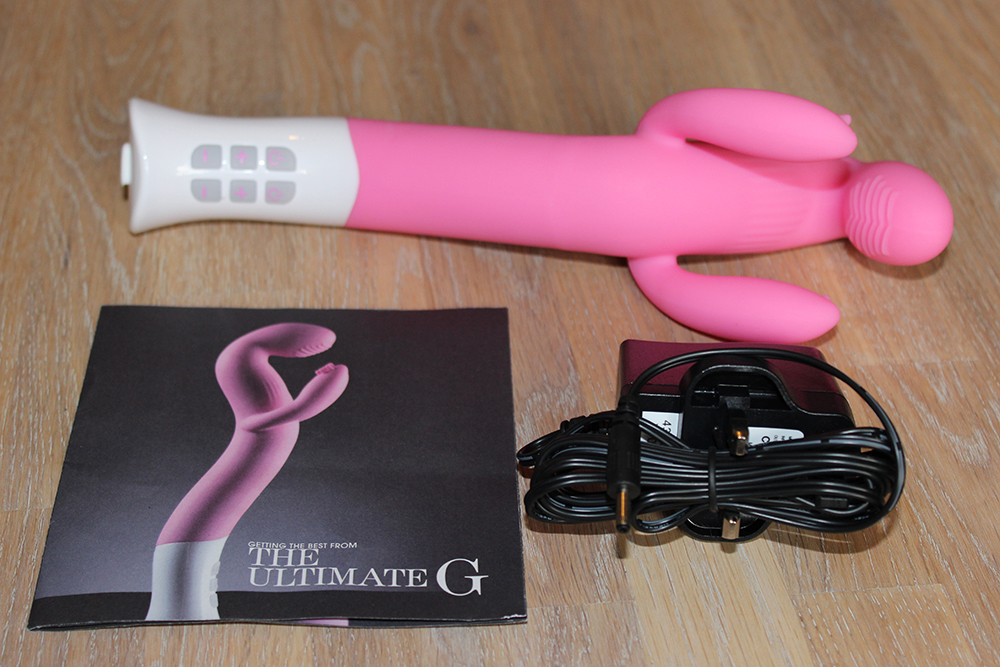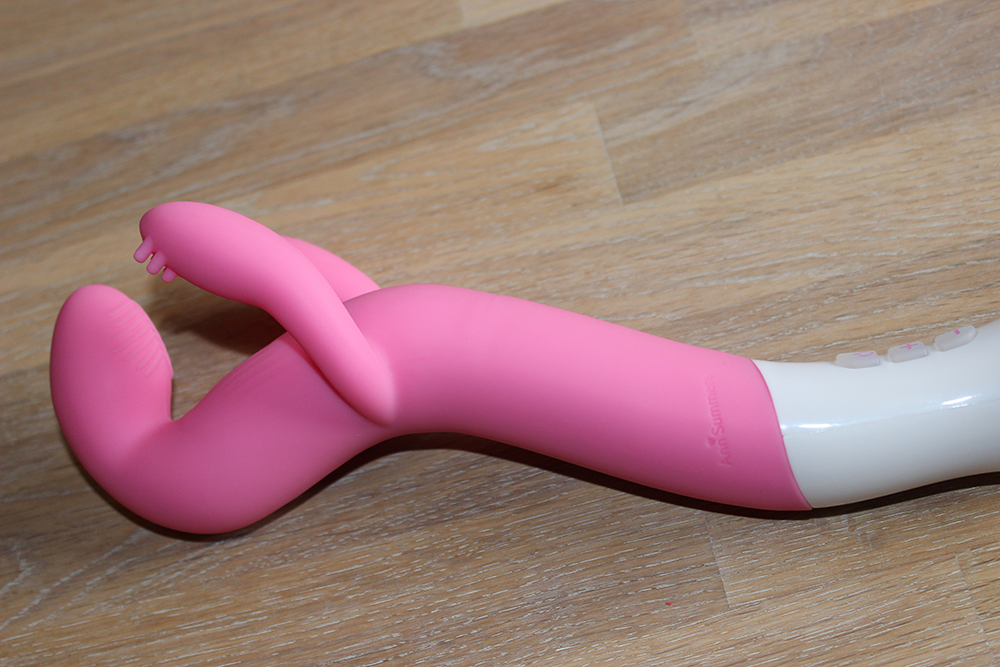 I bought The Ultimate G for Miss K as a Valentines/Sexiversary present having read a number of different articles about it providing a next level of orgasm for you user.
When the product arrived all I could think about is how it looked like some sort of little alien creature with two arms bashing on the packaging to get out. It looks an extremely unusual toy, with bumps and bends in places we're not used to seeing them, and neither of us could work out what the two "arms" purpose were.
As this is a female sex toy I'll let Miss K tell you all about it, needless to say I think i chose very wisely!
The first look at The Ultimate G was both alarming and intriguing! I've never seen anything quite like this toy, yet I could tell it would work some sort of magic. Having experienced a number of g-spot toys I had high expectations of this one and the whole claim of third level orgasm. OK so I know the pretty pink isn't very original, but I actually think it looks really classic and cute – it is a woman's toy after all! Being pink definitely makes it a girly treat, plus I actually like this shade of pink and I'm not really a girly girl.
The vibrations actually surprised me! The third vibration level of the shaft is intense as are all of the patterns on the clitoral probes. I really like how the toy is set out and how a novelty touch, like the LEDs, makes this a really exciting and high-end toy. Each pattern for the probes has a different colour and flashes along with the vibration, while the shaft buttons light up in white and get brighter with each level. The little plug at the end protects the charge port and it charges via the mains, which is really handy to be able to quickly plug it in somewhere for a charge when you have chance.
So I got out my current favorite organic lube Woohoo! and had some fun!! And WOW is the only way I can describe it! Not only does it touch the exact right spot immediately when inserted but the vibrations are amazing! The probes sit at either side of the clitoris which do need some adjusting at times but other than that, just lay back and enjoy! It takes a while to build up the orgasm but that's what I love about this toy.
All of the best bits of an orgasm took ages and I thought I did know what a g-spot orgasm felt like! Well this was it times ten, for what felt like forever! Usually it builds and its gone, and you're left satisfied yet wanting more sometimes. Well with this vibrator, I can't describe how amazing the feeling is of keeping hold of the 'third level' of the orgasm! Every time I've used it, I've had to just lay there for a while afterwards. In fact, I was actually a bit weirded-out by it the first time, because I hadn't expected it to actually work, or even be possible! The controls are easy, and you practically just lay back and enjoy!
So there you have it. Ann Summers have come up with a miracle toy. Ideal for those who find it hard to orgasm via the g-spot or even at all. The Ultimate G should definitely do something for you! Not so much a couple's toy, but a girly treat. Going solo has never been quite so amazing.
Use water-based lube to enhance the experience!
Lay back and enjoy!!!!
Unfortunately, not waterproof- I would love a waterproof version!
BUT this doesn't take away from the toy!!
Massive, huge, 10/10 from me!
Unfortunatly Ann Summers have stopped producing the Ultimate G.
One of our fav product which you might find just as mind blowing is the Enigma by LELO at £189 it's a high end product but you won't regret it. You can read Mrs K's review here.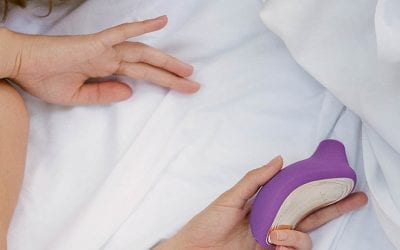 What exactly is the LELO SONA CRUISE 2?The SONA 2 Cruise is an improved version of the SONA Cruise...