We've used the Single-Use Tenga Eggs, now time for us to try one of Tenga's Repeat use Male Masturbators. 
We were sent the Tegna Flip Hole to review by the brilliantly named "The Happy Willy Company" in return for an honest review.
As mentioned above we've tried a couple of the Tenga single-use eggs many years ago. When we were given the option of products to review from The Happy Willy Company, the Flip Hole by Tenga stood out. We remembered really enjoying the eggs and wanted to see how the Flip Hole compared.
So What is the Flip Hole?
 The Flip Hole is a male masturbator that uses Tenga's pioneering flip-style technology. When you're finished with your session you can open the flip hole up making it super easy to clean out the lube and man juice. The stand (which attaches to the masturbator for stability) props the masturbator up and open to allow for it to dry naturally. 
There are four colours (black, red, silver and white) of Flip Hole's available each with a different internal stroking texture. It looks like the black one (which we're reviewing) is the tightest and most intense, lucky me! 
The black Flip Hole boasts penetration overlapping walls (right at the tip of the toy) and a giant end orb which strengthens stimulation around the tip of your shaft. "Moving ball" which gives a rolling sensation during insertion. "Waving ball" which has three points of accentuated stimuli. "Brushing edge" rhythmical stimulation is provided by the continuous ribs AND if that wasn't enough "Orb shelter" & "Core Orb" moulding technology creates a double-layered details for sensations beyond your imagination…I mean if that doesn't scream gone in 60 seconds, I don't know what does.
Oh and if that wasn't enough, the white circles outside the masturbator are used for further pleasure. The middle button or pad squeezes out trapped air increasing the vacuum pressure. The bottom button can be used to increase the intensity of the ribs at the entry point. The upper button increases the intensity of the stimulation to the tip of the device (where you penis head would be). 
The insertion length is 150mm and Width is approve 45mm. It's case itself is made of PC and the Internal masturbation sleeve is Thermoplastic Elastomer (TPE)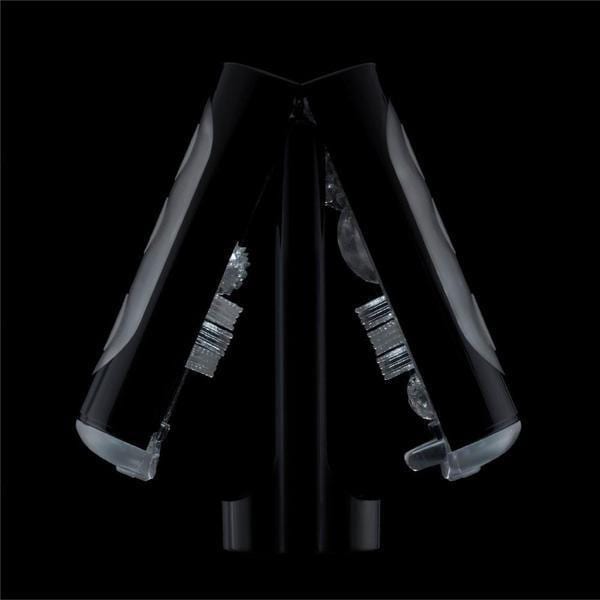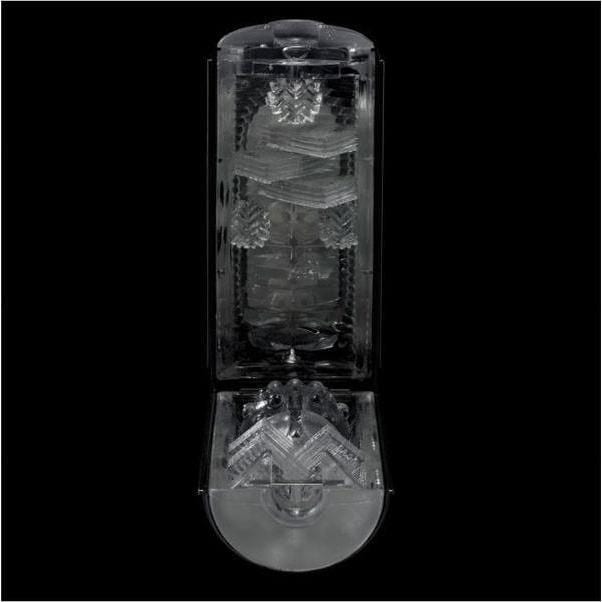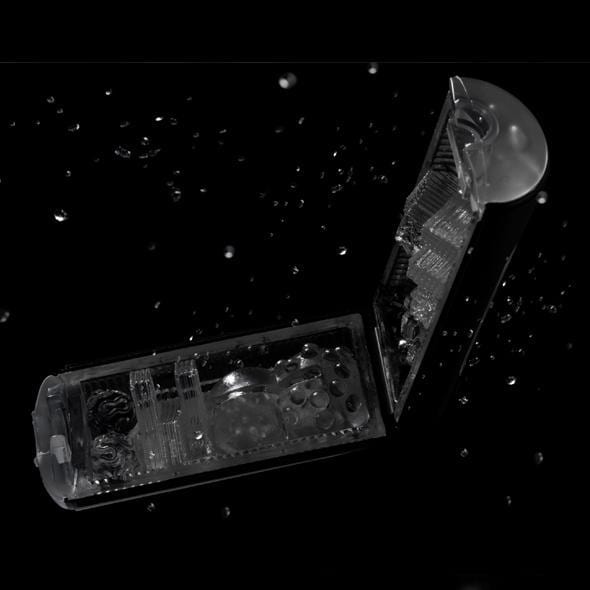 You get the Tenga Flip Hole, Instructions and two lube sachets.  
Unique internal textures
Easy to clean and dry
Reusable (recommended up to 50 times)
Extra tight for an ultimate sensation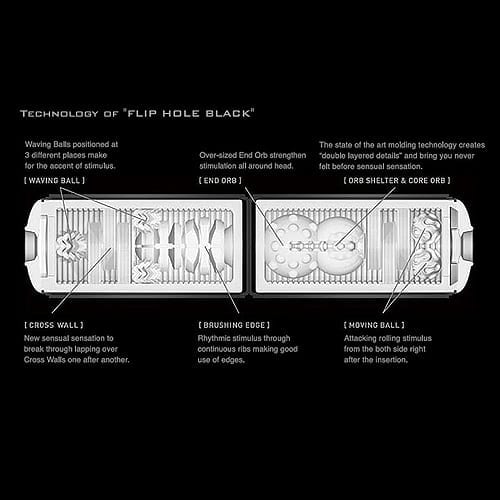 Having tried the TENGA Deep Throat Onacup and two TENGA Eggs I was excited to get the Flip Hole tried. The three previous products were 7-8 ratings so TENGA know what they're doing when it comes to male masturbators. My main issue with all three products was the fact they were single-use. It felt like a waste throwing them away when done and not very good environmentally.
To use the Flip Hole you slide the stand off and add lube to the inside sections (trust me you'll need it). You then slide the stand back onto the masturbator and you're good to go.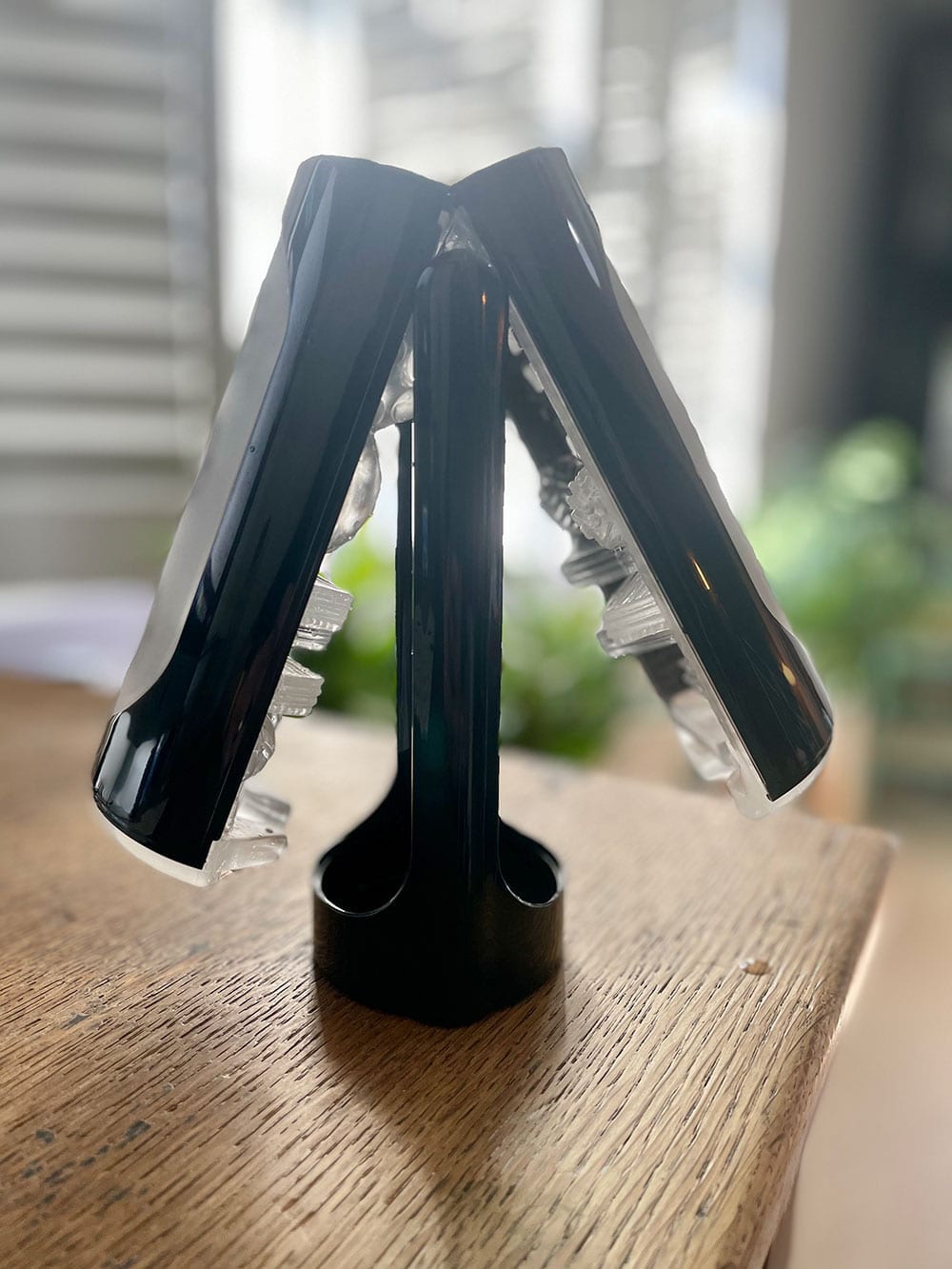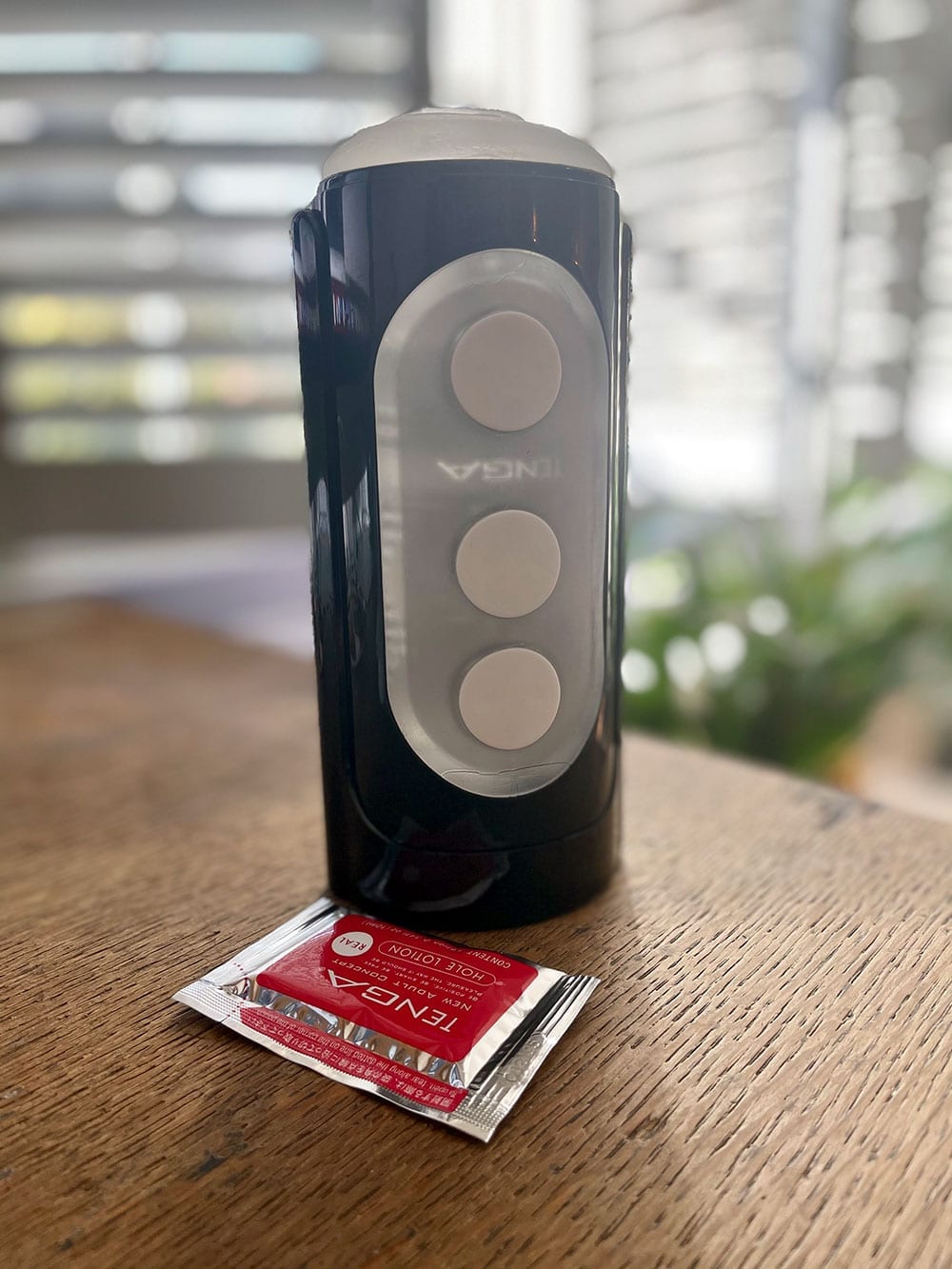 The first time I tried it I put in my own water-based lube into the toy, but maybe not enough. Trying to get my penis into the Flip Hole felt like a mission, for me it was bloody tight. I needed to make sure the entry point was covered in lube along with my penis.
Once my penis was inside the Flip Hole it felt incredible and sounded squelchy with the amount of lube that was in there. Each stroke was amazing and even though you can't feel each individual texture, them all together was a great sensation. It didn't take very long at all to climax. I did get chance to play around a bit with the white buttons/pads on the side of it and they do increase the pleasure further. The middle makes the whole masturbator feel tighter (not that it needs it) and the top and bottom push the inner textures onto your member more meaning you feel even more.
Once I'd climax, it was really easy to clean the Flip Hole as it opens up in half. This means you're able to really get into each nuck and cranny with soap and water and make sure there's nothing left inside of it. This is something which I really appreciate with a male sex toy. We've reviewed Fleshlights and other sleeve based masturbators and compared to cleaning those out, this was easy. The stand is a cool way of being able to dry it out. Tenga is good at making discrete products, I think if you were to forget to put this away once dry and someone saw it, they wouldn't immediately think you've just had your penis inside that product.    
On second use I did try the Tenga lube with the toy instead of my own. The lube is really thick and stringy. It worked well, but I still had an issue with getting my junk into the Flip Hole. So my pro tip would be to lube the toy inside, the rim on the outside and also the head of your penis. You shouldn't have much of an issue then getting in there.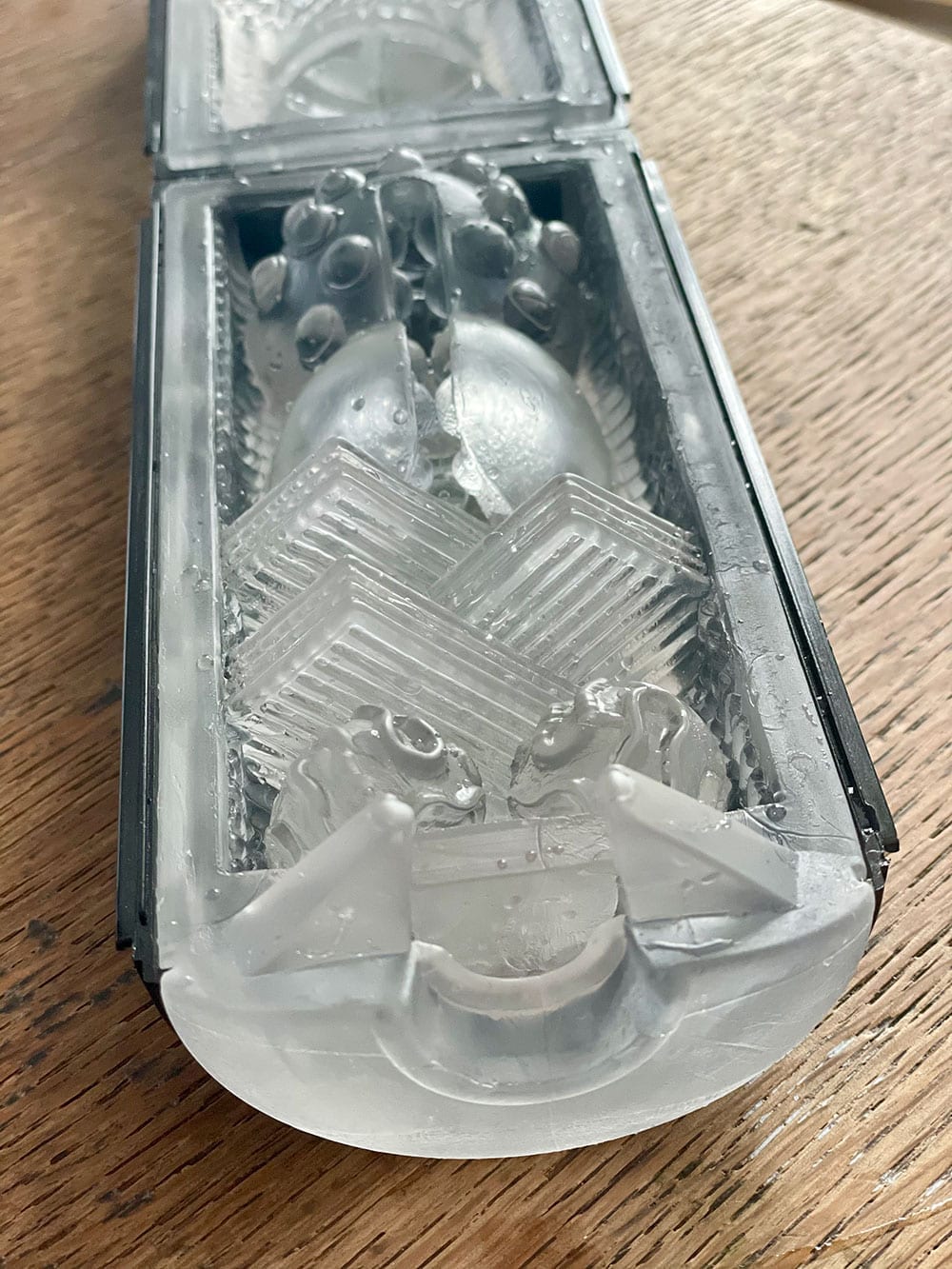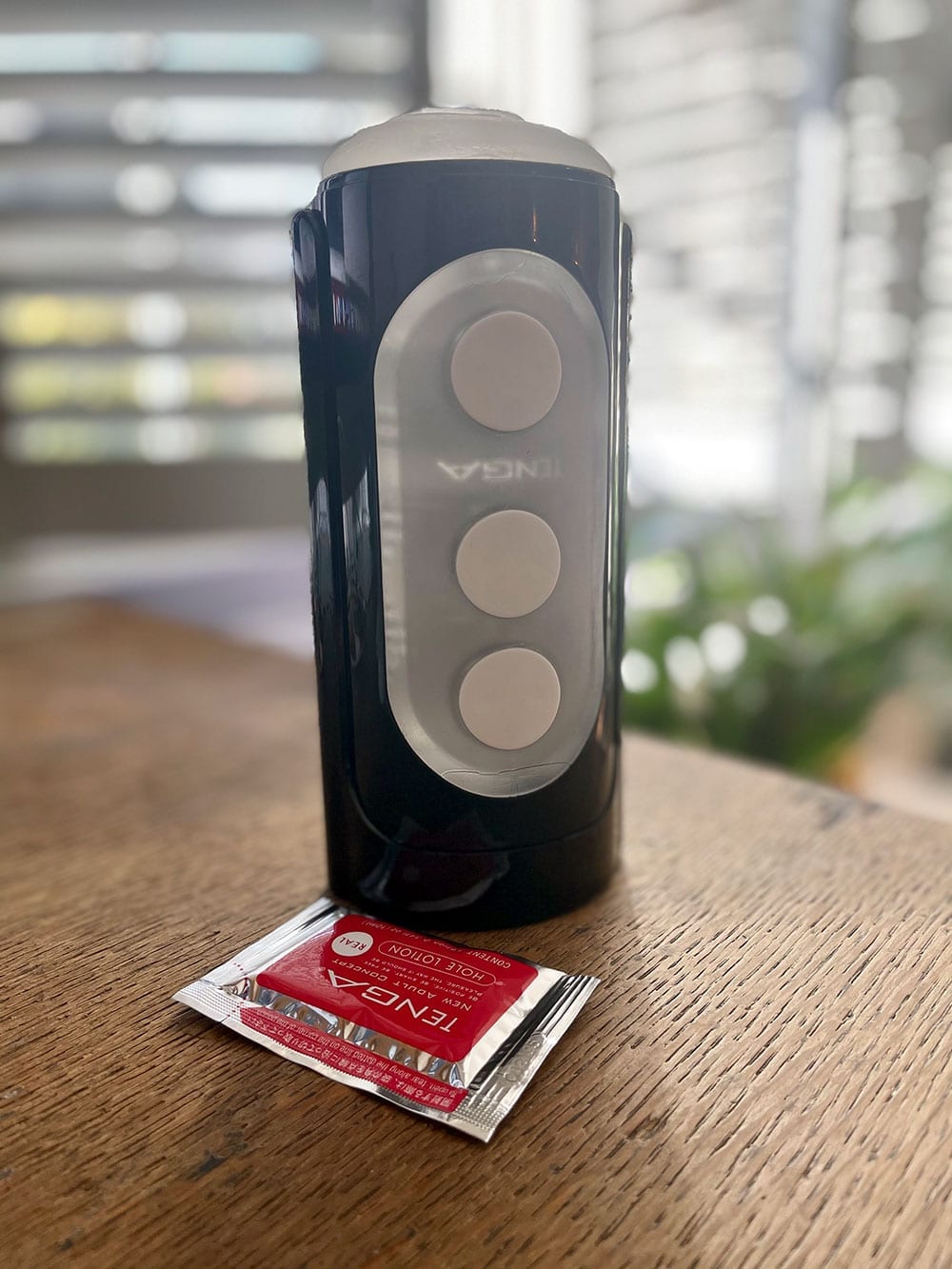 My main gripes with this toy. One it's so so tight, if you're girthy one of the other colours might be better for you. I mean it's not a bad thing, but it makes it harder for you to delay climax because it feels that good…yes that's right…I'm saying it's too good and that's a bad thing. 
The second is it feels a bit flimsy. The stand I think could have done with being thicker. The stand is what I'd say is the backbone of the toy. It's the thing that holds the toy in place when closed up to form the masturbator. It just didn't feel very sturdy and strong. Also because of it's thickness (or lack of) it's a bit of a balancing act to get the toy opened up and drying on top of it.
Finally I'd say the material the inside is made of isn't as appealing to that of a Fleshlight, it's less natural feeling, but when you're in there it really doesn't matter.
Even with the minor negatives mentioned above the Tenga Flip Hole is still a great male masturbator. It offers a very tight grip around the penis and it's many features add to a highly sensitive experience. Would I buy it over a Fleshlight? Yes I probably would because it's so much easier to clean!   
Rating 8.5/10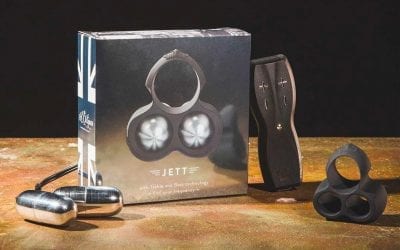 We were sent the Jett by Hot Octopuss in return for an honest product review. This review has been...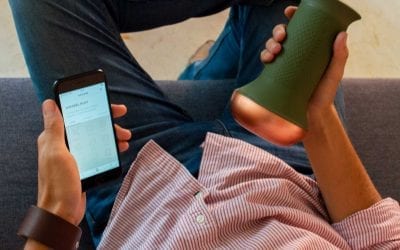 Leading Male Sexual Health Innovator, MYHIXEL have Launched a Device & App that Allows Men to...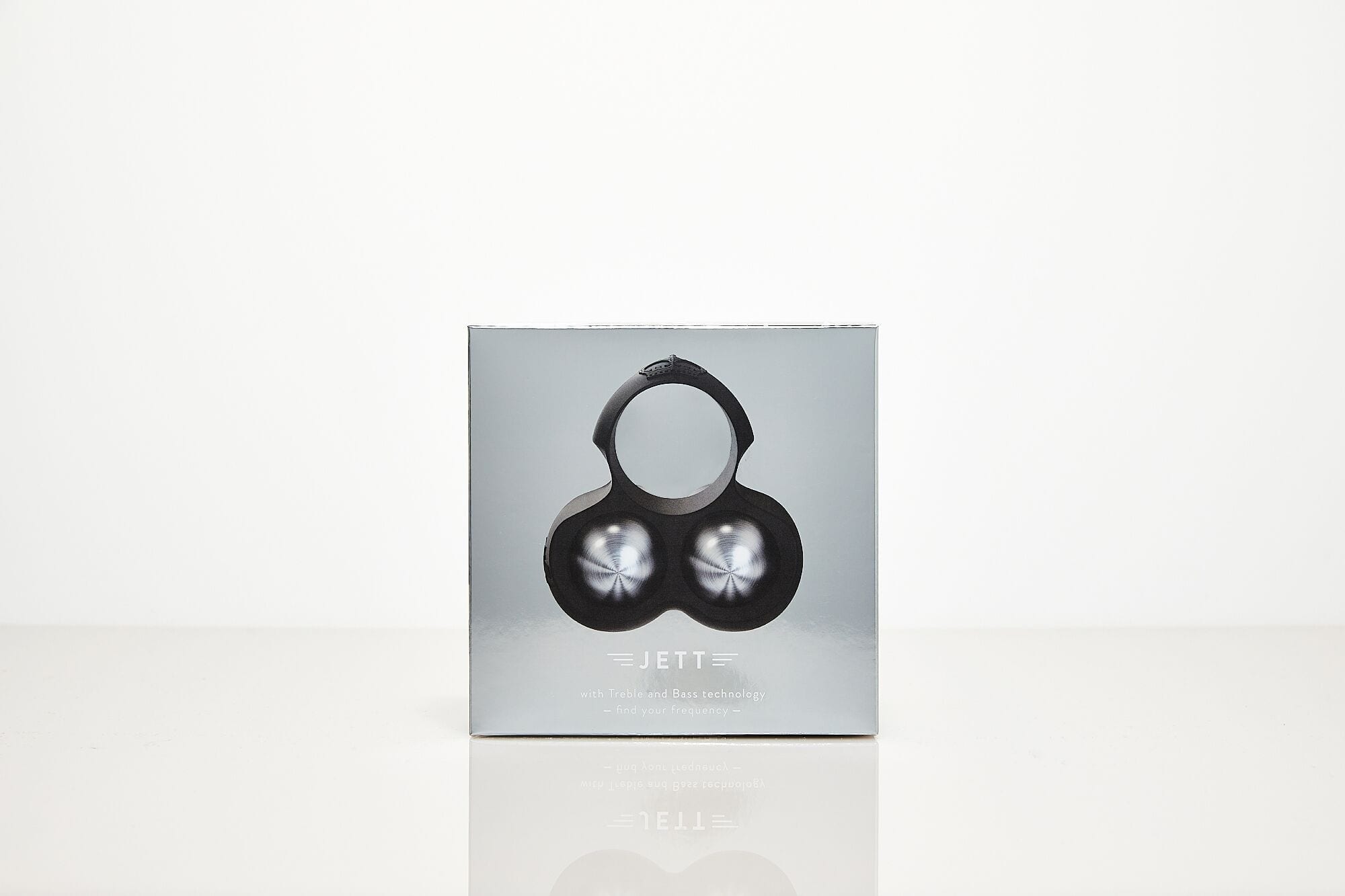 We're extremely excited about the news of Hot Octopuss's new penis toy names JETT.