The Hello Touch is a hand – worn vibrator that has two vibrating pods which can be attached to the fingers, with the wires down the back of the hand and the battery pack worn at the wrist.
This innovative toy is adaptable for use on any area of the body, taking the vibrations where ever your hands want to go, an ideal toy for couples, for those exploring their bodies and for use in foreplay and self-pleasure.
Both pods are extremely strong little vibrators in soft rubber sleeves which can be attached to the tips of the fingers and placed anywhere on the body. This is ideal for clitoral and g-spot stimulation in foreplay and an extra pleasurable buzz when giving a hand job. This toy is quiet, waterproof, easy to store and light, perfect for travel and nights away from home.
A slightly odd yet exciting concept, this brand new toy sounded extremely innovative, with a very natural and ergonomic approach to the vibrator. From the pictures I thought it looked a little scary and futuristic, not sure if it would be a bit strange to use at first. We've also used a similar toy in the form of the G-Love with its buzzing vibrators in each finger tip, designed to thrill, but not at all very sexy. However, the design of this toy fascinated me, and the vibrators themselves are advertised to be much more powerful and quiet than other finger vibes.
On receiving the toy, the packaging is very clean and tasteful, and doesn't look like a sex toy in the slightest, even though there is a picture of the toy on both sides of the box. The box is also small and light with the toy inside, and with its subtle design, this makes the toy particularly good for travel. The toy comes with instructions, and I have to say looks a lot less strange in person. The cuff for the battery pack is very soft and comfortable to wear, the wire light and just the right length for the hand, and the little pods are easy to slip onto the fingers, and are very comfortable on the tips of the fingers. With the press of a button, you can feel how light yet strong the vibrations are, which I found very exciting and surprising about the product, as it felt a really good strength for such tiny vibrators.
When using the Hello Touch in foreplay, he used it on me first, which felt so natural, like we weren't really using a toy at all. The vibrations were pleasantly strong and could be used to tickle and tease, on the nipples, down the thighs, and around the clitoris and labia. This toy has no limitations and can also be used inside, so when Mr A used it on my G-Spot and clitoris at the same time, I began to think that this toy was perfect for the job, felt so natural and basically, I'd wondered where it had been all my life. I could also tell that Mr A found it sexy being a bit of a tech geek…
When using it on Mr A, it felt so easy to control and added so much to his pleasure, which I loved to see. It felt sexy and simple and was in no way off- putting, and generally felt like a natural extension of yourself. The vibrators are very quiet and powerful, but the only thing I felt that was missing was another few speeds or sequences. Saying that, to fit such powerful vibrations into such little pods is so impressive, that other speeds aren't really required. I definitely want to make this one of our regular toys.
As you know I was really looking forward to getting our hands on this sex toy and was delighted when Strawberry Blushes informed us that they were getting it in stock. We quickly got it on order and waited for it to arrive.
The packaging of the toy was impressively small; I don't know why I was expecting a bigger box. The design of the packaging is minimal and tasteful, and like Miss K says it doesn't look anything like a sex toy. Being from a design background the quality and overall design of both the packaging and the toy itself really shows the effort and consideration Jimmyjane go into with not just this but all of their sex toy products that they have on sale. There's not a single ounce of tackiness or cheesiness in the design of the product and that's really nice and reassuring, it also makes you appreciate the final price of this sex toy. Even the battery case is nicely designed and slots perfectly into the Jimmyjane branded wristband. Jimmyjane certainly are the apple of the sex toy industry (without the extreme price tag)
The toy itself is quick and easy to set up and takes 2 AAAA batteries (which are included in the box), I've never seen AAAA batteries before but they must have been used to keep the size of the toy down. They're also not hard to find which is reassuring; you can buy these also from Strawberry Blushes. The two small waterproof bullets don't look like they'd be as powerful as they actually are which is great.
Miss K and myself took it in turns to play with the Hello Touch. I found it a really nice experience; the toy easily fits both my wrist and fingers as it does with Miss K's, so even guys with big hands can use it. When wearing the toy while it's vibrating, you do actually forget you're wearing something on your hand. It's so light and nimble it feels like it's a part of your body. This is a great thing as the toy doesn't get in the way and I found it really easy to get the finger bullets anywhere on Miss K's body, whether it was for massaging during foreplay or g-spot and clitoral stimulation (which was a real turn on to see how much Miss K was enjoying it). The Hello Touch is also very quiet! Miss K could be using it right now in the other room and I wouldn't know about it…in fact she has been a while…
When it was Miss K's turn with the Hello Touch, the vibrations around my body were really stimulating but not too numbingly intense. It was powerful enough to be pleasurable. I'd recommend lubrication to reduce friction from the toy, especially when using it on more intimate areas.
I really do love this toy and think it's so versatile that it's great for all. Whether it's self-pleasure, foreplay, g-spot and clitoral or even anal stimulation this toy offers it all. It's waterproof too, perfect for shower play, easily cleaned and also very portable so it'll be great to take away on holiday. We both enjoyed playing with this toy and look forward to using it on a regular basis.
Use a

 

water-based lube

 

to enhance pleasure.
Clean properly before and after use.
Over all, this easy-to-use, simple yet effective, ergonomic little toy is an extremely clever vibrator that should be in every sex toy closet, from beginners to the experienced. It's waterproof, natural, light, quiet, and the perfect little addition to foreplay and self-pleasure, what a bargain! We'd of given this a 10 if it had more settings to the vibration.
Rating 9/10 
Jimmyjane no longer create the Hello Touch and they're not selling anything similar. We've had a look around for something similar and Lovehoney have a finger vibe that attaches to the finger and around the wrist
Lovehoney UK – £49.99
Lovehoney USA – $64.99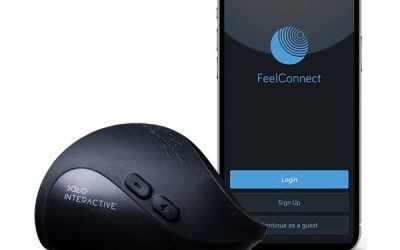 Sex-tech company Hot Octopuss launch PULSE SOLO INTERACTIVE their first interactive toy featuring...