Review: Oxballs Powerballs Cock Ring
Published: Monday, Jun 02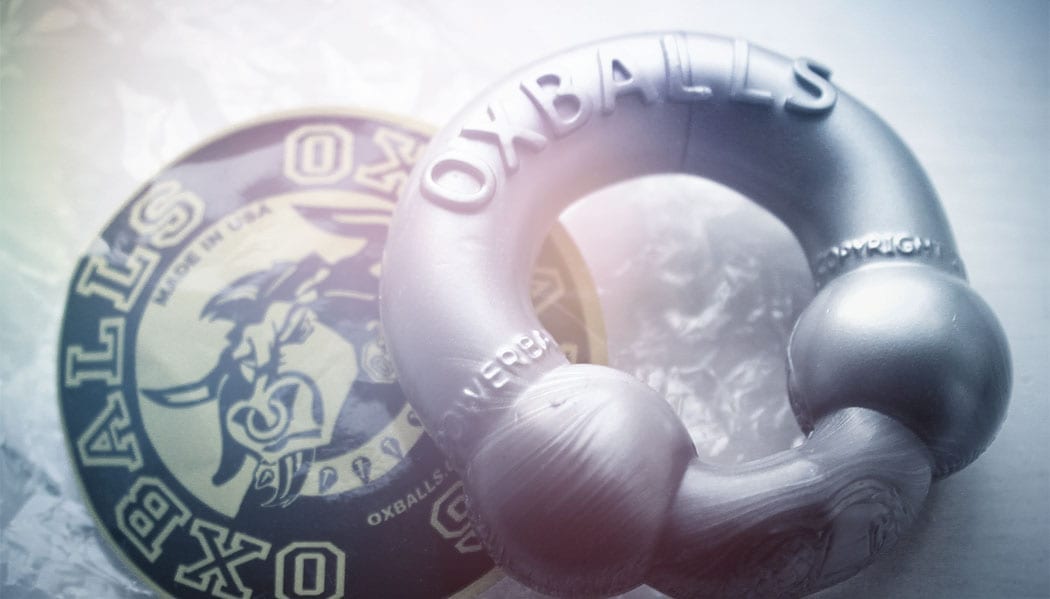 The lovely Vikki from Uberkinky sent us the interesting looking Oxballs Powerballs for free in return for an honest review, and here it is.
Uberkinky is proud to have the UK's largest range of Oxballs products, the Powerballs being one of them. The Oxballs range looks very powerful and very kinky (and quite extreme), looking at some of the other products available in the range I think we're safe to say the Powerballs is the "friendliest" looking and something we're both happy to review.
The Powerballs is a super stretchy Cock ring designed to fit all shapes and sizes. Stretched over both your penis and testicles the Powerball can be worn two ways. Either with the 2 balls under your testicles (pushing your family jewels out perfect for if you're wanting to show off during the day) or above the penis (adding extra pressure onto your penis for an extra hard experience).
Designed for long wear this cock ring can be worn during an intimate session or under your boxers during day to day life. Made of Oxballs exclusive TECH-TRP rubber, the Powerball is water proof, lube friendly and really easy to clean.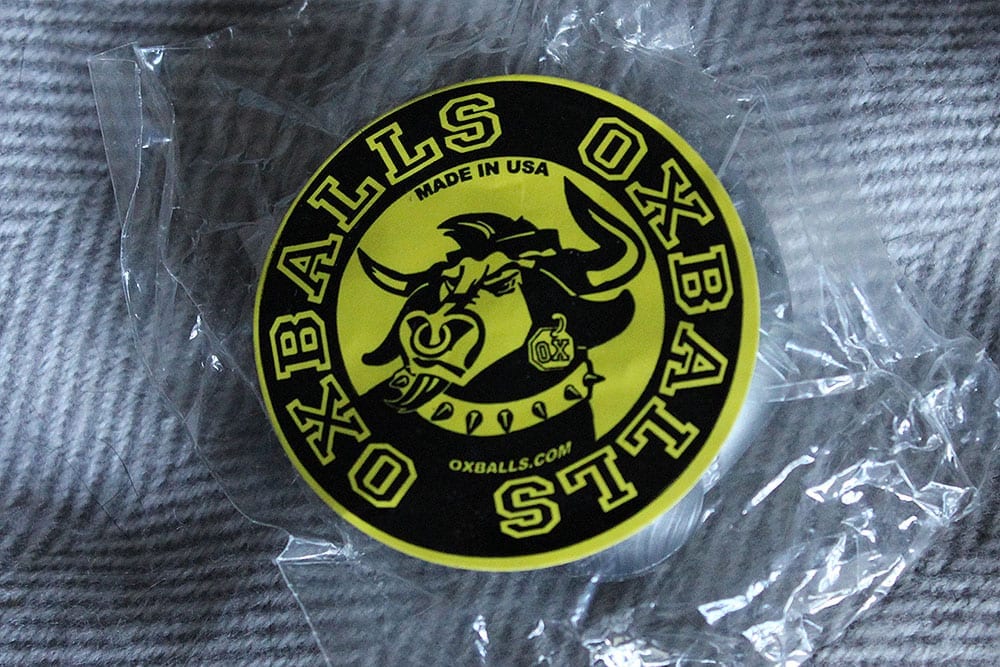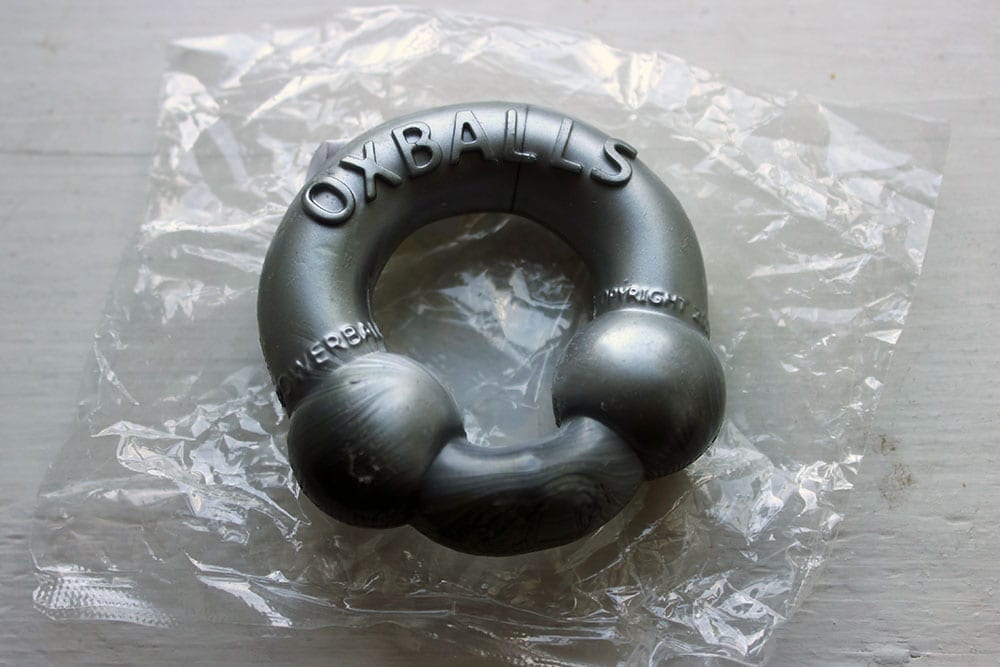 STATS (INCHES/CM)


Total Height:  ¾"/19mm
Total Outside Diameter:  2.8"/54mm
Max Stretched Inside Diameter: 9"/23cm
We've reviewed and used a lot of cock rings over the last few years, some great and some not so great. The Oxball Powerballs look like a meatier version of a standard none vibrating cock ring. I was interested to see if the thickness of the cock ring would impact the strength and power gained from wearing it.
The Powerballs arrived in a see through plastic bag with a large Oxball logo on it (cool logo and character!). At first look the Powerball is around 5 times the thickness of any other cock ring I've reviewed. I was a bit worried as I thought when wearing it it might be far too tight and hurt, luckily I had nothing to worry about.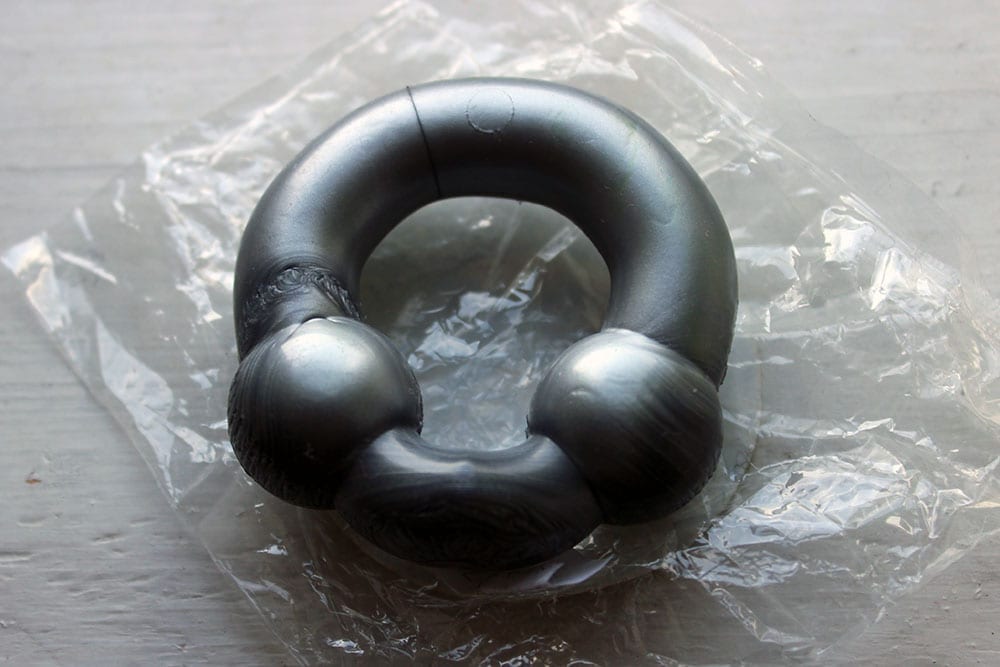 The Powerballs is ridiculously stretchy meaning it's easy to put on once you're erect. The Powerballs fits over your penis and balls and contracts back to fit snugly around your manhood. It's noticeably tight but not uncomfortable and ideally for day to day wear. In fact I'm wearing it right now while writing this review.
The first time we used the Powerballs we used it with the two balls pointing upwards adding pressure against the penis. This helped make my penis look thicker and kept it very hard during intercourse. I seemed to last ages wearing this cock ring too which is always an extra bonus. So much so we had to stop as Miss K couldn't take it any more.
I've also worn (like I am now) the Powerballs with the 2 balls pointing downwards under the testicles, like in the description this pushes your bits forward meaning you look impressive when fully clothed with the Powerballs on underneath your underwear. While wearing it you feel manly and it almost gives you extra confidence!
Overall I think the Powerballs up there with the best cock rings we've reviewed. At just under £10 it's a bargain and something I intend on using again and again,
This cock ring is extremely severe and manly it its appearance, which doesn't put me off, and I think makes him like it more! We both like a toy which packs a good punch, in appearance and effectiveness so first impressions a really great with this toy. It doesn't need any over-the-top packaging or anything, and it's logo just adds to the whole personality of the toy.
Mr A surprised me by wearing the cock ring around his penis and balls while wondering around the house naked. Needless to say this usually distracts me and turns me on, but even more so as everything looked even more inviting, somehow! It didn't take much to seduce me, especially with his package looking so sexy.
During sex, the cock ring really stayed in place and didn't rub me, no distraction from what was happening. I could say it made no difference to me but it isn't true- I think the cock ring made Mr A last longer, and when I say longer it was a long session with multiple orgasms for me! He seemed to enjoy it too, with the pressure of the cock ring adding to the pleasure and keeping him going, I could tell he really wanted to go for it!
So this toy is a new regular favourite of mine, if not ours, and for the price it should be in everyone's toy box!
You shouldn't need lube to put this cock ring on as it's extra stretchy, but if you're a bit worried about catching your penis on it while trying to put it on or take it off, coat the Powerballs in a thin layer of lube
Wearing the 2 balls under your testicles will push your family jewels forward, giving you an instant ego boast.
Wear the Powerballs out for the day or even to work
If you're growing a jungle down there, we'd recommend trimming before use as you'll find you might best hairs caught (which will be painful!)
Are you new to Cock rings? Uberkinky have a great

 

beginner's guide

 

for you to read.
Overall, this toy is simple but effective, something everyone needs in their sex toy collection!
Rating 10/10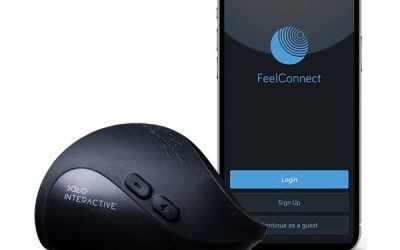 Sex-tech company Hot Octopuss launch PULSE SOLO INTERACTIVE their first interactive toy featuring...