Review: Tease Game – The liberating game for couples and groups
Published: Sunday, Aug 11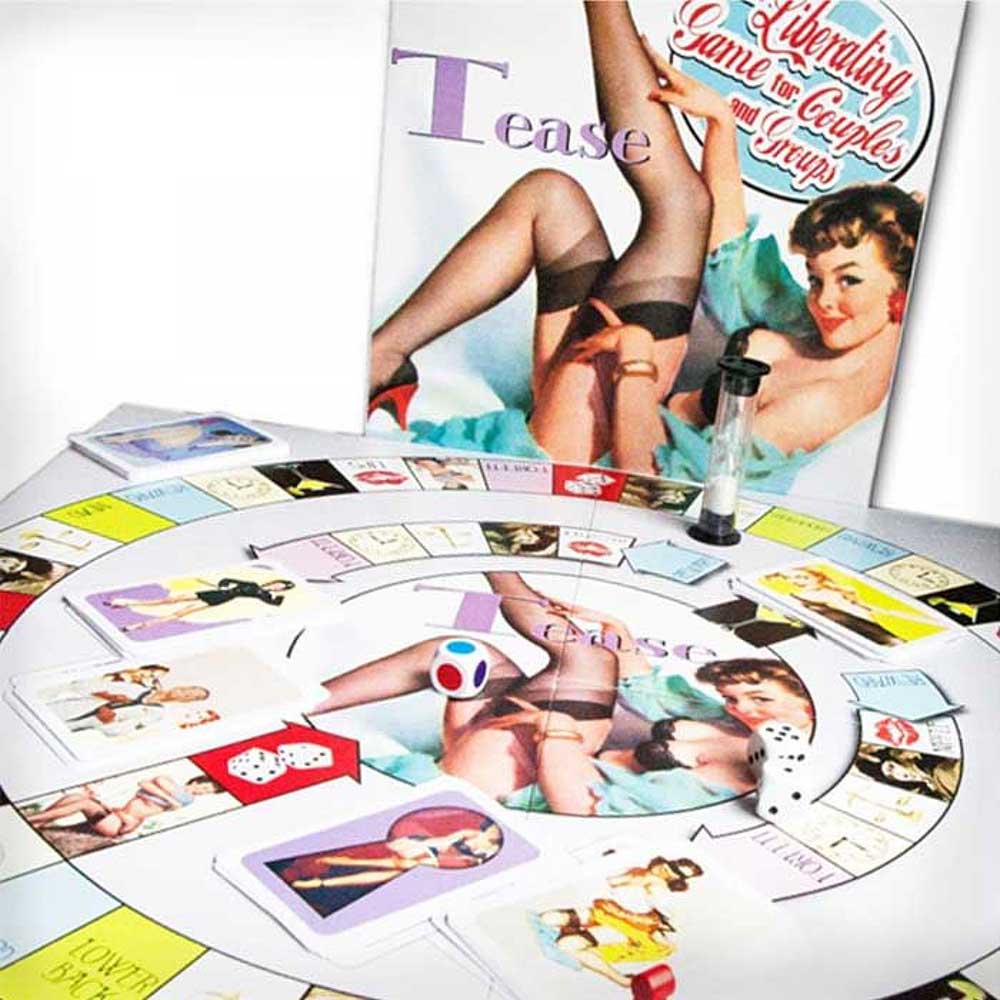 Tease, 'the liberating game for couples and groups' is a drinking game with a twist, featuring sexy fantasies, lap-dancing and massage.
Unlike many other sexy board games out there, this incredibly hot game is in a seductive 1950's pin-up style, aimed towards 2 to 6 players and is most definitely not for the faint hearted! From doing the Macarena, to dirty stories to staging a hard core porno, when you invite people over for this board game, you'd better make it clear what kind of night they're in for! This tantalising, naughty game starts off with a few cheeky kisses but ends on a pretty explosive finish.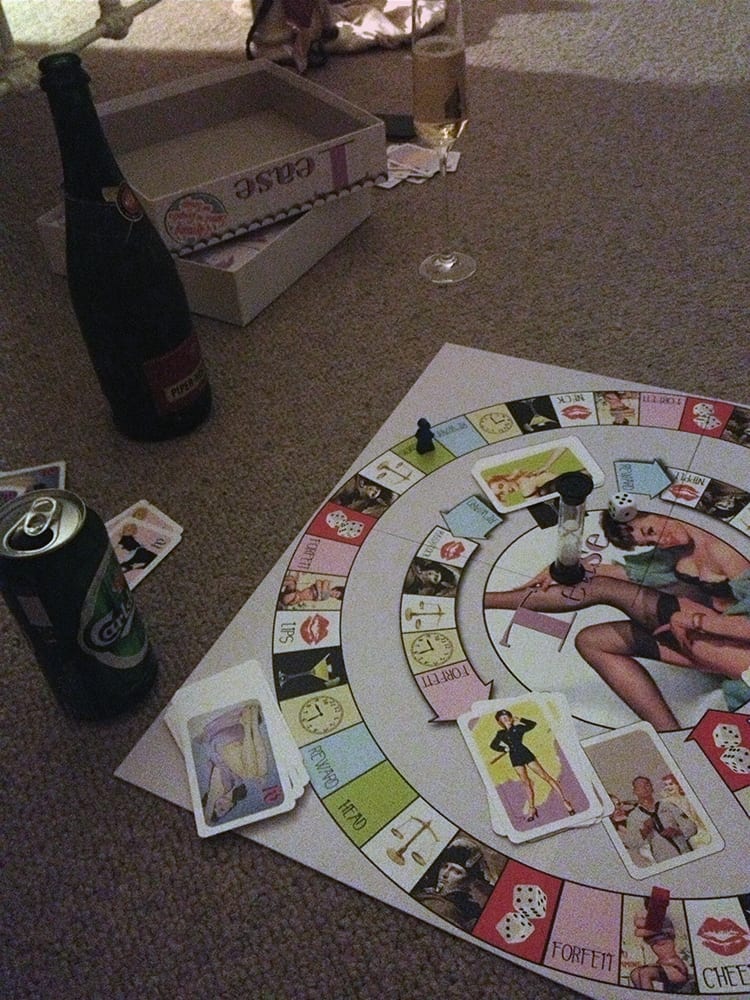 The Contents of this game comprises of: 1 playing board, 50 reward cards (150 instructions), 50 forfeit cards (150 instructions), 50 fantasy cards, 6 playing pieces (3 male 3 female), 2 dice, 1 special dice, 1 timer, 1 rule book. This game is obviously for players aged 18 and over and takes 1-2 hours.
Some examples of the cards include:
2 Players: 'The player to your left has to pretend to be pleasuring themselves thinking of you, and they must fake an orgasm saying your name (30 seconds)'
3 Players: 'You have been knighted. For the next 15 minutes, people must refer to you as Sir or Lady [NAME], failure to do so means they must drink.'
4 players: 'Leave the room, everyone will decide on their preferred sexual favour. When you come back, the player to your left will tell you the favours anonymously. You choose one and then perform that favour on that person.'
It's immediate from the box that this game is naughty, and being a huge fan of Burlesque and the 1950's style, I just love the whole style of this game! The product is very obviously of high quality, and on looking at the board and cards I was thrilled to see yet more naughty pin-up style pictures in suggestive poses. To get familiarised with the game I read the rule book and a few of the cards, and even just doing that turned me on slightly, I really couldn't wait to play this game!!
Myself and Mr A don't find group sex very entertaining, but we're up for most things as a couple, and we love a good tease! So we played this game just the two of us on a sexy night in, with booze, candles and sexy underwear. To start the game it recommends 7 items of clothing for a male player and 8 for a female player, so you can strip down when instructed. It's been ridiculously hot lately, however, so I think we managed 5 each (mine including stockings). We figured out the squares as we went along, using the instructions and we picked it up quite quickly. We were using both dice at first but decided to use one to slow the game down and make our way through the cards a bit more.
What I really liked about this game was how it made us do different things than what we usually would do to tease each other. I also enjoyed getting several massages out of Mr A – we got some really good use out of our massage candles for once!! After a hand massage, back massage, chest massage, head massage and full body massage, we wanted to speed the game up a bit more so we started to cheat and miss out some of the massage squares. Towards the end we actually started skipping through all the cards to get to the things we wanted to do to each other to get us going, well after a while we were a bit impatient and wanted to get on with it!
Some of the cards weren't to our taste, which is why we skipped through them (knowing what turned each other on). But some of the cards did give us some good ideas and really did get us going. What this game is good at is it made us have an evening to ourselves to get drunk and tease each other. It makes you think about your partners likes and dislikes and what really turns each other on, so it was a good change from the usual toys. This meant we could take things slowly and really enjoy each other. The game is obviously more suited to couples who enjoy group sex, and for that I'm sure the cards make much more sense, but for us, I can't wait to see what the makers of this game have coming up next!
Having struggled to find a time that both me and Miss K could play the Tease Game, once we finally had a day set I couldn't bloody wait! When we original got the game sent to us we opened it up and had a look at the cards and quality of the board game and I was quite impressed. The Tease game guys are an independent company that over the last year have worked incredibly hard to create the Tease game and make it available to the general public. I really like the retro feel of the game and the illustrated pin-ups and overall style of the game is very fun and popular at the moment.
To prepare for the game as Miss K said we had to put some extra layers on to allow us to take them off when required. We lit some candles (and a massage candle to use when we landed on the massage square), and got our alcohol of choice together (Beer and Cava…very classy combination).
Playing the game was very straightforward although we did keep looking at the instructions just to see what some of the squares meant. When we first began to play we were using both dice that were provided, but found we were flying through the game too quickly, to stop this from happening we started to only use one of the dies.
The mix of rewards and forfeits was great fun, my favourite part was landing on the squares where I got to tell Miss K what to do…most of the time it was strip! I also seems to be extremely lucky and landed on the massage square around 4 times in a row meaning we got full use of our new massage candle.
There's a great mix of reward and forfeit cards available in the box and like Miss K has said some of them weren't to our taste, but I think there's certainly plenty of cards in there to really get you going and having some kinky fun. What I would recommend and I think we'll do next time is go through all the cards and pick out the ones we'd do, saving us time during gameplay.
The grand finale of the game being one of four cards "Threesome", "Voyeur", "Fetish" and "Role Play" the last two being aimed at couple rather than group play. There are some brilliant cards in there perfect for couples that are wanting to experiment and might not have normally done so. Cards include fun with food, messy sex involving whipped cream, foot and hand fetish and spanking and loads more.
I had great fun playing the Tease game and really enjoyed spending some quality kinky time with Miss K, learning about things I do that turn her on, the best sex she's every had (thankfully me) and giving each other sensual massages really did result in our night concluding with the card "cover each other with liberal amounts of whipped cream and chocolate". Unfortunately we had neither, so I covered Miss K in edible Durex lube instead and had some extremely passionate slippy sex.
I really do recommend the Tease game to anyone who is in a couple and wants to have a dirty night in but also for anyone interested in group play this game is ideal.
Get the massage oil ready – Lots of massage involved!
Play the game on the floor or on a table next to a decent space – you'll need plenty of space!
Make a night of it – Half the tease is the prospect of playing!
Layer up – Wear your sexiest underwear, and outfit on top to go with it- lots of stripping!
No Cats – Make sure you lock your cat out of the bedroom while playing this…our cat kept trying to steal the dice!
Pick and Choose – Go through all the cards and sort out the ones you both feel comfortable doing.
Overall, this game got us going, but for the full enjoyment we'd say its really targeting groups! We were therefore restricted to two-player cards. We liked how it made us spend a night enjoying each other though and can't wait to play it again! We're certainly excited to see the next game the Tease Game creators are developing.
Rating 7/10 
Unfortunately it looks like the game stopped production back in 2017. If you're looking to buy a kinky board game here's a couple we've tried and enjoyed: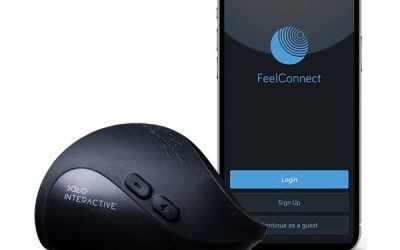 Sex-tech company Hot Octopuss launch PULSE SOLO INTERACTIVE their first interactive toy featuring...