So what is a Fleshlight? To me the Fleshlight is the male equivalents of a female dildo. This flesh like sex toy has been designed to replicate the sensation of penetrating a vagina. In essence it's a hand held, portable vagina that you insert your erect penis into and masturbate with. The inside surface of the Fleshlight is available in many different textures, all of which offer heightened stimulation which can not be obtained from your hands alone.
The great guys at Lovehoney sent us the Jenna Haze Fleshlight to review. The Fleshlight range is ever increasing with so many different types available, the Jenna Haze Fleshlight is from their Fleshlight Girls range.  The Jenna Haze Fleshlight has been moulded directly from her vagina , this Fleshlight has the unbelievably realistic Lotus texture (which is a series of delectable chambers that are inspired by the female) for a lifelike feel.

This soft, pliable, non-vibrating sleeve is made from patented high-quality material for the most incredibly realistic sensations.  The moulded gel insert/sleeve is housed in an attractive pearlescent canister that looks like an ordinary utility flashlight, for discreet fun. The Canal diameter of the Jenna Haze Fleshlight is 0.5 inches, with an internal length of 9 inches.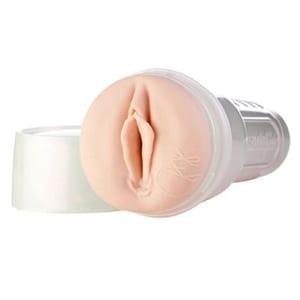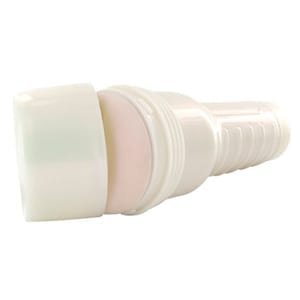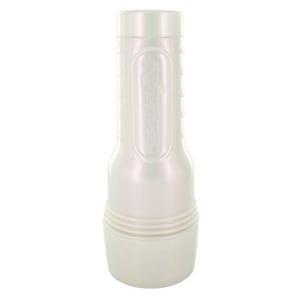 I've secretly always wanted to try a Fleshlight out (especially when I was single), but never had the confidence to buy one online. Probably incase my housemates discovered I'd bought one, or worse….the parents (they did stumble upon my sex toy collection one year while helping me move!). I've now realised there's nothing to be embarrassed about; girls can buy vibrators and dildos to simulate sex, why can't guys feel fine about buying a Fleshlight?
When the package arrived I couldn't wait to try it out. I was a bit uneasy about it being so realistic looking, I felt a bit like I was cheating on Miss K. The pearlescent canister looks luxurious…maybe a little bit girly but still who cares about the canister; it's the insides that matter. The feel of the sleeve is very nice, smooth and squishy. It's extremely malleable and stretchy so it will accommodate most girths. The Fleshlight comes with a shipping rod inside it at first to ensure the toy keeps it's shape, make sure you take this out before use otherwise you might do your penis an injury!
The First use…
It's recommended that you warm up the sleeve first to ensure it's at a body like natural temperature for a more realistic feel. Miss K wanted to use the Fleshlight with me a first. I think she was a little jealous and worried I'd like it too much! Once the Fleshlight was warmed up Miss K got me in the mood and ready to use the toy. Water-based lube is needed with this toy so make sure you're penis is well lubed and maybe a drop or two in the Fleshlight itself too.
Miss K eased the Fleshlight onto my penis and began to stroke. The sensation was BLOODY AMAZING! I wasn't sure what to expect at first but on the first stroke of the Fleshlight the sensation was very realistic, it was almost like a was having sex with Miss K. The Lotus texture is brilliant; you can feel each bump and opening of the many different chambers of the toy. The end cap at the bottom of the Fleshlight regulates suction, when fully closed each stroke is nicely tight and sure to make you climax within minutes. When the end cap is fully open each stroke is still enjoyable but the suction isn't as intense and means you should be able to enjoy the whole experience a little bit longer. Experimenting with the end cap will ensure you can have an intense masturbation session.
The first time I used this toy (and yes, there's been many times I've needed to "research" with it to be able to write this review) we didn't play with the end cap and left it fully closed meaning it didn't take long at all to climax. Fleshlight offer a Stamina Training unit, but I think as this feels so realistic I'm sure the more you use it the longer it'll take you to climax using it, this should also transfer to the bedroom.
It's recommended you clean the Fleshlight straight after use. To clean it you simply remove the cap and end cap and run warm water through the toy. If you want to "intense" clean this toy a little isopropyl alcohol is recommended. It's important that you don't use soap to clean the Fleshlight as it can deform and slightly damage the flesh like sleeve. While drying keep the cap and end cap off the Fleshlight and ensure it's well ventilated.
Some guys might find the cleaning a little annoying and the last thing you want to do after climaxing, what I've found is that using the toy in the shower or bath means you can effectively do this straight after enjoying it. Using the toy in the shower or bath also means you can clean and heat the Fleshlight before use.
Who is it for?
I think this toy is great and would highly recommended it to any guy whose a bit bored of the sensation of masturbation with hands. Whether you're single or in a relationship this toy can turn masturbation into a luxury treat. I've enjoyed using it many times with Miss K and also while Miss K has been working nights or weekend shifts. It'll never replace the real sensation and experience of sex, but it's still a great substitute.
When we first opened and looked at the Fleshlight, we both found it hilarious and I have to admit I found it a little bit odd. I'd heard of them before but had never dreamed I'd see one, and although I got the concept I just didn't know if I'd want my guy using one. As we looked at the product we saw that it was actually brilliantly designed, I still felt like it was a bit weird that this was modelled on another woman's vagina and that my other half was going to pleasure himself with it! To get used to the idea we used it together first and I actually looked forward to this and the reaction it had. We cleaned it out first, and had a bit of a laugh at the product out of the plastic case, which just looked and felt very strange, but I have to say this product was a lot of fun to discover together!
When I used the Fleshlight on him, I helped him to get hard first and then, using some lube, gently eased the Fleshlight onto his penis. This gave a bit of an unsure reaction at first, as I don't think Mr A knew what to expect, but sliding the Fleshlight up and down really started to work for him. The reaction was very obvious that the toy was working, and seemed to be satisfying Mr A so then I really enjoyed it and worked harder to get even more of a reaction. I was happy to hear afterwards that although he said the Fleshlight felt pretty amazing, it was no substitute on the real thing. However, I can see how this product can be so useful in pleasuring your man or for single men needing a bit more from masturbation. I also think this would be a great solution for women who have just had a baby to keep pleasuring their man in the early stages after birth, as it gives a great reaction, could be 'his treat' and doesn't take a long time to get results!!
Put lots of lube on the penis before use
Open and close the end cap when using for different intensities
Use with a partner for a treat
Remove the inside sleeve and both caps and wash separately
Using in the shower or bath means you can warm the toy up before use but also clean it easily afterwards
Water-based lube should be used with this toy
The Fleshlight is a great male masturbator that offers the realistic stimulation that you get from intercourse. Out of all the male toys we've tested the sensation from the Fleshlight is like no other. The perfect treat for yourself or present for your boyfriend, and not a bad price at all.
Rating 8/10 
The Jenna Haze Fleshlight with the lotus insert that I've reviewed is no longer available.
If it's the Jenna Haze Fleshlight you're looking for then a newer version with "Obsession texture" which claims to be extremely realistic.
Lovehoney UK – £69.99
Lovehoney US – $79.99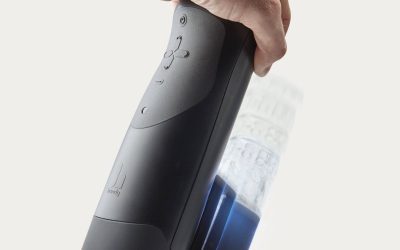 The Handy is "the most advanced sex toy ever created", guaranteed to give you a mind-blowing...