The Monkey Spanker is a male masturbator with a difference. Most male masturbators are full sleeves which are a pain to store or clean after use.
The Monkey Spanker is based on an innovative diaphragm design which forms a vibrating tube around your penis. In the base of the plastic there is a removable waterproof vibrating bullet which adds extra pleasure during use. The silicone pad is where you put your penis through and is extremely stretchy to fit all shapes and sizes. Water based lube is highly recommended for use with this toy.
The hole in the silicone looks tiny and quite scary at first to think you could get your penis  through there. When using this toy you need to make sure both your penis and the toy are well lubed (with water-based lube). Once your penis is through the hole the silicone forms a large surface area against the shaft which also vibrates due to the bullet. This creates a brilliant pleasurable feeling through your penis. Add the motion of you moving the toy up and down the shaft creates an extremely unique and indescribable sensation. I'd highly recommend this toy if you're wanting to try something different. It's not only a unique male masturbator it can also be used in the shower, on your own or with your partner (during intercourse, a hand job or a blow job.)  It's a great multipurpose toy which is great value! GET IT BOUGHT!
I found this toy a little awkward to use at first as the hole appears small and I didn't want to hurt him in any way, either on inserting the penis or in actual movement of the toy. Once you establish a good rhythm it seems to have a great effect, however, and it can be used to add something different to a hand job or blow job. If there's plenty of lube used this makes the pleasure more comfortable for him, and if you want to carry on to intercourse it also doubles up as a great substitute for a cock ring, and the vibrations from the toy could also be used to tease your partner. So really this male pleasure toy is extremely multipurpose and useful in all sexual acts.
Give it a try in the shower, you still need lube but it adds to the overall experience.
Be sure to try it out with your partner.
The vibrating bullet is also removable so you can use the bullet as a clitoral stimulator.
It's a great toy! Great value! Guys, don't be shy, it looks a bit weird but once you've tried it you'll be sold!
Rating 8.5/10 
The Monkey Spanker (basic) is quite a dated male masturbator. We reviewed this product many moons ago. If you're looking for a newer more unique mastubrator we'd suggest the PULSE by Hot Octopuses. A 10 out of 10 Guybrator!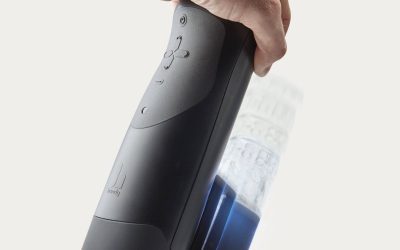 The Handy is "the most advanced sex toy ever created", guaranteed to give you a mind-blowing...