We've tried quite a few LELO masterpieces and we've never been disappointed with quality, style and power. So we thought it was time to try a few classics.
The LELO LIV 2 is an upgraded version of the LELO best seller LIV and promises to deliver 8 near-silent vibration patterns in it's beautiful curve, made to fit the female form perfectly.
This vibrator has a slight phallic shape, with ergonomic curve to stimulate the G-Spot and smooth, soft, body-safe FDA approved silicone to glide across the most sensitive of areas.
The whole length is fully waterproof for use in the bath or shower. The vibe is re-chargeable and comes with mains charger and pouch. Fully charged, the vibe has 2 hours worth of pleasure.
To take the vibe on your travels, simply press and hold down the control disc until the light flashes and the vibrator is then locked! Press and hold again to switch on and use. The LIV 2 comes with 1-year LELO warranty.
The LIV 2 Pleasure Object comes in its sturdy box, with a section containing: mains charger, sachet of personal moisturizer, user manual and warranty information, warranty registration card, and a satin bag.
Available in Cerise, Lime Green, Blue and Plum.
I really love the colour of the LIV 2 I received. The matte bright green silicone, silver shiny detail and cream control centre look so stylish and sexy! The silicone is super-soft and in a nice, curved, ergonomic shape, which I can see even before using will be great for touching the G-spot.
Turning on the power, the + button turns the vibe on and turns up by pressing and holding or clicking through + or – to get to the intensity you want. Then simply scroll through the 8 settings to find the right pattern! Easy! When I first try out a vibrator, I like to crank up the intensity on continuous vibration. Of course I try out the others, but this is always the one I go back to.
The thing is with vibrators that are only inserted and don't have an attachment, is that I can never really feel anything much when it's inserted!! I can feel them, don't get me wrong, but they just don't pack the same punch as on the clitoris. So used on its own, this vibe doesn't do loads for me. Teamed up with another vibrator, however, this vibe is perfect. I Used it with the new ORA 2 to get the best effect.
The curve is perfect against the G-spot for me. Give it a little wiggle and I could feel it right away. The smooth silicone is just amazing and glides when covered with water-based lubricant. The controls are easy to work when you can touch but you can't see which is always good. I like these controls, but not as much as the Insignia range. The quality I find the same, but those little touches are what make the Insignia range so special I guess. The disc control fulfills its purpose, though, and still looks quality.
It locks for travel which is really useful if you want to take the vibe away with you. It also is very quiet, I wouldn't say silent but turn the TV or music on and it couldn't be heard very much.
Miss K uses this toy on her own mainly, and she seems to enjoy it as you can see from her word above.
What I can say it it's not too phallic to scare guys away from using it with their partners. For beginners it's therefore great as you could use it to get her going before you take over, just glide over the clitoris and tease her by inserting. The controls are easy to use and can be locked so you can take it away on a dirty weekend!
I really like the design of this toy and love the vibrant green colour. As a designer I enjoy the minor details LELO always apply to their toys and packing. I tip my Hat to LELO for ensuring the toys colour has been used as an accent colour on the packaging. (#designgeek)
Use water-based lube
Use in bath or shower
Try with a partner
Enjoy!!
Overall, I do feel it's lacking some power and girth for me. But LELO never fail to impress with quality, function, ease of charging and ease of cleaning. Perhaps a fab toy for beginners, and for me, great to be used with a clitoral stimulator (ie the ORA 2).
Rating 7/10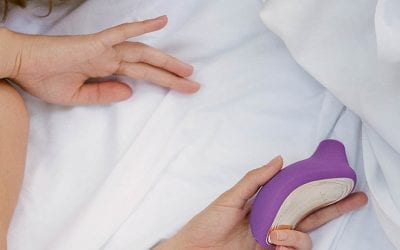 What exactly is the LELO SONA CRUISE 2?The SONA 2 Cruise is an improved version of the SONA Cruise...