he JNaja is an ergonomically shaped cock ring designed to fit the natural contours of a man's body. Most cock rings are designed to be worn for no more than 30 minutes at a time, but the JNaja has been created so it can be worn the whole day, turning this from more than just a cock ring, but a piece of male jewellery.
The unique shape of the JNaja boasts an amazing experience for the wearer which Velv'Or have coined the phrase 'EnRinged'. The 'finger' you can see coming off the JNaja cock ring presses over the Perineum and gently massages during wear. As the creators recommend you wear this cock ring day-to-day the benefits of JNaja are said to result in harder, longer erections and stronger orgasms, in the long run the wearer will see a huge improvement on their sex life.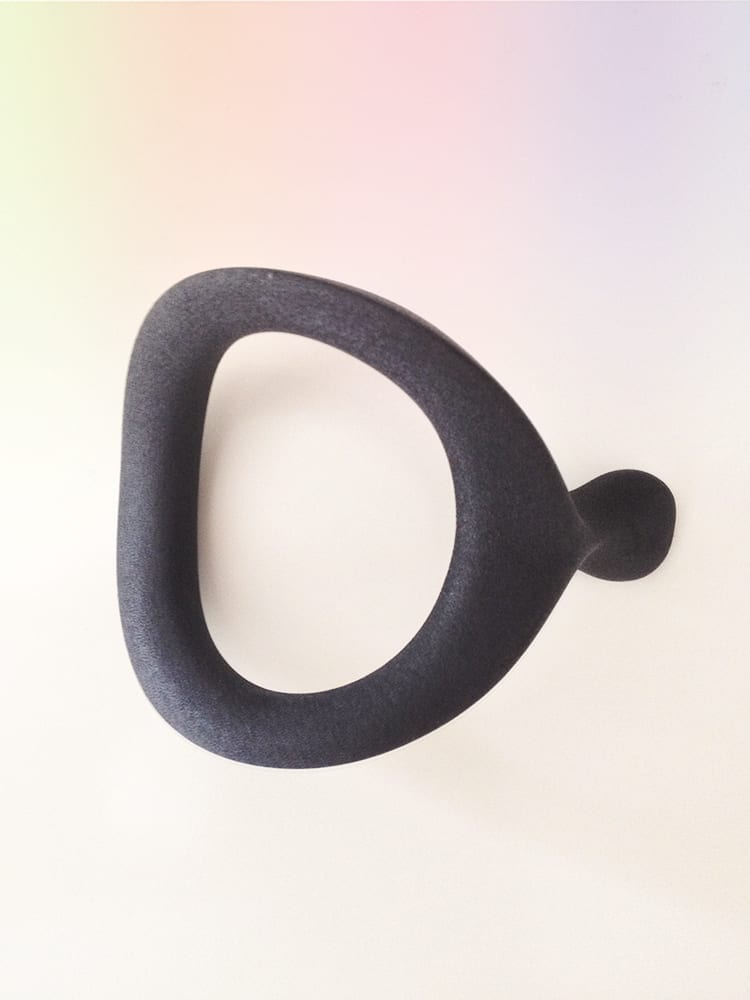 Beautifully design to be ergonomically shaped to fit the natural shape of the body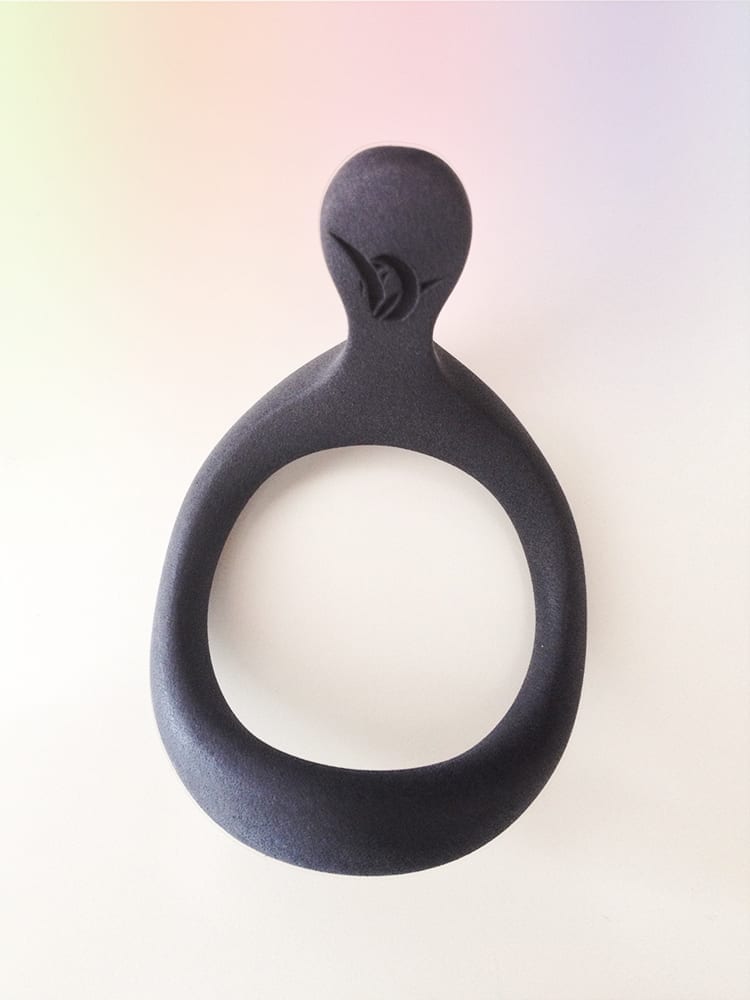 The JNaja and is 'finger' design to massage the perineum
Made out of Nylon Fiber (in Netherlands) this ergonomic cock ring is currently available in three colours: Red, White and Black. As the cock ring is coloured with dye, over time the wearer will see the JNaja de-colour. This shouldn't be seen as a bad thing, the de-coloration is unique and personable to the wearer (Velv'Or compares it to how stonewashed jeans fade over time).
The JNaja is available in 3 sizes: 45mm, 50mm and 55mm.
HOW DO I KNOW WHAT JNAJA SIZE TO BUY?
With the help of Jelle from Velv'Or we've put together this simple guide to help you measure yourself to ensure you get the correct sized JNaja for your penis size. As you'll be wearing the JNaja for long lengths of time you need to ensure you pick the correct ring size. You want something that gives a heavy amount of pressure when erect, but not too much so it cuts off the blood circulation. You also want a pleasurable amount of comfort when flaccid.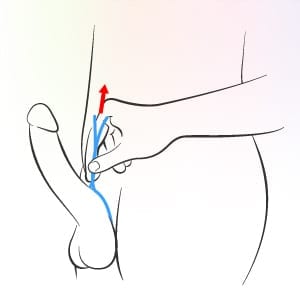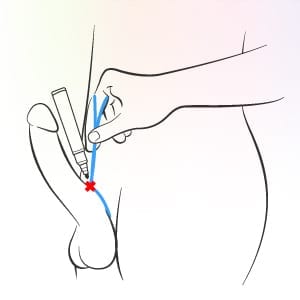 First you need to be fully erect.
Take a piece of string and slip it behind your balls and tug it up nice and tight around the base of your penis (close to your body).
Now mark the string on both sides where they come together (making sure that it feels comfortable).
Remove the string and measure the distance between the 2 marks you've just made (mm). This gives you your circumference.
Divide the circumference by 3.14 to calculate the size of JNaja you require
Made out of Nylon Fiber (in Netherlands) this ergonomic cock ring is currently available in three colours: Red, White and Black. As the cock ring is coloured with dye, over time the wearer will see the JNaja de-colour. This shouldn't be seen as a bad thing, the de-coloration is unique and personable to the wearer (Velv'Or compares it to how stonewashed jeans fade over time).
The JNaja is available in 3 sizes: 45mm, 50mm and 55mm.
I was lucky enough to get contacted by Jelle the owner and creator of Velv'Or. Jelle offered to send me the JNaja to review. As soon as I'd found out about his amazing products I was ridiculously excited to get my hands on one. As these rings come in three different sizes you need to measure yourself when erect to ensure you get the correct ring for your size. Make sure you do this as I was just going to go for the most common size (45mm) but found I actually needed the 55mm cock ring instead. Use our guide above to help you measure what size ring you require, you can do this on your own or with your partner (like I did).
My JNaja was sent to me from Planet Earch a Sex Toy Wholesalers. Unfortunately the first package that was sent out never made it to our door, so somewhere there's one lucky person been 'EnRinged'!
Once Planet Earth realised I'd not received my JNaja they soon sent me another one. When it arrived I opened the delivery package and admired the nice simple, tasteful box the JNaja cock ring came in (as pictured below). We were actually having our front door fitted when it arrived but that didn't stop me from running upstairs and putting the cock ring on.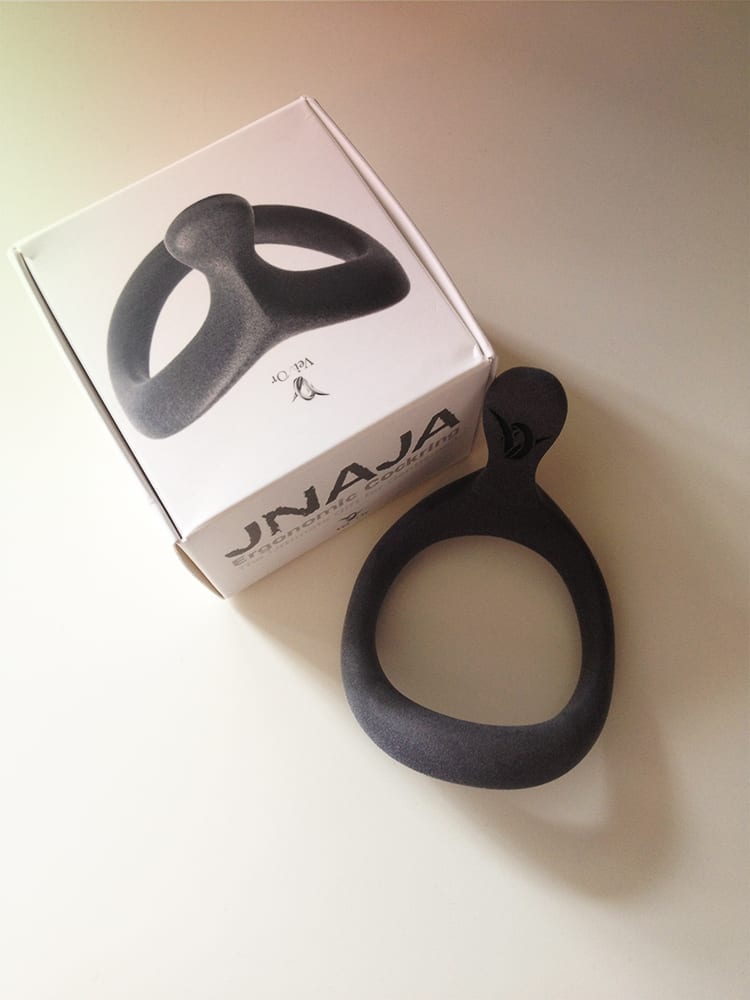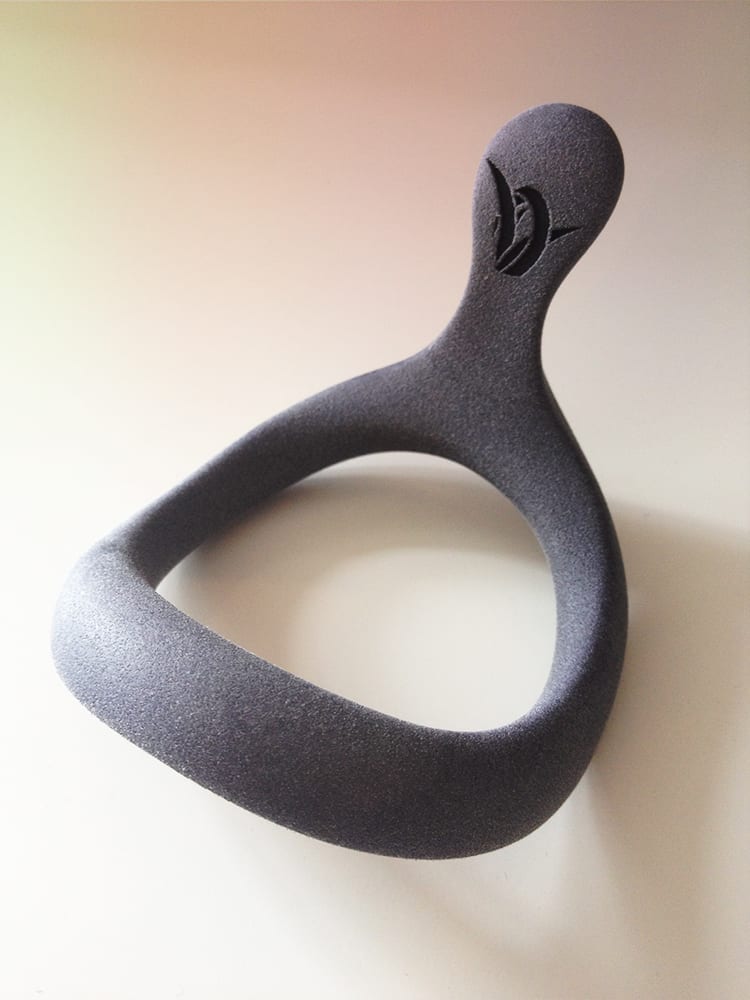 Putting it on is simple. Have the finger of the ring facing downwards towards you testicles. Place your testicles in the ring first, followed by your penis. It's then just a case of adjusting the cock ring to make sure it's pushed comfortably against your body and that your penis and testicles are fully on the outside of the ring. Once I'd put it on and was fully 'EnRinged' I could instantly feel the finger gently pressing against my perineum, which was intensified when I started walking around the house. As this was a new experience and constantly there, I instantly got aroused and had to hide the fact I was erect from the workman fitting our door!
Before writing this review I wanted to wear the JNaja for a minimum of 2 weeks to allow me to get an accurate testimonial, and wow…just wow. For the first few days of wearing the JNaja I constantly felt horny, the gentle massaging of the JNaja made day-to-day life incredibly arousing. From running to catch the train for work, to sitting in meeting to bowling the JNaja made things extremely…pleasurable. I started to wear the JNaja on Saturday and on Monday on the train home from work I told Miss K to get upstairs and wait for me to get back as I was stupidly horny and couldn't wait.
Sex while being 'Enringed" is also amazing, when fully erect the JNaja feels tighter around the penis and makes your erection harder but also seem to last longer (which I put down to that constant pleasurable feeling you get while having your perineum massaged). Not only that but as you're thrusting during sex the finger of the JNaja is again moving along your perineum doubling the pleasure and intensity of sex. Not just sex but also during masturbation, while your pleasuring yourself you're also getting a perineum massage.
On the second week of wearing the JNaja I still felt my perineum being constantly massaged but it wasn't as distracting as the first week. I'd become used to it and the JNaja felt more natural to wear. The only time I took the ring off was to shower, I even slept in it!
The first two weeks I wore the JNaja just so happened to be when we were having a heat wave (in England…shocking I know!) so I did find I got quite sweaty down there and for hygiene reasons I'd clean the JNaja on a daily basis (which you probably should do anyway whether it's a heat wave or not).
The only issue I had with the JNaja is that at the base of my penis the ring did dig in from time to time and made it a little red and sore, this was partly due to me trimming around the area before originally putting the ring on, but also because I wasn't used to something constantly being pressed against me there. After the two weeks this was no longer an issue.
I tried the JNaja with briefs, tight boxers and loose boxers and all three still felt amazing, I think loose boxers seemed to intensify the perineum being massaged slightly more but there isn't too much of a difference really. If you're worried about it look obvious to others when wearing the JNaja don't be. It looks normal, if not a little bigger because you're testicles are slightly pushed forward. The only real time I felt mindful of others seeing it is when I was in the urinals, because I could see it and I was worried someone might see a black band above my penis from the corner of their eyes. I doubt it though!
When wearing the JNaja you really do feel manlier and it makes you feel more aware of your penis. In the mirror because everything is pushed forward slightly you also look bigger.  I loved the fact I knew I was wearing the cock ring everyday and no one else knew, I guess in a way it's a bit like when Miss K wore her Ben Wa balls around the house. It's a naughty little secret that no one else knows about.
After two weeks of being EnRinged I would highly recommend the JNaja cock ring to all males out there! It so comfortable to wear and has so many benefits why wouldn't you be wearing one right now? So guys, if you're wanting to feel more manly, enjoy day to day life while having your perineum massaged and experience harder erections for longer during fantastic sex…'GET ENRINGED'! You wont regret it…
OK so this was one of those things where Mr A gets excited about something and I go 'ok dear' *pats on head*. I didn't entirely get the point of this at first and then I read more into it. The JNaja is effectively an ergonomic Cock Ring. I helped measure Mr A for the JNaja, and after deliberating what part we needed to measure, the whole thing really intrigued us. Mr A sent off the measurement and we waited for the product…
On receiving, Mr A was very excited and immediately put it on, strutting around whilst wearing it under his clothes, seeming a little turned on and extremely manly. I really enjoyed the effect this had on Mr A, as he wore it every day for 2 weeks, and it seemed to turn into a challenge for him, as well as making him more turned on when he got home. He seemed to have his mind a little bit more on sex at the time and a little less on work, which really suited me.
The constant pressure on the perineum claims to help with longer erections and stronger orgasms. You'll have to read the above section on what Mr A thought, but we had sex whilst he wore the JNaja and it didn't really get in the way at all. The plastic nipped me a little in certain positions, but overall had little effect on my enjoyment, apart from Mr A's huge erection. From my point of view, this toy really seemed to have a positive effect on Mr A's sex drive and confidence while wearing it, so that meant I was more in the mood too, and thoroughly enjoyed being swept off my feet.
Read out "How to Measure" guide at the top of this review to make sure you get the right size.
Wear it all day even to work! It's so arousing being the only one who knows.
Be sure to clean your JNaja on a daily basis.
The more you move the more you can enjoy your perineum being massaged. Try wearing it during a work-out or while going for a run.
Over all Mr. A loves this cock ring. It's a cock ring you can wear everyday and feel great while wearing it. It's not just for guys as your partners reap the benefits of you wearing it during sex. If you want to buy something sexy for your man but not sure what to get him then this cock ring is ideal. The perfect piece of body jewellery.
Rating 10/10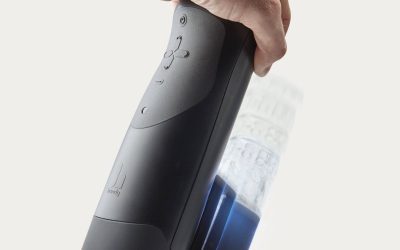 The Handy is "the most advanced sex toy ever created", guaranteed to give you a mind-blowing...